Aug-22-11 Commissioner Wirths Presented Prestigious Federal SHARP Award to Parker At Stonegate
Contact:
Brian T. Murray:
TEL: 609.984.2841
FAX: 609.777.3634

 

 
| | | |
| --- | --- | --- |
|   | -News Release- |   |
HIGHLAND PARK, AUGUST 22, 2011 __ Commissioner Harold J. Wirths of the New Jersey Department of Labor and Workforce Development recently honored the staff and management of Parker at Stonegate, an assisted living community, with a Safety and Health Achievement Recognition Program (SHARP) award.

Stonegate at Parker is the 15th New Jersey to win the prestigious award since the U.S. Department of Labor Occupational Safety and Health Administration began the SHARP program more than a decade ago. The award is given to companies who eliminate OSHA hazards, establishes an effective safety and health management program and who maintain injury rates below national averages.

Commissioner Wirths presented Parker President and CEO Roberto Muñiz with a congratulatory letter during a celebration and flag raising ceremony at Parker at Stonegate. More than 75 people attended, including local government officials, the Parker Board of Trustees, staff and residents of the facility.

"Today we recognize and honor the safety achievements and the joint commitment to workplace safety that the management team and the workers have toward the residents of Parker at Stonegate," said Commissioner Wirths. "The kind of achievement you have demonstrated can only be accomplished with the cooperation and the dedication both of management and labor to provide the highest possible degree of jobsite safety."

Muñiz, Parker President and CEO, thanked the Commissioner and all the attendees after they raised a flag bearing the SHARP insignia.

"I am proud that Parker has such dedicated and wonderful employees to provide the quality of services and caring to over 250 people daily throughout all campuses and continue to maintain a safe work environment," he said.

The Francis Parker Memorial Home, Inc., the parent firm behind Parker, is an employer of over 300 full and part time employees in central New Jersey.   In 2006, Parker at Landing Lane Nursing Care Residence in New Brunswick received the SHARP Award and has kept that status for five years by maintaining injury and illness rates below the national average.

"It's challenging to maintain an excellent safety and health program.  SHARP recognizes Parker's commitment to ensure safe environment for its employees," said Steve Kaplan, an OSHA director responsible for the final review and approval in the SHARP recognition process.

Parker management said their journey toward the award started several years ago with their creation of a safety committee and the guidance of Carlos Pinto, a consultant from the state Department of Labor and Workforce Development.

"Parker immediately accepted our assistance and reaped the benefits that SHARP provides, such as lower worker compensation insurance premiums, improved worker retention and reduced employee days away from work," Pinto said.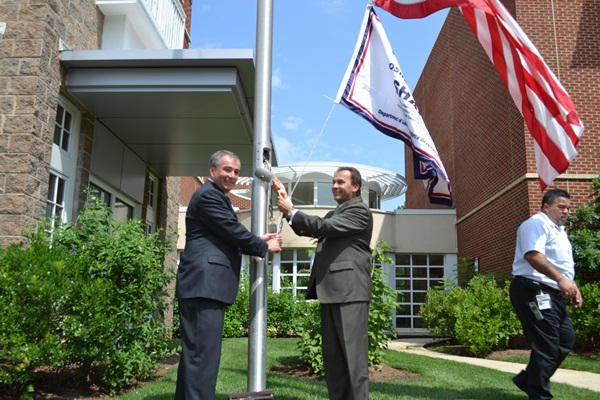 Commissioner Wirths and Parker President and CEO Roberto Muñiz hoisted the SHARP award banner on the
flagpole outside the Parker at Stonegate assisted living facility.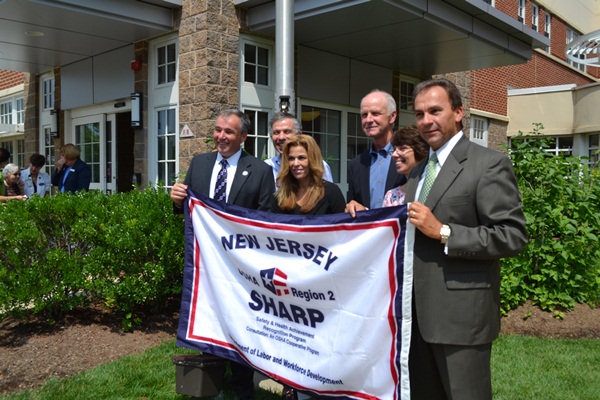 Commissioner Wirths and Muniz join the Parker at Stonegate Board of Trustees with the SHARP award banner
before it was hoisted up the flagpole outside the Parker at Stonegate assisted living facility.