Sep-14-11 Deputy Commissioner Highlights Department of Labor Initiatives
Contact:
Brian T. Murray:
TEL: 609.984.2841
FAX: 609.777.3634

 

 
| | | |
| --- | --- | --- |
|   | -News Release- |   |
ATLANTIC CITY, September 14, 2011 -- Department of Labor and Workforce Development Deputy Commissioner Richard E. Constable gave the opening remarks at the 29th Garden State Employment and Training (GSETA) Annual Conference.

Deputy Commissioner Constable shared Governor Chris Christie's vision for the future of New Jersey business owners, employers and job-seekers, and spoke about LWDs workforce development efforts.

Dr. Aaron Fichtner, assistant commissioner of Labor Planning and Analysis, and Michele Horst, executive director of the State Employment and Training Commission, joined Deputy Commissioner Constable for the opening session of the conference.

Constable highlighted two department initiatives -- Jobs4Jersey.com and Talent Networks.

Jobs4Jersey.com, a website launched earlier this year, helps job-seekers find jobs tailored to their work experiences, allows job-seekers to create or upload their resume, and allows employers to search the resumes of job-seekers to find workers best suited for their open positions. Talent Networks have tapped six key industries that labor analysts have identified as being integral to New Jersey's economic future (for detailed information on Talent Networks go to our news release dated July 20, 2011).

Additionally, Deputy Commissioner Constable outlined the services the LWD  is offering as a result of the recent hurricane and storms, including Disaster Unemployment Assistance funded by FEMA (Federal Emergency Management Agency), and the use of our Business Resource Centers.

GSETA represents the local leaders of the state's workforce development system. About 200 conference participants attended the session.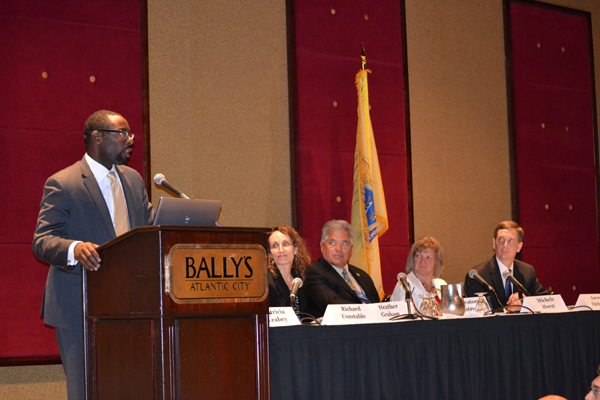 Department of Labor Deputy Commissioner Richard E. Constable (standing) gives the opening address during the 29th Garden State and Training Association (GSETA) annual conference held at Bally's Hotel and Casino in Atlantic City. Seated to the right of Deputy Commissioner Constable is: Heather Graham, USDOL Director of Office of Special Initiatives & Demonstrations; Sal Mastroeni, GSETA Immediate Past President; Michele Horst, State Employment & Training Executive Director, and Dr. Aaron Fichtner, Assistant Commissioner of Labor Planning and Analysis.