Sep-23-11 Governor Christie Invigorates New Jersey's Commitment to Help Returning Military Veterans Secure Jobs
Provides Grant for Helmets to Hardhats Partnership Program

For Immediate Release
Thursday, September 22, 2011

Contact: Michael Drewniak

Kevin Roberts

609-777-2600
Trenton, NJ – Furthering the Administration's commitment to New Jersey's military veterans, Governor Chris Christie announced today he is making available $195,000 for the New Jersey Department of Labor and Workforce Development to partner with the New Jersey Building and Construction Trades Council's (NJBCTC) Helmets to Hardhats (H2H) program. The program is designed to honor military personnel, National Guardsmen and reservists by transitioning them into solid, family-sustaining careers in one of the state's fifteen affiliated building and construction trades.

"New Jersey's veterans have served our nation and our state with courage, honor and distinction," said Governor Christie. "Now, we have an opportunity to do our part to help them build a better life for themselves and their families through the Helmets to Hardhats program. I'm proud to renew this vital partnership between the public and private sector that will enable our veterans to acquire the skills they need to secure career opportunities in the building trades that will lead to a promising future."

Helmets to Hardhats is a national program jointly created by the U.S. Department of Veteran Affairs and the national Building and Construction Trades Department of the AFL-CIO to help National Guard, reserve, retired and transitioning active-duty military members connect to quality career and training opportunities in the construction industry.

"We would like to thank Governor Christie and his Administration for recognizing the value of this program to our New Jersey veterans and our citizens," said William T. Mullen, President of the New Jersey State Building and Construction Trades Council. "Since the inception of the New Jersey Helmets to Hardhats Program, we have placed more than 275 military veterans into accredited apprenticeship programs within the Building Trades. Together, we will continue to provide them with quality careers, not empty promises. They sacrifice their lives for us and we owe them more than a handshake upon returning home."

The New Jersey H2H program, run by the NJBCTC, targets military personnel transitioning out of active duty, as well as National Guard and reserve members who have civilian jobs but are looking for better employment opportunities. The NJBCTC, a partnership of thirteen county building trades councils, more than 100 local unions, and over 150,000 rank and file members, are partners in educating program participants about the demands of the industry's careers and putting successful apprentice applicants to work on their jobsites.

Three-quarters of New Jersey's active-duty military and 55 percent of its reserve members are under 35 years old – the age group most recruited into trade apprenticeship programs.

"These young men and women put themselves in harm's way in defense of our nation. We need to help them find job opportunities and this program will land many into the building trades, which saw employment gains in six of the past seven months. In fact, July marked the largest monthly job gains for construction in five years," said Harold J. Wirths, Commissioner of the Department of Labor and Workforce Development.

The majority of active and reserve personnel also have high school diplomas or GEDs, a requirement of most trade apprentice programs. Additionally, electrical and mechanical equipment repair, craftwork, and engineering and maintenance are some of the most popular occupational specialties for both active and reserve members.

"The Helmets to Hardhats program will create special opportunities for our unemployed military members," said Major General Glenn K. Rieth, The Adjutant General. "This program will greatly ease Service Members' transition from active duty to a viable career in construction."

A candidate interested in pursuing his or her application into an apprenticeship training program through H2H should meet the following qualifications:
Be at least 18 years of age at the time of registration
Possess a high school diploma or GED; if not, the participant is referred to their county's One-Stop Career Center for assistance in obtaining the credential
Possess a valid driver's license or be able to obtain one prior to application to any trade program requiring one; 
Have access to their own transportation to get to and from job sites once they're accepted into an apprenticeship; public transportation may not run through the places where job sites are located
Remain drug free and submit to drug testing as required in the apprenticeship application process
Place at a minimum of Level 3 in "Work Keys" testing or demonstrate the ability to quickly reach this level through study and practice using our test preparation services; participants not meeting this criteria will be referred to their county's One-Stop Career Center for remedial assistance
Demonstrate a legitimate interest in pursuing a career in the building and construction trades
Governor Christie has demonstrated a strong record of support for New Jersey's military veterans, citizen soldiers and their respective families. In addition to supporting all of the vital programs provided by the Department of Military and Veterans Affairs, Governor Christie has signed legislation that strengthens the support network for military families after the death of a service member, as well as a program that awards high school diplomas to veterans who dropped out to serve in World War II, Korea and Vietnam. In January, he signed legislation for the Gold Star Families license plate to honor the families of members of the military killed in action for their sacrifice. He also recently signed legislation that creates two new assistance tools that provide financial support and peer counseling services through the New Jersey National Guard State Family Readiness Council Fund and the Veteran to Veteran Peer Support Program telephone helpline.
For further information about the New Jersey Helmets to Hardhats program visit http://www.njbctc.org/h2h/index.html.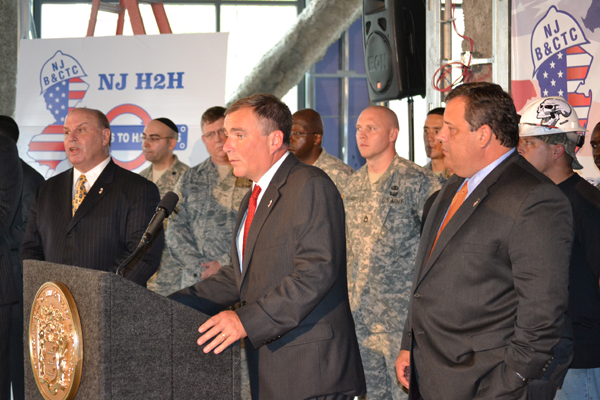 Commissioner Harold J. Wirths of the Department of Labor and Workforce Development, (center), fielded questions at the Helmets2Hardhats press conference with Governor Chris Christie, (right) and William Mullen, President of New Jersey Building and Construction Trades Council, (left).