Oct-07-11 Labor Commissioner Harold J. Wirths Highlights Job Training Grant During Visit to Freehold Manufacturer
Contact:
Brian T. Murray:
TEL: 609.984.2841
FAX: 609.777.3634
| | | |
| --- | --- | --- |
| | -News Release- | |
FREEHOLD, October 7, 2011 – During a recent visit to International Vitamin Corporation (IVC) in Freehold, New Jersey Labor and Workforce Development (LWD) Commissioner Harold J. Wirths presented IVC President and CEO Steven Dai with a framed letter highlighting the company's recent Customized Training Grant.

The company is using the $73,600 grant to upgrade the skills of its 356-member workforce, which it will match with $97,684 of its own money. The grant will also help pave the way for hiring 42 new workers.

"Customized training grants benefit employers by making their businesses more competitive and these grants assist workers by upgrading their skills to maintain pace with industry developments or to advance their careers," said Commissioner Wirths.

In 2010, IVC was the number five private-label supplier of vitamins in the U.S. with $110 million in sales. The company increased its annual sales run rate by $60 million, or 50 percent, to become the number two private-label supplier of vitamins in the U.S. IVC employees are receiving training in team effectiveness, operations management, lean manufacturing, general finance and general business, and human resources management.

Mary Ellen Clark, LWD assistant commissioner of Workforce Development joined Commissioner Wirths for the tour of the company facilities.

"We want to continue to invest in the businesses in New Jersey and we want to create more opportunities for them to grow and expand here," said Commissioner Wirths. "I want businesses to know about the valuable services and programs my department provides."

Individual businesses or a business consortium led by educational institutions, non-profit organizations, trade associations and labor unions are eligible to apply for grants on an on-going basis. The department will match interested applicants with a state business representative who will provide assistance throughout the application process.

Information about customized training and literacy grants and how to apply is available online at:
http://careerconnections.nj.gov/careerconnections/hire/training/training_index.shtml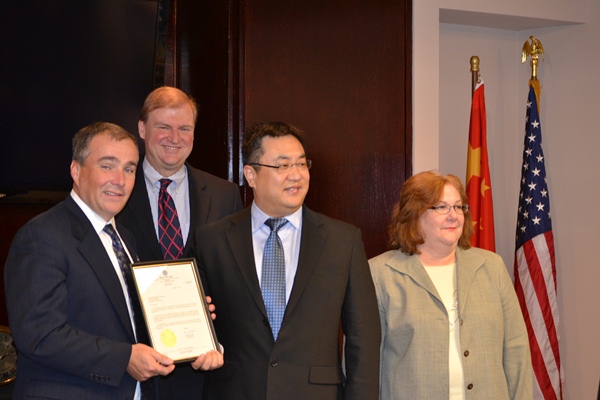 Pictured, left to right, are Commissioner Harold J. Wirths, IVC's Chief Operating Officer and Executive
Vice President Glenn Davis, IVC's CEO & President Steven Dai and Jill Stambler, IVC's Senior Director of
Human Resources.