Oct-17-11 Governor Chris Christie Delivers $190 Million Tax Cut for New Jersey Families

Governor's Pro-Growth Agenda is Sparking Job Growth, Economic Development and Giving Needed Relief to Families

For Immediate Release
Monday, October 17, 2011

Contact: Michael Drewniak

Kevin Roberts

609-777-2600
Trenton, NJ – Governor Chris Christie today announced a $190 million payroll tax cut that will directly benefit working New Jersey families in 2012. Most workers in New Jersey will experience a savings of $87 per year, resulting from changes to the Temporary Disability Insurance fund payroll taxes signed into law by the Governor. Governor Christie has prioritized economic growth and tax relief for families as part of a pro-growth agenda to create Jersey Jobs and create opportunity for New Jerseyans.

Governor Christie made the announcement at a town hall with employees of Kearfott Guidance & Navigation, a company founded in 1917, now with 235+ employees, that manufactures guidance systems used in space shuttles, satellites, under sea oil exploration and radar equipment, in Little Falls. The company was impacted by flooding caused as a result of Hurricane Irene, experiencing over two feet of water in their plant. After one week, they were back and operating at 90 percent capacity.

By providing direct tax relief to families, fundamental property tax reform, job-creating business tax cuts and incentives, common sense regulatory reform, and certainty about the state's climate for business investment and expansion, Governor Christie has positioned New Jersey for economic growth and the creation of Jersey Jobs. With 45,000 private sector jobs created since taking office, Governor Christie's agenda has already begun producing results for New Jerseyans.

"By prioritizing economic growth and taking concrete steps to improve our state's climate for business growth and job creation, we are finally getting New Jersey back on the right track and creating Jersey Jobs, while also providing critical tax relief for our state's overburdened families. $190 million in direct tax relief will go directly into the pockets of working families and back into our economy, further spurring growth and job creation around the state," said Governor Christie. "Taken together with $57 million in payroll tax relief we provided this year in worker contributions to the Family Leave Insurance Program, this means we are delivering nearly $250 million in relief to New Jerseyans over the course of 2012."

On July 1, Governor Christie signed legislation into law authorizing the Department of Labor and Workforce Development to calculate a new payroll-deduction rate to finance the state Temporary Disability Insurance (TDI) fund. For most workers next year, the revised formula means the amount of TDI payroll tax deducted from their paychecks will be reduced from $148 to $61 per year, for a savings of $87 per worker. The changes take effect on January 1, 2012.

The change will put an estimated $190 million back into the pockets of New Jersey workers over the course of calendar year 2012, providing direct relief to families and an economic boost for the state.

"New Jersey workers have been paying much more into the disability fund than what is needed to keep it solvent. This change is not only fairer to New Jersey workers, it also leaves people with more spending money to put back into our economy," said Harold J. Wirths, Commissioner of the Department of Labor and Workforce Development.

Previously, the tax was based on a flat tax rate of one-half of one percent (0.5%) on each worker's taxable wages. With a taxable wage base of $29,600 in 2011, the worker maximum contribution was $148. The new rate for 2012, which will be adjusted on an annual basis, will be two tenths of one percent (0.2%) and is based on the provisions set forth in the recently signed legislation. With a taxable wage base of $30,300 in 2012, the worker maximum contribution will be $61.

Since taking office, Governor Christie and Lt. Governor Guadagno have aggressively pursued an agenda focused on repairing New Jersey's hostile climate to economic development and job creation, delivering tax relief to families and expanding opportunities for New Jerseyans by creating Jersey Jobs.

Through the Christie Administration's pro-growth policies, New Jersey has once again become a home for business growth and job creation. From Fortune 500 firms to small and medium-sized businesses, the Governor's agenda has resulted in the generation and retention of over 28,000 jobs and bringing more than $4.6 billion in total public-private investment to the Garden State since January 2010.



Since Governor Christie Took Office, New Jersey Has Added 45,300 Private-Sector Jobs. (BLS.gov, Accessed: 10/3/11)
New Jersey's Unemployment Rate Has Declined From 9.8 Percent To 9.4 Percent. (BLS.gov, Accessed: 10/3/11)
Governor Christie in his Fiscal Year 2012 Budget provided $185 million in targeted tax cuts for small businesses in New Jersey in the first year, and totaling $2.35 billion over the next five, to spur job growth and increase business investment and expansion.
New foreign direct investment in New Jersey is expected to contribute over $1.4 billion of capital investment into the state and will support the creation of close to 2,000 jobs, with at least 410 new, permanent jobs.
The Administration has continued to advance policies to further improve New Jersey's business climate by:

Sunsetting the corporate business tax surcharge;
Signing new, robust business attraction legislation;
Protecting businesses from an average $400 per employee, or 52% increase in the unemployment insurance payroll tax.

The Christie Administration created the Business Action Center, a single point of contact for the state's business community to access advocacy and other services, including an upgraded on-line business portal to access information.
The Red Tape Review Commission, established September 2011, continues the Administration's efforts to streamline State government in New Jersey and spur economic activity by reviewing administrative rules and regulations and soliciting public input on regulatory barriers to analyze their impact on job creation, economic growth and investment throughout the State.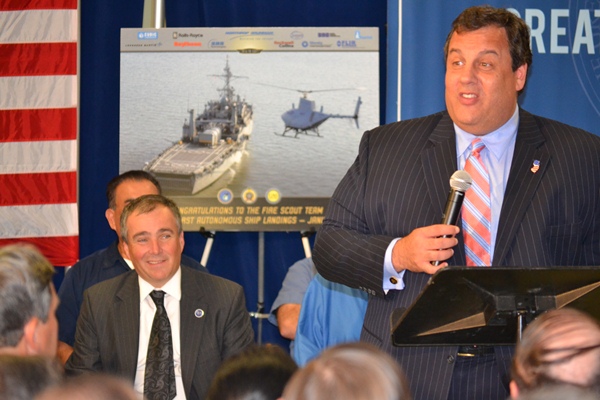 Commissioner Harold J. Wirths joined Governor Chris Christie during a "town hall" meeting at Kearfott Guidance Navigation, a defense contractor in Little Falls that has been in business since 1917.