Nov-04-11 Veteran Job Fair Visited by Labor Commissioner
Contact:
Brian T. Murray:
TEL: 609.984.2841
FAX: 609.777.3634

 

 
| | | |
| --- | --- | --- |
|   | -News Release- |   |
FLORENCE, Nov. 4, 2011 - Commissioner Harold J. Wirths of the Department of Labor and Workforce Development (LWD) attended a "job fair" designed to help New Jersey veterans connect with employers and full-time employment.

Part of the national "Hiring Our Heroes" program, the event was held at the American Legion Post 194 on 6th and Broad streets. Also in attendance was Major General Glenn K. Rieth, the Adjutant General of New Jersey, who commands more than 9,000 Soldiers and Airmen of the New Jersey Army and Air National Guard.

"Hiring Our Heroes," sponsored by the U.S. Chamber of Commerce, is a national program designed to match veteran and military spouses with career opportunities in the private sector.

Furthering the administration's commitment to New Jersey's military veterans, Commissioner Wirths also recently joined Governor Chris Christie in making available $195,000 for the LWD to partner with the New Jersey Building and Construction Trades Council's (NJBCTC) Helmets to Hardhats (H2H) program.

H2H is designed to honor military personnel, National Guardsmen and reservists by transitioning them into solid, family-sustaining careers in one of the state's fifteen affiliated building and construction trades.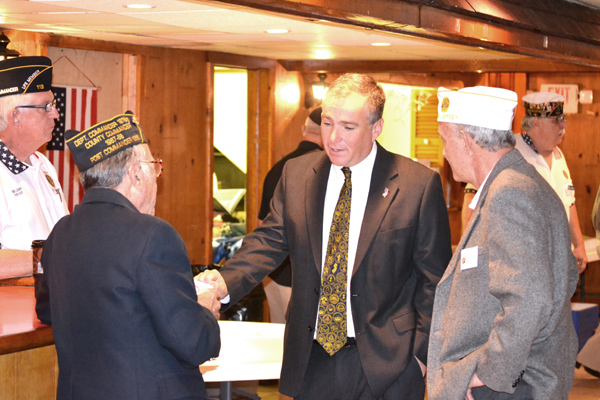 Commissioner Harold J. Wirths talked with veterans at a recent job fair.