Mar-06-12 Christie Administration youth program touted at benefit dinner
Contact:
Brian T. Murray:
TEL: 609.984.2841
FAX: 609.777.3634

 

 
| | | |
| --- | --- | --- |
|   | -News Release- |   |
CHRISTIE ADMINISTRATION YOUTH PROGRAMS TOUTED AT BENEFIT DINNER
WEST ORANGE, March 6, 2012 _ Labor Commissioner Harold J. Wirths highlighted state youth programs supported and expanded by Governor Chris Christie's administration as he spoke at the 19th Annual Archbishop's Business and Labor Recognition Reception, which raises funds to benefit New Jersey children.
"Through my Department of Labor and Workforce Development and other state offices, Governor Chris Christie is doing the same for those New Jersey youths facing obstacles such as poverty, troubled families, homelessness, substance abuse and a lack of education," said Wirths.
"We are helping the most vulnerable of our children and young adults at a time in our nation when all young men and women are facing the worst employment opportunities since World War II," he added.
The Archbishop Reception, held at Mayfair Farms, annually recognizes the contributions of both labor and business leaders while raising funds to support charity programs for children and young adults of all religions, races and ethnic backgrounds.
Commissioner Wirths said the nation's slow economic recovery has challenged all young people who are looking for career paths as they move closer to graduating high school. But the situation is worse for young people struggling with other obstacles, such as poverty, crime and broken homes.
The Christie administration is helping, said Wirths, citing three youth-oriented programs financed by the Governor through the Department of Labor and Workforce Development.
They include:
New Jersey Youth Corps, which guides high school drop-outs into full-time community service, training, and educational activities
Youth Transitions to Work Program, which introduces New Jersey's youth to apprenticeship opportunities.
Jobs for America's Graduates or JAG, a joint program with the Department of Education that offers intense mentoring to help high school students in urban areas who have a high risk of dropping out to stay in school and find employment.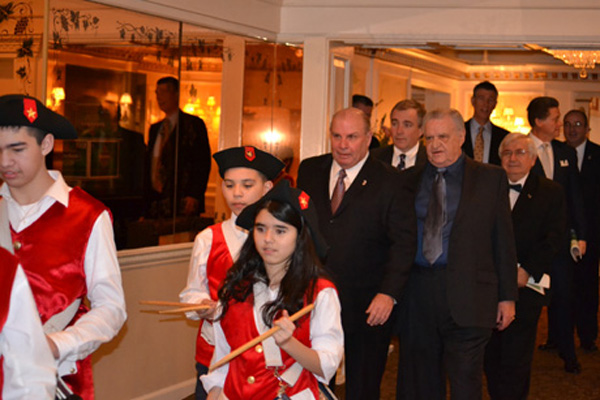 Commissioner Harold J. Wirths (center, rear) was lead into the 19th Annual Archbishop's Business and Labor Recognition Reception by the Mater Dei Academy Fife and Drum Corps, flanked by William Mullen of the New Jersey State Building & Construction Trades Council and Don DiLeo of the Teamsters.