Mar-15-12 Christie Administration Highlights Investment in New Jersey's Woman-Owned Businesses
Awards Customized Training Grant to Saddle Brook Manufacturer
Contact:
Brian T. Murray:
TEL: 609.984.2841
FAX: 609.777.3634
| | | |
| --- | --- | --- |
| | -News Release- | |
SADDLE BROOK, N.J., MARCH 15, 2012 – Underscoring Governor Christie's commitment to make New Jersey a more attractive place to do business, Labor Commissioner Harold J. Wirths awarded a $50,000 training grant to Beacon Converters – a woman-owned and operated manufacturer in North Jersey.

"This administration supports women business owners and is eager to help their businesses expand here in the Garden State by providing opportunities for development," said Wirths. "Our customized training and workplace literacy training grant programs help businesses retain jobs, increase productivity, and can lead to hiring more workers, in addition to increasing the skill level of New Jersey's workforce."

Commissioner Wirths presented Beacon Converters President Jackie Daly Johnson with a framed letter announcing that the company had been selected to receive a training grant, and praised the company for partnering with his department and with JVS, a nonprofit, community-based training provider.
"Beacon has always believed that our employees are our most valuable asset," said Jackie Daly Johnson, President of Beacon Converters, Inc. "This is a highly regulated and competitive industry requiring sophisticated products manufactured efficiently with a great deal of skill and knowledge. This customized training grant allows us to develop the talents of our employees and utilize the best-in-class trainers while raising the skill levels of New Jersey manufacturing employees -- a win for all."

Customized training grants and literacy training grants are matching funds awarded through the department and funded through the state's Workforce Development Partnership Program to enhance worker skills in New Jersey businesses and industries.

Beacon will train its 78 company employees using the $50,000 training grant in courses that include lean manufacturing, business communications, greenhouse operation, and problem solving. The company will match the state training grant with $58,138 of its own money.

Beacon Converters is third generation family company. It is FDA registered, and woman owned and operated for the past 10 years, manufacturing sterilization-packaging for the medical device and pharmaceutical industry. The company was previously awarded two customized training grants in FY 2005 and 2008, and one literacy training grant in FY 2009.

"We want New Jersey businesses to be aware of the valuable services and programs the New Jersey Department of Labor provides," said Wirths. "I encourage other New Jersey businesses to apply for matching customized training grants."

Individual businesses or a business consortium led by educational institutions, non-profit organizations, trade associations, and labor unions are eligible to apply for grants on an on-going basis. The department will match interested applicants with a state business representative who will provide assistance throughout the application process.

Information about customized training and literacy grants and how to apply is available online at: http://careerconnections.nj.gov/careerconnections/hire/training/training_index.shtml.

30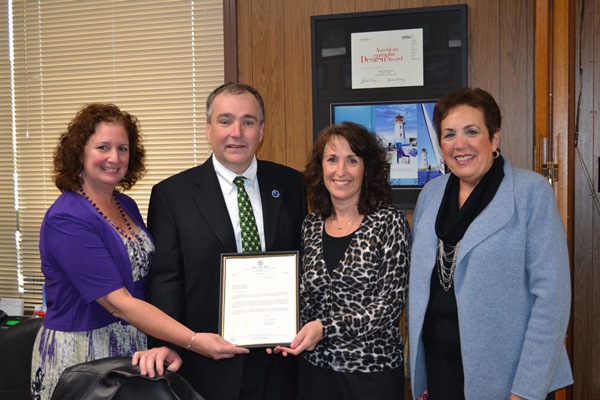 Pictured (L-R): Jackie Daly Johnson, President, Beacon Converters; Labor Commissioner Harold J. Wirths; Kathleen Daly Mascolo, Vice President, Director of Sales and Marketing, Beacon Converters; and Nancy Fisher, Assistant Executive Director, Education and Training, JVS. Commissioner Wirths awarded Beacon Converters, a woman-owned and operated manufacturer in Saddle Brook, NJ, with a $50,000 customized training grant. Training provider JVS will train company employees in areas including lean manufacturing, problem-solving, and greenhouse operation.