Mar-30-12 CHRISTIE ADMINISTRATION AND GOODWILL HELP SINGLE PARENTS RETURN TO WORK
Contact:
Brian T. Murray:
TEL: 609.984.2841
FAX: 609.777.3634

 

 
| | | |
| --- | --- | --- |
| |         -News Release- |   |
HARRISON, March 30, 2012 _ Commissioner Harold J. Wirths of the Department of Labor and Workforce Development today addressed the latest graduating class of the Goodwill Works program, congratulating 15 men and women who completed courses designed to help single parents who are forced to return to work in tough economic times.

Goodwill Works was kicked off nearly a year ago by the Goodwill Industries of Greater New York and Northern New Jersey, Inc. with a $750,000 grant from the Department of Labor and Workforce Development. The program provides employment training to single parents who had spent years at home caring for their children and families, but who now must find a job because of divorce, the death of a spouse, domestic violence, abandonment or some other problems.

The graduation class attending a commencement ceremony at Goodwill's headquarters in Hudson County included eight men and seven women.

"It is an honor to be here today and part of the culmination of your perseverance and hard work. I know it was not easy for you. Even as you worked through these courses, you had to deal with your personal hurdles and care of your children and families. Hopefully, after today, each of you will begin to embark on a new career for yourself and a better life for you and your families," said Commissioner Wirths.

Goodwill Senior Vice President Kirsten Giardi gave the opening address at today's ceremony, and the keynote speech was given by Kabili Tayari, deputy mayor of Jersey City.

The eight-week Goodwill Works program includes three career training areas: Retail Sales, Certified Technician and Entrepreneurship. Candidates are steered toward employment in retail sales and customer service positions, telecommunications, fiber-optics, home audio/telephone and cable installation positions, as well as starting their own businesses.

The program opened its doors in June 2011 on the 4th Floor at 972 Broad Street with a ribbon cutting ceremony. The first class graduated in September, which was followed by another graduating class in December.

The Department of Labor, the Essex County and Newark One-Stop Career Centers and the department's Division of Vocational Rehabilitation have been identifying and referring displaced homemakers to Goodwill Works. In turn, Goodwill Works has handled the training, worked to find jobs for the candidates and assisted them in dealing with problems impacting their ability to retain employment, such as the lack of child care, literacy, vocational skills and transportation.

The Department of Labor has partnered with Goodwill in the past to help people hampered by personal or social barriers to employment, and Goodwill Works was made possible with a Pilot and Demonstration Grant using federal Workforce Investment Act funds.

The program uses a "customized training" approach toward employment, developing individualized plans for each candidate to train for employment, obtain work, retain the job and advance in their employment to acquire financial stability.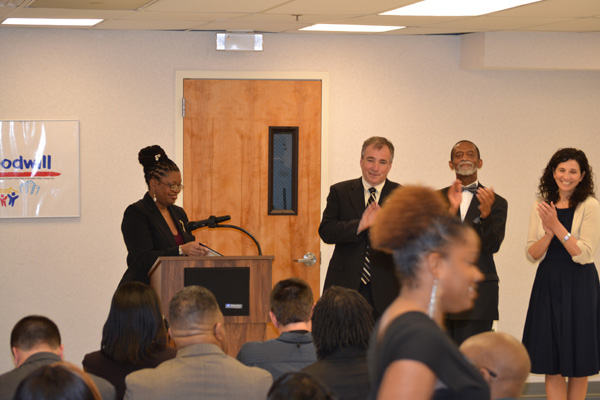 Commissioner Harold J. Wirths, center, addressed 15 graduates of the Goodwill Works program and their families during a celebration held March 30, 2012. He also joined Goodwill Works officials in presenting the graduation certificates.