Apr-12-12 JOB-SEEKERS HIRED AT SUSSEX COUNTY JOB FAIR
Contact:
Brian T. Murray:
TEL: 609.984.2841
FAX: 609.777.3634

 

 
| | | |
| --- | --- | --- |
|   |         -News Release- |   |
FRANKLIN, SUSSEX COUNTY, N.J, April 12, 2012 _Many people were hired on the spot as more than 600 job-seekers attended a job-fair hosted by the Department of Labor and Workforce Development (LWD) and its local partners at the local One-Stop Career Center.

"These are important opportunities for job-seekers to meet with New Jersey employers that are searching for talent to remain competitive in this ever-changing market," said LWD Commissioner Harold J. Wirths, who visited the event.

More than 600 job-seekers met with representatives from 55 employers, including large firms such as General Electric, Selected Risk Insurance, Thorlabs and UPS. Also among the employers were the New Jersey State Police and the state Department of Corrections.

"Ten job-seekers were hired today, on the spot. We have 463 job applications and we anticipate another 200 when we are done," said Bill Weightman, manager of the One-Stop.

The Franklin One-Stop is a busy operation, counting more than 10,000 visitors since January. The job-fair, one of two major job-fairs held annually at the facility, offered job-seekers information on LWD's special services for Veterans, programs offered by the Division of Vocational Rehabilitation Services and details about Jobs4Jersey.com, a website through which job-seekers can have their resumes matched with more than 117,000 job offerings in New Jersey and a total of 258,000 job-offerings within a 50 mile radius of the state.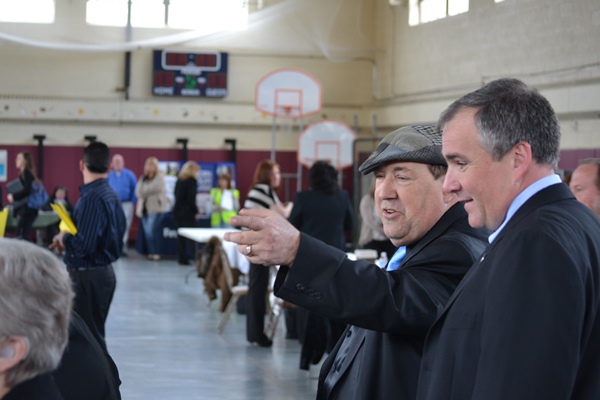 Commissioner Harold J. Wirths (right) joined Bill Weightman, manager of the Sussex CountyOne-Stop Career Center, at the job fair in Franklin held April 12, 2012