Apr-23-12 APRIL 2012 PROCLAIMED HIRE A JERSEY HERO MONTH
Contact:
Brian T. Murray:
TEL: 609.984.2841
FAX: 609.777.3634

 

 
| | | |
| --- | --- | --- |
|   |         -News Release- |   |
NEWARK, N.J., April 23, 2012 _ April 2012 was declared Hire A Jersey Hero Month by Governor Chris Christie today in a proclamation unveiled by Commissioner Harold J. Wirths of the Department of Labor and Workforce Development during the 2012 Be A Hero, Hire A Hero Veterans' Career Expo.

"Today's job fair continues a tradition my Department has followed for many years:  hosting employment events specifically for the men and women who put their lives, family and careers on hold to serve our great nation. The very least we can do to honor their service is to do everything necessary to make sure they return to good jobs when they come home," said Commissioner Wirths during a morning kick-off of the day-long event.

The Career Expo and a kick-off breakfast were held at The Hilton Gateway Hotel in Newark, where more than 50 companies, colleges, organizations and state and federal agencies set up recruiting booths to link visiting veterans to employment opportunities. Among the event sponsors were HireDS, which is a disabled-owned business that designed the Be A Hero, Hire A Hero employment initiative. Other sponsors represented at the event were Verizon, The New York Post and the New Jersey Business Leadership Network.

The proclamation signed by Governor Chris Christie and read at the Career Expo by Commissioner Wirths declared:
WHEREAS, the men and women of the Armed Forces of the United States  have historically been held in the highest regard by the people of New Jersey for devoting themselves to the cause of freedom and the protection of this great nation; and

WHEREAS,  our veterans'  selfless answer to  the  call  of duty  has  been a  deeply  patriotic tradition  eagerly passed through generations of Americans, from the  farmers and merchants who fought for our nation's independence, to the men and women who heeded the call to duty in both World Wars, the conflicts in Korea, Vietnam, Grenada, Panama and the Middle East, where thousands of our service people remain today; and

WHEREAS, all of our veterans left their families, their careers and their personal pursuits behind to risk their lives in the protection and furtherance of our democratic values; and

WHEREAS, more than 430,000 veterans currently live in the Garden State, with 22,000 of them identified by the Federal Bureau of Labor Statistics  and the U.S. Census Bureau as being unemployed in 2011; and

WHEREAS, New Jersey employers have overwhelmingly showed a strong interest in employing veterans because of their work ethic, motivation, strong character and abundance of marketable and transferable skills; and

WHEREAS, New Jersey's Department of Labor and Workforce Development, along with other state agencies, have given veterans, including those who are disabled, priority status in job training programs,  job  placement  services  and  launched  efforts   to   connect  veterans   with   meaningful employment; and

WHEREAS, the people of New Jersey have recognized an obligation, as well as a strong interest in ensuring that our veterans are gainfully employed;

NOW, THEREFORE, I, CHRIS CHRISTIE, Governor of the State of New Jersey, do hereby proclaim: April 2010 as Hire A Jersey Hero Month.
 
-30-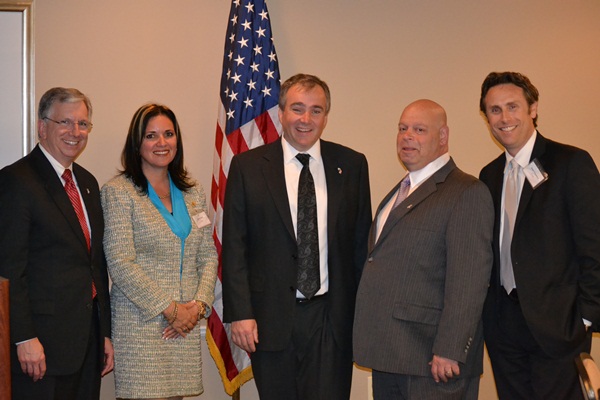 Commissioner Harold J. Wirths (center) was joined at the 2012 Be A Hero, Hire A Hero Veterans' Career Expo by (left to right) Dennis Bone, president of Verizon New Jersey and chairman of the New Jersey State Employment and Training Commission; Claudia Healy of Verizon; Jeff Klare of Be A Hero, Hire A Hero and HireDS; and Robert Hauptman, group sales manager in real estate advertising at the The New York Post.