Apr- 19- 12 Christie Administration Awards Literacy Training Grant to Build Worker Skills and Improve Efficiency of New Jersey Business
Contact:
Brian T. Murray:
TEL: 609.984.2841
FAX: 609.777.3634
| | | |
| --- | --- | --- |
| | -News Release- | |
PATERSON, N.J., APRIL 19, 2012 –Commissioner Harold J. Wirths of the Department of Labor and Workforce Development (LWD) awarded a $41,000 literacy training grant to manufacturer Accurate Box to provide its workers with the type of skills that will improve their opportunities for advancement while keeping their employer competitive in a changing market.

The grant highlights Governor Chris Christie's work to make New Jersey a more attractive place to do business and assist New Jersey's key industry sectors through incentive programs.

"Governor Christie understands the importance of training our workforce to keep New Jersey employees and companies competitive," said Wirths. "Our customized training and workplace literacy training grant programs help businesses retain jobs, increase productivity, and can lead to hiring more workers, in addition to increasing the skill level of New Jersey's workforce."

LWD Deputy Commissioner Aaron Fichtner presented Accurate Box Company's Chief Financial Officer, Laurence R. Shapiro with a framed letter announcing the company's literacy training grant award, and praised the company for partnering with the Department and with JVS, a nonprofit, community-based organization that will provide the training for the company's workers.

The Accurate Box Company will use the grant to train a quarter of its workers including printing press machine operators, pre-press technicians, office clerks, and production managers in numerous courses from English as a Second Language to personal computer and communication skills. More about Accurate Box Company may be learned at its website: http://www.accuratebox.com/

"The Department of Labor has been a very valuable partner to Accurate Box over the years," said Lisa Hirsh, President of Accurate Box. "Their continued support in training grants and partnering with organizations such as JVS has enabled us to remain a competitive manufacturer in a these very difficult economic times. We thank them for their recognition and support of the importance of Manufacturing in New Jersey."

Workplace literacy training grants and customized training grants are awarded through the Department and funded through the state's Workforce Development Partnership Program. Training grants enhance worker skills in New Jersey businesses and industries.

Accurate Box, a family-owned company and leading manufacturer of high strength litho laminated packaging, displays, and stands, was visited by Governor Christie two years ago. The company will match the state training grant with $42,282 of its own funds.

"This grant will provide employees with some of the basic communication tools necessary to their career advancement and to their doing their best work," said Fichtner. "We want New Jersey businesses to be aware of the valuable services and programs the New Jersey Department of Labor provides and I encourage other New Jersey businesses to inquire about our training grants."

Individual businesses or a business consortium led by educational institutions, non-profit organizations, trade associations, and labor unions are eligible to apply for grants on an on-going basis. The department will match interested applicants with a state business representative who will provide assistance throughout the application process.

Information about customized training and literacy grants and how to apply is available online at: http://careerconnections.nj.gov/careerconnections/hire/training/training_index.shtml.
30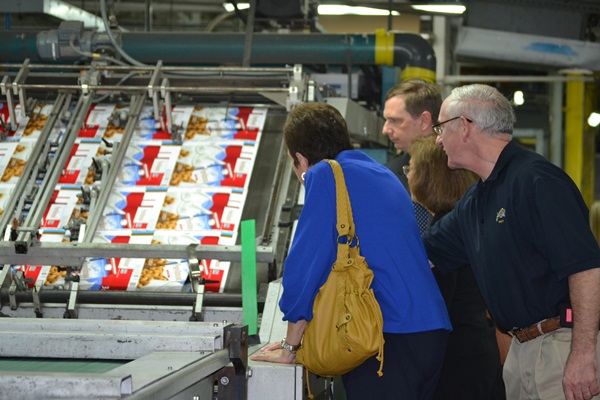 Deputy Commissioner Aaron Fichtner (center) toured Accurate Box Company's facilities in Paterson with Chief Financial Officer Laurence Shapiro (far right). They were joined by Nancy Fisher (left) and Hanna Praport, both of JVS of East Orange, the non-profit firm that will train workers at the company through to a Literacy Training Grant awarded by the Department of Labor and Workforce Development