May-09-12 Labor Department Partners with Community Colleges to Help the Long-term Unemployed Return to Work
New Re-employment and Eligibility Assessment Program
Contact:
Brian T. Murray:
TEL: 609.984.2841
FAX: 609.777.3634
| | | |
| --- | --- | --- |
| | -News Release- | |
TRENTON, May 9, 2012 – Today the New Jersey Department of Labor and Workforce Development (LWD) announced a partnership with New Jersey's 19 community colleges to bolster and re-ignite the work searches for people who have been unemployed for extended periods of time.

Individuals who have exhausted regular unemployment insurance (UI) benefits and who are now collecting Emergency Unemployment Compensation benefits (EUC) have been required under federal law to attend a Reemployment and Eligibility Assessment or REA. REAs are designed to provide the tools and motivation to reinvigorate the search for new employment opportunities.

"We are one of the first states in the country to integrate delivery of these re-employment services through our community college system. This approach keeps our 34 One-Stop Career Centers free to continue their day-to-day services to others while my Department and the colleges focus on reigniting the job searches of our long-term unemployed residents," said LWD Commissioner Harold J. Wirths.

The LWD has partnered in the effort with the New Jersey Community College Consortium for Workforce and Economic Development, which provides access to New Jersey's 19 community colleges to develop and deliver education and training programs to New Jersey businesses, agencies and organizations.

"On behalf of all the members of the Community College Workforce Consortium, I can say we are very pleased and we hope this partnership continues as we move forward to build the productivity of our workforce in New Jersey," said Dr. Patricia C. Donohue, President of Mercer County Community College and Executive Board Chair of the Workforce Consortium.

A press conference about the joint program was held today on the grounds of the Mercer County Community College by LWD Deputy Commissioner Aaron Fichtner, Assistant Commissioner Mary Ellen Clark, Dr. Donohue and Michael Glass, Director of Statewide Training for Mercer County Community College.

The LWD already has begun issuing letters to people collecting the EUC benefits, scheduling about 5,000 each week for individual REA sessions through December 28, 2012.

People reporting for the REA will be given access to career assessment tools that help identify the occupations and industries where they will most likely find success in their quest for employment. Attendees will receive labor market data informing them where prospective jobs may be, the salaries attached to those positions and the skills needed to land those jobs.

The REA orientation also will inform job-seekers about the value of using a new and free job service known as OnRamp at the state website, http://careerconnections.nj.gov/. Through OnRamp, people may upload or create a skills-based resume that can help focus their job search and better match job-seekers to job postings.

Additionally, the REA will offer people a review of One-Stop Career Center reemployment and job preparation services.
-30-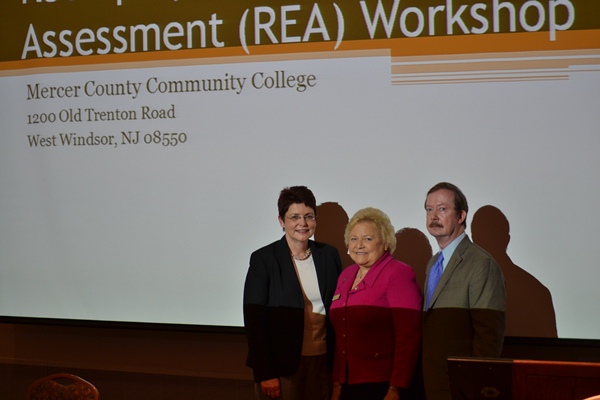 Mary Ellen Clark (left), Assistant Commissioner, New Jersey Labor Department, stands with Dr. Patricia Donohue (center), President, Mercer County Community College, and Executive Board Chair of the Workforce Consortium; and Dr. Michael Glass, Director of Statewide Training, Mercer County Community College. The group announced the partnership between the New Jersey Labor Department and New Jersey's 19 community colleges for the new Reemployment and Eligibility Assessment (REA) program. REA provides the long-term unemployed with the tools to reinvigorate their work search to help them get back to work.