May-11-12 Government Partnership Awards Bestowed on Assistant Commissioner of Workforce Development
Contact:
Brian T. Murray:
TEL: 609.984.2841
FAX: 609.777.3634

 

 
| | | |
| --- | --- | --- |
|   |         -News Release- |   |
MAY 11, 2012, Trenton _ Assistant Commissioner Mary Ellen Clark of the Department of Labor and Workforce Development (LWD) was honored recently with the "Government Partnership Award" by the Monmouth County Workforce Investment Board (WIB).

The award was presented to Assistant Commissioner Clark, head of LWD's Workforce Development, at the Monmouth County WIB's 21rst Annual Partnership Awards Dinner held at McCloone's Pier House in Long Branch. The awards were established in 1992 to recognize leaders from business, community service, education, government and organized labor who have contributed to Monmouth County's social and economic success.

"Mary Ellen is among those people in our Department developing the reforms Governor Christie has asked us to undertake to better serve people who are out of work. She also is a very strong advocate for my Department working closely with the WIBs and all of our local partners to effectively serve all of the communities in New Jersey," said LWD Commissioner Harold J. Wirths.

Assistant Commissioner Clark, a Monmouth County resident who joined the Department in 2010, is spearheading the state's re-employment efforts with new and innovative approaches to linking job-seekers to employers in search of talent. She created the concept of a single website, Jobs4Jersey.com, which was launched last year to guide job-seekers and businesses alike through the maze of state and federal services designed to help them.

Jobs4Jersey.com is now equipped with a robust and unique job-search engine, OnRamp, that allows job-seekers to link with employers by profiling their talents, not merely their past job titles. OnRamp enables job-seekers to upload multiple resumes to conduct multiple job searches, each one focusing on separate industry sectors.

OnRamp also will build resumes for job-seekers, and people may be alerted to matches through e-mail.

Under Assistant Commissioner Clark's guidance, OnRamp at Jobs4Jersey.com is being expanded to allow employers to search for new talent using the same robust and unique search engine services enjoyed by job-seekers. Employers will be able to focus in on the skills they need to find in prospective employees and have OnRamp sift through thousands of resumes to find the candidates who best fit the talents needed.
-30-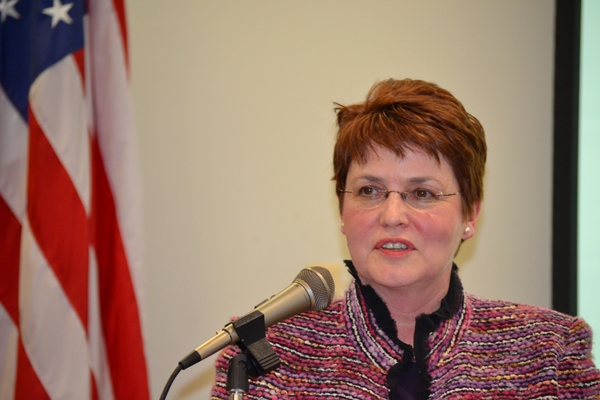 Assistant Commissioner Mary Ellen Clark of the Department of Labor and Workforce Development