May-30-12 Students Honored as New Jersey Celebrates First Year of "Jobs for America's Graduates"
Contact:
Brian T. Murray:
TEL: 609.984.2841
FAX: 609.777.3634

 

 
| | | |
| --- | --- | --- |
|   | -News Release- |   |
WEST LONG BRANCH, MAY 30, 2012  –  Underscoring Governor Chris Christie's commitment to ensuring all New Jersey students have an opportunity to begin a career or go to college, Jobs for America's Graduates New Jersey (JAG-NJ) held its inaugural career development conference on the campus of Monmouth University today.

Marking the program's first year in New Jersey, the two-day conference began Tuesday and included about 70 students from JAG-NJ programs located at Barringer High School in Newark, Camden High School in Camden and Asbury Park High School in Asbury Park. The students engaged in competitions designed to demonstrate many of the career development skills they learned through JAG-NJ, a program focused on teaching students in at-risk areas such skills as public speaking and preparing for job or college entrance interviews.

"Jobs for America's Graduates gives these students the opportunity to gain practical skills that will help them further their education or start a career after high school. Our partnership with the Department of Education in this program will help us to provide JAG students with the tools to succeed," said Commissioner Harold J. Wirths of the Department of Labor and Workforce Development (LWD).

He attended the conference yesterday with Assistant Commissioner Mary Ellen Clark, who spoke at an awards luncheon held for the students.

"We have enjoyed a successful first year of JAG in New Jersey," said Acting Education Commissioner Chris Cerf. "This program is a great example of how state government, schools, and the private sector can work together to ensure that all students, regardless of background, are on track to graduate from high school ready for college and career." 

JAG is a national non-profit youth development program dedicated to helping students from areas with high unemployment to graduate from high school and make successful transitions to training schools, colleges or meaningful employment.  JAG has been motivating students to succeed in 33 states since it was first established in 1979.

JAG-NJ was launched earlier this year with a $500,000 grant provided by the LWD and it is jointly managed with the Department of Education.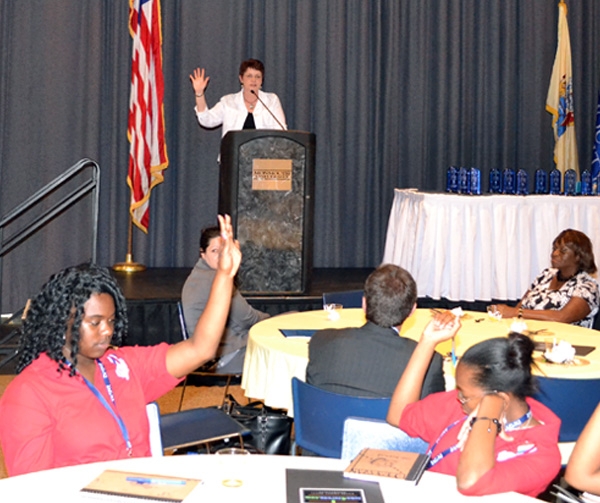 LWD Assistant Commissioner Mary Ellen Clark emceed the awards luncheon during the Jobs for
America's Graduates New Jersey (JAG-NJ) career development conference.