Jun-12-12 Christie Administration Welcomes Fidelity Investments to New Garden State Offices
Finance Company Brings 240 New Jobs to New Jersey
Contact:
Brian T. Murray:
TEL: 609.984.2841
FAX: 609.777.3634

 

 
| | | |
| --- | --- | --- |
|   | -News Release- |   |
JERSEY CITY, JUNE 12, 2012 – Commissioner Harold J. Wirths of the Department of Labor and Workforce Development represented Governor Chris Christie today in welcoming Fidelity Investments to the company's new regional office during a ribbon-cutting ceremony in Jersey City.

"On behalf of Governor Chris Christie, I'd like to say how pleased we are to see a well-respected, national financial services firm like Fidelity Investments select New Jersey as a regional site," said Commissioner Harold J. Wirths.  "Fidelity joins many other companies that also chose to locate here, and I believe it validates everything this administration is doing to make the Garden State a highly desirable destination for businesses of all sizes."

Fidelity has invested about $30 million to outfit its new state-of-the-art office in 185,000 square feet of leased space at the Newport Office Centre in Jersey City. The firm will employ 600 people at the new regional office, including 240 positions that represent new jobs for New Jersey.

"Today's announcement is good news for New Jersey, for Fidelity and for our associates," said Gerard McGraw, president of Fidelity Institutional and a native of Hoboken. "Fidelity has a longstanding commitment to New Jersey and to maintaining a strong business presence in the region. We're pleased to be able to bring our associates together in a way that will enable them to serve our clients more efficiently while coming to work each day in a beautiful new space."

Fidelity first established a presence in the tri-state, metropolitan region in 1981 and expanded its operations to Harborside Financial Center in Jersey City in 2002.  The firm developed its presence in the region because of the workforce skills it found to be centralized in the area, including institutional trading, securities execution and clearing, and other high-level financial and technological careers.

Fidelity said it opted to establish its central regional office in Jersey City for a number of reasons, particularly because the region is a financial services hub that offers access to a world-class talent and skill-set Fidelity deems important to its business strategy and ability to deliver exceptional client services. The region also provides amenities such as public transportation, shopping and dining, as well as close proximity to hotels, health, wellness and recreational facilities.

The local business climate and Jersey City's focus on economic revitalization also made it an attractive choice, according to Fidelity. To celebrate the move to Newport Centre, Fidelity presented a donation to the York Street Project, one of Fidelity's community partners.  Hundreds of Fidelity associates donated more than 2,000 hours to New York and New Jersey nonprofits in 2011.

Joining Commissioner Wirths at the celebration were U.S. Rep. Albio Sires, Jersey City Mayor Jerramiah T. Healy and Maggie Serravalli, Executive Vice President of Fidelity Investments.

Fidelity Investments is one of the world's largest providers of financial services, with assets under administration of $3.7 trillion, including managed assets of $1.6 trillion, as of April 30, 2012.  Founded in 1946, the firm is a leading provider of investment management, retirement planning, portfolio guidance, brokerage, benefits outsourcing and many other financial products and services to more than 20 million individuals and institutions, as well as through 5,000 financial intermediary firms.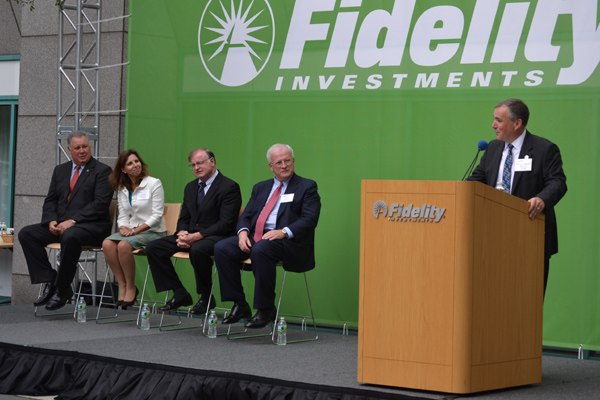 Commissioner Harold J. Wirths talked of job growth in New Jersey at a ribbon cutting for Fidelity Investments new regional office in Jersey City. Looking on were (left to right) U.S. Rep. Albio Sires; Maggie Serravalli, Executive Vice President of Fidelity Investments, Jersey City Mayor Jerramiah T. Healy and Gerard McGraw, president of Fidelity Institutional.