Jun-21-12 New Jersey Transportation, Logistics, and Distribution Talent Network Highlights Industry Jobs During Career Summit
Contact:
Brian T. Murray:
TEL: 609.984.2841
FAX: 609.777.3634
| | | |
| --- | --- | --- |
| | -News Release- | |
NEW JERSEY TRANSPORTATION, LOGISTICS, AND DISTRIBUTION TALENT NETWORK HIGHLIGHTS INDUSTRY JOBS DURING CAREER SUMMIT
BRANCHBURG, N.J. JUNE 21, 2012 – New Jersey's Transportation, Logistics, and Distribution (TLD) Talent Network hosted a career summit highlighting jobs and careers in the key TLD industry sector, attracting about 80 job-seekers to Raritan Valley Community College today.
The TLD industry, one of several identified by the Department of Labor and Workforce Development (LWD) as leading the state's economic comeback, provides about one in every 10 jobs in the Garden State.
"We understand the importance of the Transportation, Logistics, and Distribution sector to our state's economy. With TLD payrolls expected to increase we are pleased to partner in events like this career summit to make job-seekers aware of the opportunities in this industry," said LWD Commissioner Harold J. Wirths.
The summit focused on providing information about the varied careers in the TLD sector and provided a networking opportunity for those looking for employment in one of New Jersey's fastest growing business sectors. TLD is a broad industry that manages the flow of goods, information and passengers. The sector offers high-wage jobs in operations, administration, safety, sales, accounting and more.
"Sessions like this reflect the targeted approach our department is taking to bring together employers, job-seekers and educators to let everyone know exactly where genuine job opportunities exist," said Assistant Commissioner Jeff Stoller.
He spoke to the crowd of job-seekers, explaining that as technology changes, so do the skills required for both employees and employers to remain marketable. Both groups must be prepared for constant changes that affect the economy.
"With one in ten jobs in the state inside the TLD industry sector, we recognize that ensuring a pipeline of skilled workers for this important industry will help ensure economic growth in our state. By connecting employers directly with job-seekers, educators and the workforce development community, New Jersey's TLD Talent Network ensures we can bridge any existing gaps between workers and employers," said Christina Herzog, coordinator of the state TLD Talent Network.
The TLD Talent Network was created through a partnership LWD developed with the John J. Heldrich Center for Workforce Development, Edward J. Bloustein School of Planning and Public Policy at Rutgers, The State University of New Jersey.
Six Talent Networks have been established to focus on the specific needs of key industries in the state in order to connect employers, job seekers, the state's One Stop Career Centers and educational institutions to achieve the common goal of helping current job seekers develop relevant skills that lead to job opportunities, helping employers find qualified employees, and to ensure that New Jerseyans have access to training and educational opportunities that lead to the jobs of the future.
For more information about the TLD Talent Network, go to: http://careerconnections.nj.gov/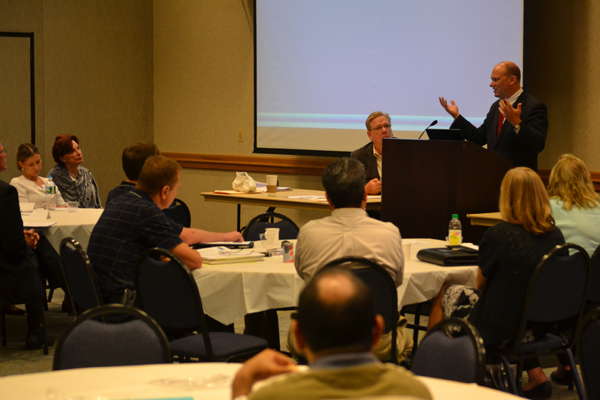 Jeffrey Stoller, Assistant Commissioner of Labor Planning and Analysis for the New Jersey Labor Department (standing behind lectern) addresses attendees during the Transportation, Logistics, and Distribution (TLD) Career Summit that was held on the campus of Raritan Valley Community College in Branchburg, New Jersey. The TLD industry is one of the fastest growing sectors in the state.