Jun-26-12 New Jersey Life Sciences Talent Network brings Job-Seekers and Employers Together During Career Connection Job Fair
Contact:
Brian T. Murray:
TEL: 609.984.2841
FAX: 609.777.3634
| | | |
| --- | --- | --- |
| | -News Release- | |
NEW JERSEY'S LIFE SCIENCES TALENT NETWORK BRINGS JOB-SEEKERS AND EMPLOYERS TOGETHER DURING CAREER CONNECTION JOB FAIR
NEW BRUNSWICK, N.J. JUNE 27, 2012 – New Jersey's Bio-NJ Life Sciences Talent Network sought to pair job-seekers with open positions at its job fair "Career Connection" yesterday on the campus of Rutgers University in New Brunswick. The event attracted hundreds of job-seekers looking to meet with life science industry employers and to learn about the resources and grants available for training and education during periods of unemployment.
"Life sciences is a critical industry for New Jersey and through our Life Sciences Talent Network the Department of Labor and Workforce Development is working with education and business to ensure that this industry has a thriving talent pool to support future innovations and economic growth," said Labor Commissioner Harold J. Wirths.
Considered as the "medicine chest of the world," New Jersey is home to more than 300 biotechnology companies and 20 pharmaceutical and medical technology firms -- with 17 out of the world's top 20 have major facilities in the state.
During the event, the New Jersey Department of Labor and Workforce Development held informational sessions about the $2.5 million National Emergency Grant (NEG) increment from the U.S. Department of Labor to continue providing reemployment and training services to just under 1,000 workers affected by layoffs in the pharmaceutical industry in northern New Jersey. The additional federal funding coincides with the NEG awarded to LWD in September 2010 that targets ten counties in North Jersey.
The Life Sciences Talent Network is one of six industries identified by the Department of Labor and Workforce Development (LWD) to lead the state's economic comeback. In fact, the total number of trained pharmaceutical, biotech and medical technology workers in the state has more than tripled since 2001. The industry supports approximately 150,000 employees.
For more information about the Life Sciences Talent Network, go to: http://careerconnections.nj.gov/careerconnections/partners/talent/lstn/life_sciences.shtml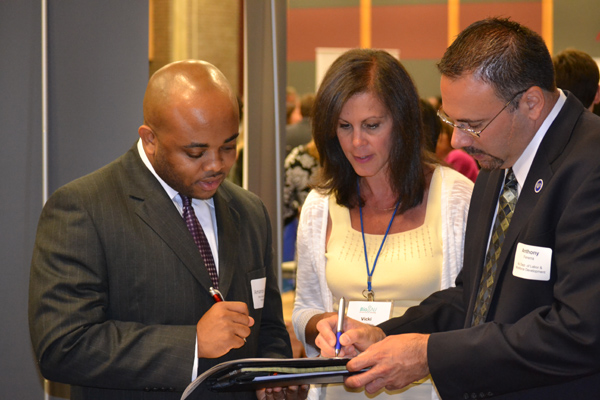 New Jersey's BioNJ Life Sciences Talent Network hosted a job fair "Career Connection" on Tuesday, June 26, 2012, at the Rutgers University Student Center in New Brunswick. The event attracted hundreds of job-seekers who had an opportunity to meet with employers, industry recruiters, education providers, and career counselors. Above, Vicky Gaddy (center), director, BioNJ Life Science Talent Network and Anthony Ferrera (right), director, Workforce Portfolio and Contract Management, assist Amanze Okere (left), who is interested in connecting with several of the companies participating in the event.