Jul-11-12 Christie Administration Continues New Jersey's Commitment to Employ Returning Military Veterans
Contact:
Brian T. Murray:
TEL: 609.984.2841
FAX: 609.777.3634

 

 
| | | |
| --- | --- | --- |
|   | -News Release- |   |
ATLANTIC CITY, JULY 11, 2012 – Continuing Governor Chris Christie's commitment to New Jersey's military veterans, Commissioner Harold J. Wirths of the Department of Labor and Workforce Development announced today that nearly $190,000 in funding will be provided to the New Jersey Building and Construction Trades Council's (NJBCTC) Helmets to Hardhats program.

The state grant marks the second consecutive year the administration has funded the New Jersey Helmets to Hardhats program, which enables National Guard, reserve, retired and transitioning active-duty military members to connect to quality career and training opportunities in the construction industry.

"Governor Christie and I are continuing our support of programs that ensure employment for the brave men and women who put their lives on hold and placed themselves in harm's way to defend our nation. Helmets to Hardhats is a vital partnership between this administration and the NJBCTC that enables veterans to acquire the skills needed to secure career opportunities in the building trades," Commissioner Wirths said.

He announced the grant, which is being issued through LWD discretionary funds, while delivering the keynote speech today at the NJBCTC's Annual Convention at Caesar's Hotel and Casino. Last year, $195,000 in LWD discretionary funds was used to finance Helmets to Hardhats, which is part of a national program jointly created by the U.S. Department of Veteran Affairs and the national Building and Construction Trades Department of the AFL-CIO.

"We are grateful for the strong support Governor Christie and Commissioner Wirths have given to our Helmets to Hardhats program. With the state funding we received last year, we doubled the number of veterans we initially anticipated on placing into accredited apprenticeship programs," said William T. Mullen, President of the NJBCTC. "We hope to be equally as successful this year in giving quality careers to the men and women who sacrificed so much for our nation."

The New Jersey H2H program set out last year to place 24 veterans into apprenticeship programs and succeeded in placing 47 veterans. This year, the program is again targeting 24 veterans. Operated by the NJBCTC, the program targets military personnel transitioning out of active duty as well as National Guard and reserve members who have civilian jobs but are looking for better employment opportunities.

The NJBCTC, a partnership of thirteen county building trades councils, more than 100 local unions and over 150,000 rank and file members, educate program participants about the demands of the industry's careers and place successful apprentice applicants to work on their jobsites.
 
Most active and reserve military personnel have high school diplomas or GEDs, a requirement of most trade apprentice programs. Additionally, electrical and mechanical equipment repair, craftwork, and engineering and maintenance are some of the most popular occupational specialties for both active and reserve members.

A candidate interested in pursuing an apprenticeship training program through H2H should meet the following qualifications:
• Be at least 18 years of age at the time of registration
• Possess a high school diploma or GED; if not, the participant is referred to their county's One-Stop Career Center for assistance in obtaining the credential
• Possess a valid driver's license or be able to obtain one prior to application to any trade program requiring one;
• Have access to their own transportation to get to and from job sites once they're accepted into an apprenticeship; public transportation may not run through the places where job sites are located
• Remain drug free and submit to drug testing as required in the apprenticeship application process
• Place at a minimum of Level 3 in "Work Keys" testing or demonstrate the ability to quickly reach this level through study and practice using the program's test preparation services; participants not meeting this criteria will be referred to their county's One-Stop Career Center for remedial assistance
• Demonstrate a legitimate interest in pursuing a career in the building and construction trades

The administration of Governor Christie has demonstrated a strong record of support for New Jersey's military veterans, citizen soldiers and their respective families, and renewed that commitment earlier this year with Operation: Hire a Jersey Hero. The initiative has focused on promoting job opportunities for veterans, particularly by connecting employers with state resources to support the hiring of veterans.

For further information about the New Jersey Helmets to Hardhats program visit http://www.njbctc.org/h2h/index.html.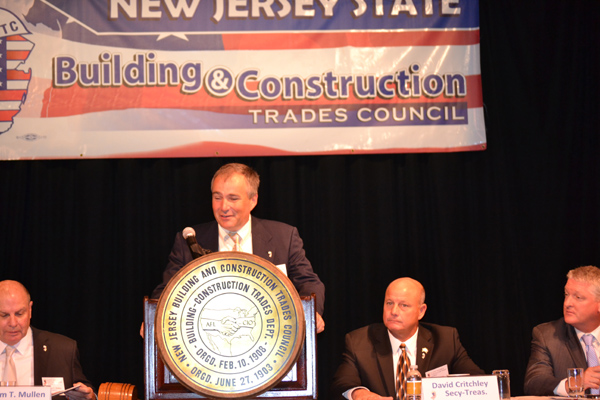 Labor Commissioner Harold J. Wirths announced a $190,000 grant to the Helmets to Hardhats program while giving the keynote speech at the New Jersey Building and Construction Trades Council's 108th Annual Convention in Atlantic City. Pictured next to him are NJBCTC President William T. Mullen (left) and (right) David Critchley, NJBCTC Secretary-Treasurer.