Aug-31-12 Commissioner Wirths Observes Labor Day with Southern New Jersey Central Labor Council at Annual Peter J. McGuire Event
Contact:
Brian T. Murray:
TEL: 609.984.2841
FAX: 609.777.3634

 

 
| | | |
| --- | --- | --- |
| |         -News Release- |   |
COLLINGSWOOD, N.J., August 31, 2012 – Today New Jersey Labor Commissioner Harold J. Wirths joined the Southern Jersey Central Labor Council, AFL-CIO, and a long list of elected New Jersey officials to honor working men and women, and to recognize Peter J. McGuire, a labor leader from New Jersey who first proposed the idea of Labor Day.             
"It's always important for us to ensure people are employed at fair wages in a safe environment. In these tough economic times, the best thing we can do for unemployed people in this nation is to get them into good jobs, and that is a priority of this administration," said Commissioner Wirths.
He touted Jobs4Jersey.com, an initiative under Governor Chris Christie that links job-seekers with employers using a robust search-engine called OnRamp. The state-of-the-art system matches job-seekers with employers looking for skilled employees by focusing on talents and skills, not job titles.
The South Jersey Central Labor Council stressed the importance of education to drive the nation's economy, and during the event union leaders awarded 24 scholarships to students from the southern New Jersey area to help them attend Rutgers University, Rowan University, Camden County College and Gloucester County College. Additionally, the Council presented Rev. Carl Styles, business manager of Laborers Local 77, with the George E. Norcross Humanitarian Award for his dedication to community service.
The Labor Day observance concluded with Commissioner Wirths speaking at a wreath-laying ceremony at the Peter J. McGuire memorial at Arlington Cemetery in Pennsauken.
-30-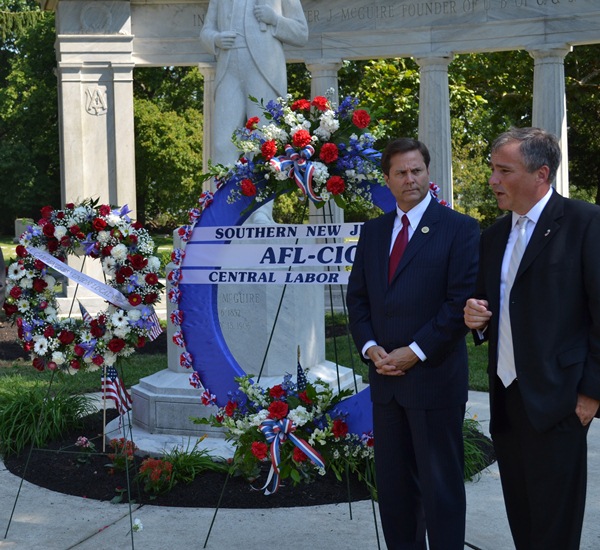 New Jersey Labor Commissioner Harold J. Wirths (far right) participates in the wreath-laying ceremony at the Peter J. McGuire Memorial in Arlington Cemetery in Pennsauken, N.J. Commissioner Wirths addressed the Southern New Jersey Central Labor Council during the 118th Annual Peter J. McGuire Labor Day Observance. Standing next to Commissioner Wirths is State Senator Donald Norcross.