Sep-12-12 Christie Administration Partners with U.S. Chamber of Commerce to Hire Veterans
Job Fair Connects Job-seekers to More Than 120 Employers
Contact:
Brian T. Murray:
TEL: 609.984.2841
FAX: 609.777.3634

 

 
| | | |
| --- | --- | --- |
|   | -News Release- |   |
TRENTON, SEPTEMBER 12, 2012 – The Christie Administration broadened its outreach efforts to help New Jersey veterans and military spouses find jobs today, as Lt. Governor Kim Guadagno and other administration officials joined the U.S. Chamber of Commerce in launching a "Hiring Our Heroes" job fair at the Sun National Bank Center in Trenton.

More than 120 employers ranging from large companies in the Garden State, such as Johnson & Johnson, PSEG, Toys R Us and Prudential, to small businesses and government agencies participated in the job fair with a goal of hiring hundreds of veterans looking for jobs.

"Today's event is another example of this administration's commitment to hire our veterans and dedicate our resources to help them reach their career and employment goals," said Lt. Governor Kim Guadagno. "New Jersey is a leader in its efforts to transition military men and women back to civilian life and to give our veterans the tools to succeed."

In March 2011, the U.S. Chamber of Commerce and the National Chamber Foundation launched "Hiring Our Heroes" – a sustained grassroots campaign to help veterans and military spouses find meaningful employment in hundreds of communities across America. As of June 30, 2012, they have partnered with other various organizations to host 209 hiring fairs in 48 states, the District of Columbia, and Puerto Rico.

"Hiring veterans just makes good business sense," said Commissioner Harold J. Wirths of the state Department of Labor and Workforce Development. "Veterans have already proven their dedication through their commitment to service, and when they come home they shouldn't have to fight the battle of unemployment. My department will continue to provide them with the employment resources to find a job, improve their skills or discover a new career."

As of 2011, New Jersey was home to 430,000 veterans, age 20 and older, according to the latest Current Population Survey (CPS) report, which is compiled by the U.S. Census Bureau for the U.S. Bureau of Labor Statistics. Of those veterans, 209,000 were counted as being in the state labor force and 186,000 of them were listed as employed.  The state's unemployment rate for non-veterans during 2011 was 8.9 percent, compared to 10.7 percent for veterans, according to the CPS.

"Throughout history, men and women in the military have proven their dedication and abilities through their service to our nation," said Brig. Gen. Michael L. Cunniff, the Adjutant General. "This event will provide Reservists, National Guardsmen and Veterans an opportunity to meet with patriotic employers who recognize their value."

The U.S. Chamber of Commerce's "Hiring Our Heroes" job fair is sponsored by Hero2Hired, which partnered with Employer Support of the Guard and Reserve (ESGR), American Legion, and New Jersey's Employment Initiative Program to host today's free employment fair for veterans, Guard and reserve members, as well as military spouses.

The event was supported by the Sun National Bank Center, The Department of Veterans Affairs, The American Legion, the U.S. Department of Labor Veterans' Employment & Training Service, the U.S. Department of Veterans Affairs' Vocational Rehabilitation, New Jersey Department of Labor and Workforce Development, NBC News, New Jersey VET2VET, and Allies Inc.

Participation in the event by Christie Administration officials is a continuation of its commitment to support New Jersey's veterans. In his Fiscal Year 2013 budget, Governor Christie expanded the highly effective Veterans Haven program to serve veterans in the northern part of the state at the site of Hagedorn Psychiatric Hospital.
Governor Christie also signed various pieces of legislation to assist veterans, including:
 strengthening the support network for military families after the death of a service member
establishing a program that awards high school diplomas to veterans who dropped out to serve in World War II, Korea and Vietnam
honoring Gold Star Families with a special license plate for families of members of the military killed in action for their sacrifice
establishing the New Jersey National Guard State Family Readiness Council Fund
ensuring funding for the Veteran to Veteran Peer Support Program telephone helpline
 funding programs such as the Helmets to Hardhats effort through which the New Jersey Building and Construction Trades Council tries to put veterans back to work through apprenticeship programs
In April the Christie Administration launched Operation: Hire a Jersey Hero at a symposium at Prudential Financial's headquarters in Newark. The event focused on connecting employers who want to hire veterans with the state and federal agencies that can introduce them to former military people who need jobs and connect employers to incentive programs available to train veterans for civilian work.

In May, Operation: Hire a Jersey Hero continued when 350 veterans, along with spouses of active military service people, had an opportunity to attend a job fair on board the USS New Jersey in Camden, where 50 employers had a combined 2,800 available positions to offer the participating veterans.

In addition, First Lady Mary Pat Christie initiated the Heart of a Hero Scholarship through her New Jersey Heroes program to help military service members pursue a post-secondary education or vocational training.  Last month, she announced ten recipients of the Scholarship who will receive $10,000 each to assist  in making their higher education and career goals a reality.

The New Jersey Department of Labor and Workforce Development, which organized the Newark employer event and the New Jersey Battleship job fair, has served more than 16,000 veterans this past year at its 34 One-Stop Career Centers throughout the state.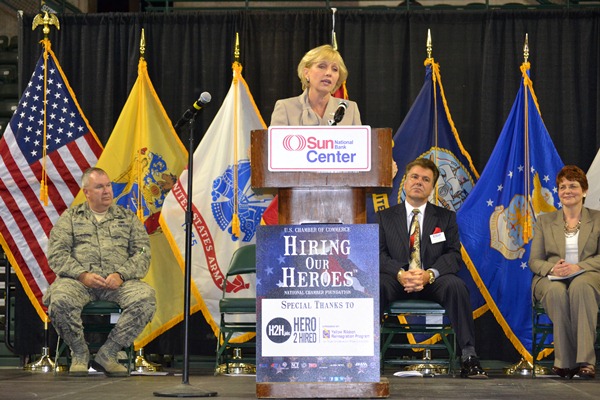 Lt. Governor Kim Guadagno kicked off the Hire Our Heroes job fair in Trenton with (seated left to right) Adjutant General Michael Cunniff; Don Tretola of the New Jersey Employer Support of the Guard and Reserve, and Mary Ellen Clark, Assistant Commissioner of the Department of Labor and Workforce Development.