Oct-09-12 Christie Administration Expands Anti-Fraud Measures To Protect Unemployment Insurance Trust Fund
More Than $153 Million Already Saved
Contact:
Brian T. Murray:
TEL: 609.984.2841
FAX: 609.777.3634

 

 
| | | |
| --- | --- | --- |
|   | -News Release- |   |
TRENTON, OCTOBER 9, 2012 _ The Christie Administration today launched a new initiative to stop fraudsters from depleting New Jersey's Unemployment Insurance Trust Fund, adding another layer of protection to anti-fraud programs that already have saved the fund $153 million within the past 18 months.
Using state of the art technology, the Department of Labor and Workforce Development is adding a new tool to its anti-fraud arsenal with a system that requires people who file for Unemployment Insurance benefits to answer a series of multiple choice questions that will allow the state to confirm their identity before clearing payment on a claim. The innovative, computer-based system is designed to prevent identity thieves from filing phony unemployment claims using the stolen identities of innocent and unsuspecting victims, which is a common type of fraud used to raid Unemployment Insurance funds around the nation.
"When I first came to this department, we uncovered a case in which $2 million had been stolen from the Unemployment Insurance Trust Fund by people who largely used the stolen identities of innocent people to file false claims," said Labor Commissioner Harold J. Wirths. "We took the problem head on by initiating anti-fraud measures that have already saved New Jersey $153 million and we believe this new measure will add considerably to that savings."
The new program is called "Identity Proofing." When a person files an Unemployment Insurance claim, providing the Department of Labor with his or her name and other legally required information, the new system conducts an instant search. It matches the information provided by the claimant against data the system electronically pulls from public records related to the name and identifying information provided by the claimant.
The system then devises questions using that background data, such as what type of car the person first owned or previous addresses where the claimant resided.
"Identity thieves who steal a person's name and social security number to file a fraudulent Unemployment Insurance claim are unlikely to know some innocuous, but key facts, such as whether a person graduated a certain college or once owned a motorcycle. They also are unlikely to simply guess the correct answers to three or more questions," explained Deputy Commissioner Aaron Fichtner.
Department staff are not informed of the questions posed to the claimant or how a person responded, and the system does not retain, store or share any of the background data the system calls up to verify an identity. The system only places a pass or fail designation on the claimant's account.
Claimants who pass the identity verification will have their claim processed for benefit payments. Those who do not pass, choose not to participate in the questioning or who quit during the question session will not be cleared for benefits. Instead, that person will need to confirm their identity before any benefits will be paid.
"Those people will be mailed information requiring they report to designated Department locations for in-person verification and they are given a list of acceptable identity verification documentation they need to produce. A fraudster is not likely to show his face for an in-person interview or have the additional identification papers," said Ronald Marino, Assistant Commissioner of Income Security.
Details of the new system were outlined today by Department of Labor officials during a meeting of the bi-partisan Unemployment Insurance Task Force, which was created under legislation signed in 2010 by Governor Chris Christie to review and make recommendations to improve the state's Unemployment Insurance system and trust fund. The meeting was held in the auditorium of the Department of Labor's headquarters in Trenton.
Last year, the U.S. Department of Labor issued a report contending the most common cause of fraud and improper payments affecting state Unemployment Insurance funds nationwide involves people continuing to file unemployment claims and collecting benefits long after they find a new job and return to work. In a March 2012 report, the U.S. Department of Labor said more than $13.7 billion in improper payments had been made from state trust funds in 2011.
But by then, New Jersey already had been issued two recognition awards by the U.S. Department of Labor for stopping that type of fraud. Beginning in March 2011, New Jersey began cross-matching state Unemployment Insurance lists against the National Directory of New Hires, to which employers must report new employees.
An average of 2,000 claims has been flagged each week, and as of last month, the state Department of Labor saved more than $133 million through the cross-matching. Another $18 million has been saved since the state purchased $1,600 in new software in April to identify cheats from foreign nations who are trying to file Unemployment Insurance claims through the Internet from abroad.
-30-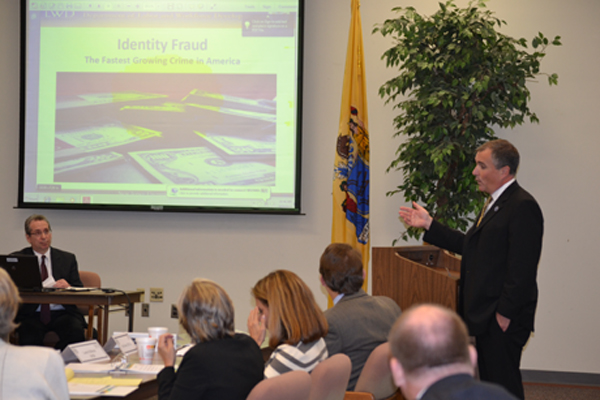 Commissioner Harold J. Wirths outlined how his department has launched another layer of anti-fraud protection in New Jersey during the Unemployment Insurance Task Force meeting today in Trenton.