Oct-11-12 Employers Connect with More than 500 Job-Seekers at Sussex County Job Fair
Contact:
Brian T. Murray: 
TEL: 609.984.2841
FAX: 609.777.3634
Email: MediaCalls 

 

 
| | | |
| --- | --- | --- |
|   | -News Release- |   |
FRANKLIN, SUSSEX COUNTY, N.J., Oct. 11, 2012 _More than 500 job-seekers connected with 56 employers who set up tables today at the annual fall job fair hosted by the Department of Labor and Workforce Development (LWD) and its local partners at the local One-Stop Career Center.

"The attendance we have here today demonstrates just how important it is for us to provide these opportunities for job-seekers to meet with New Jersey employers. Not only are those searching for work served well, but these events also help our businesses find the talent they need to remain competitive in the global market," said LWD Commissioner Harold J. Wirths, who visited the event.

Among the employers were companies such as Edward Jones, David Lerner Associates, Cumberland Farms and Weichert Realtors. Government agencies also were there recruiting, including the Pennsylvania State Police, the New Jersey Department of Corrections and the U.S. Bureau of Prisons.

"This is the fifth job fair we've held in Sussex County this year. I think it's important for people to meet face-to-face with employers, and certainly today's turnout indicates the employers and job-seekers feel the same way," said Bill Weightman, manager of the One-Stop.

The Franklin One-Stop Career Center is one of two located in Sussex County that serve tens of thousands of people annually. The fall job fair is an annual event, and today's event offered job-seekers information about Jobs4Jersey.com, a state website offering a robust, state-of-the-art job-search engine called OnRamp. Nearly 140,000 job-seekers have posted resumes through OnRamp, which creates resumes for people looking for work and matches their talents, not mere job-titles, to open positions..

Since OnRamp became available in July to employers searching for talent, more than 2,500 employers have opened accounts to fill positions. As of today, more than 302,000 job postings were listed.

Employers and job-seekers alike may access OnRamp by logging on to Jobs4Jersey.com.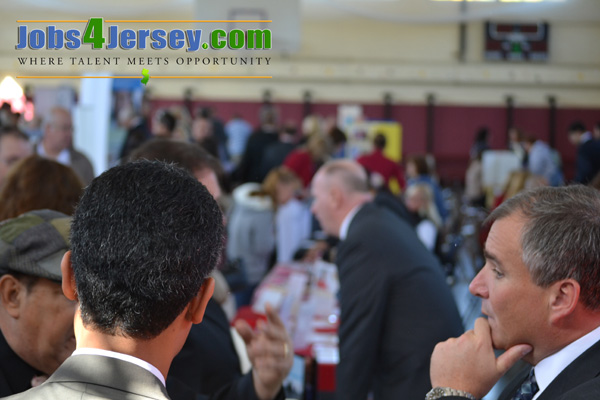 Commissioner Harold J. Wirths spoke with officials at the Sussex County One-Stop Career Center
in Franklin, where more than  500 job-seekers met with 56 employers.