Oct-22-12 Lt. Governor Guadagno and Department of Labor Kick-Off Manufacture NJ Week
Five Days of Events Highlight Dynamic Segment of the Garden State Economy
Contact:
Brian T. Murray: 
TEL: 609.984.2841
FAX: 609.777.3634
Email: MediaCalls 

 

 
| | | |
| --- | --- | --- |
|   | -News Release- |   |
NEWARK, N.J., October 22, 2012 –Recognizing the dynamic contributions of the manufacturing industry to the Garden State economy, Lt. Governor Kim Guadagno and Department of Labor and Workforce Development officials today launched the first-ever ManufactureNJ week.  Over the next five days, officials and manufacturing leaders will spotlight this vital industry as a key source of employment and economic prosperity in New Jersey. Governor Chris Christie issued a proclamation declaring October 22 – 27, 2012 as ManufactureNJ Week.

"Manufacturing, particularly advanced manufacturing operations emerging in the Garden State, is crucial to our economic growth and future prosperity," said Lt. Governor Kim Guadagno. "This administration has designated manufacturing as a priority industry sector because of the promise it holds in creating more highly-skilled, lucrative jobs and the contributions it offers to New Jersey's quality of life and economic vitality."

Hosted at New Jersey Institute of Technology (NJIT) by the New Jersey Manufacturing Extension Program, Inc. (NJMEP); the Labor Department andManufactureNJ, the state's Advanced Manufacturing Talent Network, the kick-off began a series of round-table talks, tours and demonstrations to be held around the statefrom today through Friday.

Multiple events will be held on separate dates in Northeast, Central, Northwest and South New Jersey, and there are two tracks for people interested in following: one for students and job-seekers, and a track for media and members of the general public interested in learning more about modern manufacturing in the Garden State.

Each event during ManufactureNJ Week will bring students, educators and policy makers face-to-face with the state's manufacturing industryto highlight industry challenges, the potentials for employment in the industry and the opportunities for manufacturing to expand throughout the state.

The Governor's Proclamation was presented at the kick-off by Deputy Commissioner Aaron Fichtner of the state Department of Labor and Workforce Development to Meredith Aronson, head of ManufactureNJ, the state's Advance Manufacturing Talent Network.

The Talent Network is one of six created around key industry clusters to helpGarden State employers convey to training programs, educational institutions and policy makers the skills job-seekers need to land employment in their businesses and the business interests of manufacturers.

"Historically, manufacturing was a driving force in New Jersey beforethe state, like the nation, turned toward a more service-oriented economy. But the industry remains viable, andthe state's economy can benefit further from it if we take advantage of some new manufacturing opportunities being opened by both national and foreign markets. Let's face it, we cannot continue with an economy based on everyone providing services for each other," said Labor Commissioner Harold J. Wirths.

ManufacturingNJ and NJMEP, a not-for-profit manufacturing advocacy organization, have joined with community colleges, educators and industry leaders to arrange multiple events around the state this week. Each day will be dedicated to one of four geographic areas in New Jersey:

Oct. 23, Northeast

Oct. 24, Central

Oct. 25, Northwest

Oct. 26, South

For more details on each of the events and event dates, go to:

http://www.manufacturenj.org/events/view/list

For more information on ManufactureNJ, the Talent Network and ManufactureNJ Week, go to: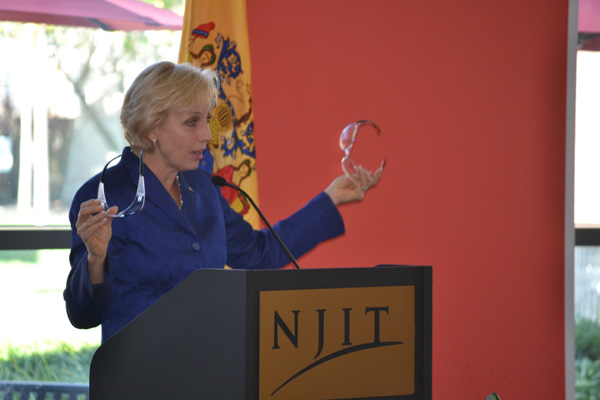 Lt. Governor Kim Guadagno, speaking at the kick-off of ManufactureNJ Week before a
crowd of 70 visitors at NJIT in Newark, brandished protective eye-glasses she has been
carrying with her while touring New Jersey manufacturing companies throughout the
month.