Nov-23-12 Labor Commissioner Prepares Holiday Dinners in Sussex
Governor Christie's Administration Continues "Season of Service" Initiative
Contact:
Brian T. Murray: 
TEL: 609.984.2841
FAX: 609.777.3634
Email: MediaCalls 

 

 
| | | |
| --- | --- | --- |
|   | -News Release- |   |
SUSSEX, N.J., November 23, 2012 _ Commissioner Harold J. Wirths helped to load more than a hundred Thanksgiving Day turkeys into the Sussex Help Center, just in time for the local charity in this tiny Sussex County borough to prepare holiday meals for more than a hundred needy families, including people impacted by the devastation of Hurricane Sandy.

The Commissioner's effort was part of Governor Chris Christie's "Season of Service" initiative, which was officially kicked off the day before Thanksgiving. All cabinet officials in the Christie administration are spending time volunteering and highlighting service opportunities through the end of December as part of the "Season of Service" initiative.

Earlier this week, Commissioner Wirths also passed out approximately 500 pre-made Thanksgiving dinners at Lowe's in Paterson as Governor Christie and members of the administration staffed 22 of the home-supply chain stores in New Jersey to give holiday meals to people in regions hit hardest by Hurricane Sandy.

The Sussex Help Center, where Commissioner Wirths and his family traditionally volunteer their time, provides a variety of programs to Sussex and Wantage neighbors in need. Aside from providing special holiday meals, the storefront in Sussex Borough distributes food to needy families four times each week.

The turkeys Commissioner Wirths helped to load enabled the Sussex Help Center to provide 125 holiday dinners.. Funding for the center comes from private donations, individuals and churches. The charity receives no federal, state or government assistance.

The center accepts non-perishable food donations, including canned vegetables, canned meals and fruit, gelatin, pudding, soup, sandwich spread, peanut butter, jelly, tuna fish, mayonnaise, canned meat, macaroni, spaghetti, sauce, rice, tea bags, powdered milk, and sugar-free food for diabetics. To find out more information or to volunteer, please call (973) 702-1922.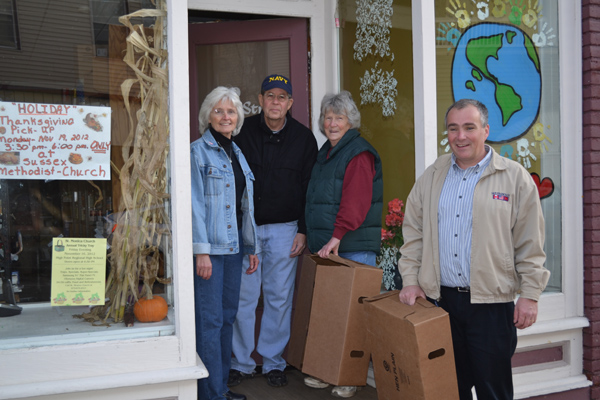 Commissioner Harold J. Wirths of the Department of Labor and Workforce Development worked with
other Sussex County volunteers at the Sussex Help Center before Thanksgiving Day to prepare 125
holiday turkey dinners for needy families.