Dec-05-12 CHRISTIE ADMINISTRATION CONTINUES CAMPAIGN TO LINK NEW JERSEY VETERANS WITH EMPLOYERS
Contact:
Brian T. Murray: 
TEL: 609.984.2841
FAX: 609.777.3634
Email: MediaCalls 

 

 
| | | |
| --- | --- | --- |
|   | -News Release- |   |
WEST ORANGE, N.J., December 5, 2012 – Commissioner Harold J. Wirths of the Department of Labor and Workforce Development and Brigadier General Michael L. Cunniff, the Adjutant General of the state Department of Military and Veteran Affairs kicked off a job fair today with the Essex County One-Stop Career Center to help New Jersey Veterans connect with job opportunities.

"Today, we took a step toward fulfilling Governor Christie's dedication to the men and women who have sacrificed on our behalf," said Commissioner Wirths. 

Approximately 300 veterans, spouses, and their families attended today's job fair at the West Orange National Guard Armory on Pleasant Valley Way, where about 40 employers set up interview tables, including Crestron Electric, Target, Lowes, Home Depot, New Jersey Transit, GE Healthcare, Peter Pan Bus and Prudential. 

"Reservists, National Guardsmen and veterans who return from active duty are not immune to employment struggles that face our state and nation," said Brigadier General Cunniff. "This job fair is another step in the right direction to ensure New Jersey veterans are afforded employment opportunities following their honorable and faithful service to our country." 

Today's event comes on the heels of a November 27 "Hire our Heroes" job fair in Toms River, where the Christie Administration partnered with the U.S. Chamber of Commerce and others to find employment opportunities for veterans who lost homes and jobs due to Hurricane Sandy. In September, the Administration partnered with the Chamber to host the largest "Hiring Our Heroes" job fair in the nation, when more than 700 veterans connected with more than 120 employers at the Sun National Bank Center in Trenton. 

Governor Christie has taken many steps to help returning and former New Jersey service people, including expanding the highly effective Veterans Haven program to serve veterans in the northern part of the state at the site of Hagedorn Psychiatric Hospital. Governor Christie also signed various pieces of legislation to assist veterans, including: 

-       Strengthening the support network for military families after the death of a service member;

-       Establishing a program that awards high school diplomas to veterans who dropped out to serve in World War II, Korea and Vietnam;

-       Honoring families of military killed in action with a special Gold Star Families license plate;

-       Establishing the New Jersey National Guard State Family Readiness Council Fund;

-       Ensuring funding for the Veteran to Veteran Peer Support Program telephone helpline; and

-       Funding programs that put veterans back to work, such as the Helmets to Hardhats effort through which the New Jersey Building and Construction Trades Council 

In April the Christie Administration also launched Operation: Hire a Jersey Hero at a symposium at Prudential Financial's headquarters in Newark. The event focused on connecting employers who want to hire veterans with the state and federal agencies that can introduce them to former military people who need jobs and connect employers to incentive programs available to train veterans for civilian work. 

In May, Operation: Hire a Jersey Hero served 350 veterans and spouses of active military service people through a job fair on board the USS New Jersey in Camden. Fifty employers offered a combined 2,800 available positions to participating veterans and spouses. 

In addition, First Lady Mary Pat Christie initiated the Heart of a Hero Scholarship through her New Jersey Heroes program to help military service members pursue post-secondary education or vocational training. In August, the First Lady announced ten scholarship recipients who each received $10,000 to assist in making his or her career goal a reality. 

The New Jersey Department of Labor and Workforce Development, which organized the Newark employer event and the New Jersey Battleship job fair, has served more than 16,000 veterans this past year at its 34 One-Stop Career Centers throughout the state. Veterans seeking employment are encouraged to contact the State Veterans Program Coordinator Michael Laun at Jobs4JerseyVets@dol.state.nj.us; call 609-292-2468; or visit veterans staff at the nearest One-Stop Career Center.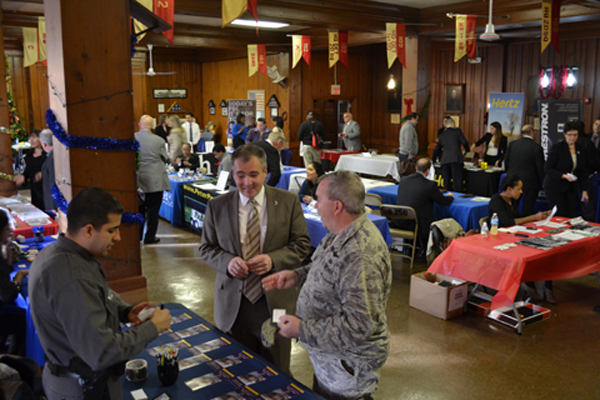 Labor Commissioner Harold J. Wirths and Brigadier General Michael L. Cunniff greet employers and job-seekers as they tour the veterans job fair their departments hosted with the Essex County One-Stop Career Center at the West Orange National Guard Armory.