Dec-18-12 Labor Commissioner Hal Wirths Continues Christie Administration's "Season of Service"
Joins Sussex County "Stuff the Bus" Food Drive
Contact:
Brian T. Murray: 
TEL: 609.984.2841
FAX: 609.777.3634
Email: MediaCalls 

 

 
| | | |
| --- | --- | --- |
|   |         -News Release- |   |
DECEMBER 18, 2012 _ Commissioner Harold J. Wirths of the Department of Labor and Workforce Development continued Governor Chris Christie's "Season of Service" initiative today, joining students and faculty at High Point Regional High School in Sussex County to collect donated food for needy residents.

Often called a "stuff-the-bus" effort, the Commissioner took part in loading thousands of pounds of donated food onto a bus as part of Sussex County's fourth consecutive Champions for Charity campaign.

"It's a delight to see our students taking on such a noble effort year after year, and I'm happy they invited me to join them this year. Sussex County, where I grew up and still live, has a long-standing history of charitable giving. Governor Christie is spreading that same spirit throughout the state with the Administration's own 'Season of Service' campaign, which brought me here today," said Commissioner Wirths.

The Commissioner's volunteer work is part of the Christie Administration's second annual Season of Service. Last year, Cabinet members participated in approximately 60 events across the state -- from serving meals on wheels to homebound individuals and helping to serve and stock food pantries to stuffing care packages for military service members overseas and holiday letter writing to troops abroad to collecting and delivering coats to homeless shelters.

Governor Christie has emphasized the importance of community service since his inaugural in 2010. Today, approximately 1.5 million New Jerseyans contribute about 170 million hours of service each year, bringing a positive influence to neighborhoods and communities throughout the Garden State through local groups, houses of worship and civic organizations.

In Sussex County, students and faculty at all ten high schools kicked off their fourth Champions for Charity campaign in October and they will continue through May. Food collected from residents and businesses go toward the county's Department of Human Services, Division of Social Services food pantry, which provides an important service to needy families and acts as a resource tolocal food pantries.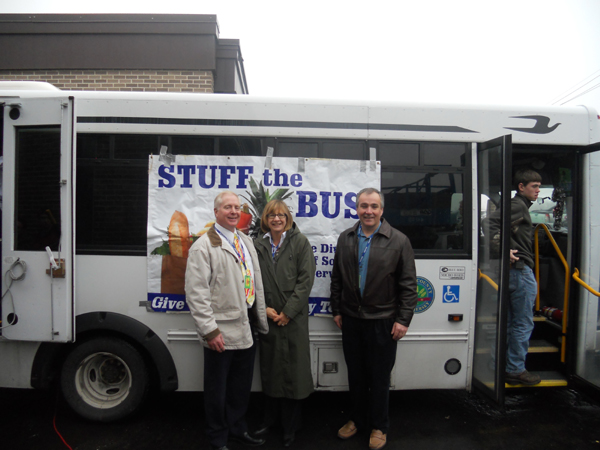 Commissioner Harold Wirths (right) joined Sussex County Clerk Jeff Parrott and Carol Novrit, director of the Sussex County Division of Social Services, in helping students at High Point Regional High School "Stuff the Bus" with donated food for needy residents.