Dec-19-12 Labor Commissioner Hal Wirths Continues Christie Administration's "Season of Service"
Labor and Workforce Development Commissioner Wirths Paints Warren County Homeless Facility; Deputy Commissioner Services Holiday Meals at Goodwill Industries
Contact:
Brian T. Murray: 
TEL: 609.984.2841
FAX: 609.777.3634
Email: MediaCalls 

 

 
| | | |
| --- | --- | --- |
|   |         -News Release- |   |
December 19, 2012 _Continuing Governor Chris Christie's "Season of Service" initiative, Labor and Workforce Development Commissioner Harold J. Wirths visited Family Promise of Warren County today to volunteer his time and announce a $245,974 grant that will help provide assistance and stabilization services to homeless families.

"This grant will allow the Family Promise of Warren County to continue its mission to help family units stay together when faced with homelessness," said Commissioner Wirths.

The DCA has awarded 11 Homelessness Prevention and Rapid Re-Housing grants, to date, totaling almost $3.8 million, to nonprofit organizations across the state. The grants will be used to provide temporary rental assistance and stabilization services to assist individuals and families living on the streets or in emergency shelters obtain permanent housing. The organizations can also use the grants to assist households in imminent risk of homelessness due to an eviction.

Following the grant announcement, Commissioner Wirths rolled up his sleeves and helped to paint a locker room inside Family Promise. The New Jersey Youth Corps of Phillipsburg, a program administered by the Department of Labor and Workforce Development, joined in by cleaning up the grounds and repairing a fence at the Family Promise center that was damaged by Hurricane Sandy.

"We're all pitching in and lending a hand to make this transitional housing facility a more pleasant experience for the families in need of service," the Commissioner explained.

Family Promise of Warren County and the Interfaith Hospitality Network address the immediate needs of homeless families in Warren County through a wide network of volunteers and congregations including shelter, meals, and transportation.

"With just two paid staff members, our success largely depends on the commitment and dedication of our volunteers," said Bob Frankenfield, executive director of the Family Promise. "We appreciate Commissioner Wirths taking time from his busy schedule to volunteer to beautify our day center. It's a testament to his commitment to the community and his desire to improve the lives of other New Jerseyans."

On another end of the state, Deputy Commissioner Aaron Fichtner continued the Governor's "Season of Service" initiative at Goodwill Industries of Greater New York and Northern New Jersey, where he helped to prepare and serve a holiday meal to guests and employees at the organization's Harrison headquarters.

"Goodwill has been gracious enough to invite us to the luncheon for a second, consecutive year and we wanted to help them serve the luncheon just as we did last year. I think we're building a small tradition here, and I'm happy to be part of it," said Deputy Commissioner Fichtner.

Today's events are part of the Christie Administration's second annual Season of Service. Last year, Cabinet members participated in approximately 60 events across the state -- from serving meals on wheels to homebound individuals and helping to serve and stock food pantries to stuffing care packages for military service members overseas and holiday letter writing to troops abroad to collecting and delivering coats to homeless shelters.

Governor Christie has emphasized the importance of community service since his inaugural in 2010. Today, approximately 1.5 million New Jerseyans contribute about 170 million hours of service each year, bringing a positive influence to neighborhoods and communities throughout the Garden State through local groups, houses of worship and civic organizations.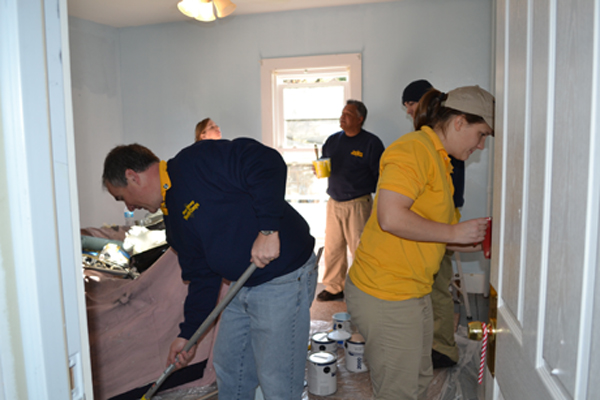 Labor Commissioner Harold J. Wirths joined members of the New Jersey Youth Corps today as they painted a locker room at the Family Promise of Warren County, a homeless shelter and family services center based in Oxford.