Jan-22-13 CHRISTIE ADMINISTRATION JOINS TWO-DAY EVENT TO HELP NEEDY NEW JERSEY VETERANS
Contact:
Brian T. Murray: 
TEL: 609.984.2841
FAX: 609.777.3634
Email: MediaCalls 

 

 
| | | |
| --- | --- | --- |
|   | -News Release- |   |
MORRISTOWN, N.J.,   Continuing Governor Chris Christie's commitment to New Jersey veterans, the Department of Labor and Workforce Development (LWD) joined other government agencies and non-profit organizations in a two-day effort to help homeless and impoverished veterans obtain clothing, health care, employment and other services vital to helping them regain control of their lives and become self-sufficient.

Labor Commissioner Harold J. Wirths joined organizers of the inaugural "Morristown Stand-Down" on Friday morning, Jan. 18, at the National Guard Armory off Western Avenue. About 200 homeless and impoverished veterans were bused in from eight counties and connected with a wide array of services during the two-day event held Jan. 18 through Jan. 19. Among the services were employment and training opportunities offered through the LWD's One-Stop Career Centers in Dover and Morristown.

"These are men and women who sacrificed a great deal to serve this nation in its time of need. Now, they are in need of our help, and we have an obligation to connect them with every service and assistance possible to get them off the street and back to being a productive member of our society," said Commissioner Wirths.

The event was organized by the New Jersey Fallen Soldiers Foundation, Community Hope and the Morris County Society for Human Resource Management, with assistance from the LWD's One-Stop Career Centers and the state Department of Military and Veteran Affairs.

Veterans were given flu shots, provided with winter clothing, offered legal and financial advice, given meals, provided access to counseling, connected to the federal Veterans Administration's medical and mental healthcare services and linked to housing services.

The Christie Administration has been hosting events regularly to assist New Jersey veterans, particularly job fairs involving LWD and DMAVA. The administration also has partnered with the U.S. Chamber of Commerce in its "Hiring our Heroes" events throughout the state, including the largest "Hiring Our Heroes" job fair in the nation, when more than 700 veterans connected with more than 120 employers at the Sun National Bank Center in Trenton.

Governor Christie has taken many steps to help returning and former New Jersey service people, including expanding the highly effective Veterans Haven program to serve veterans in the northern part of the state at the site of Hagedorn Psychiatric Hospital. Governor Christie also signed various pieces of legislation to assist veterans, including:
Strengthening the support network for military families after the death of a service member;
Establishing a program that awards high school diplomas to veterans who dropped out to serve in World War II, Korea and Vietnam;
Honoring families of military killed in action with a special Gold Star Families license plate;
Establishing the New Jersey National Guard State Family Readiness Council Fund;
Ensuring funding for the Veteran to Veteran Peer Support Program telephone helpline; and
Funding programs that put veterans back to work, such as the Helmets to Hardhats effort through which the New Jersey Building and Construction Trades Council
The LWD has served more than 16,000 veterans this past year at its 34 One-Stop Career Centers throughout the state. Veterans seeking employment are encouraged to contact the State Veterans Program Coordinator Michael Laun at Jobs4JerseyVets@dol.state.nj.us; or call 609-292-2468 or visit veterans staff at the nearest One-Stop Career Center.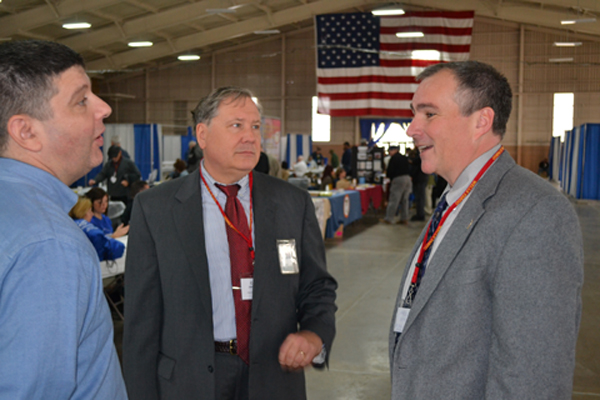 Commissioner Harold J. Wirths (right) toured the Morristown Stand-Down for homeless and impoverished veterans with (far left) Tom Dresdner, President of the New Jersey Fallen Soldiers Foundation, and Carl Jablonski, manager of the Dover One-Stop Career Center.