Jan-24-13 Christie Administration Continues Hurricane Sandy Cleanup Through National Emergency Grant Opportunities
Labor Commissioner Wirths Tours Hillsborough Worksites
For Immediate Release
Thursday, January 24, 2013
Contact:
Michael Drewniak
Kevin Roberts
609-777-2600
Trenton, NJ – Continuing the Christie Administration's commitment to recovery and rebuilding following Hurricane Sandy, Commissioner Harold J. Wirths of the Department of Labor and Workforce Development (LWD) today toured Hillsborough Township where workers hired through a National Emergency Grant (NEG) are restoring and cleaning property damaged by the storm.
"The day after the storm hit, my staff went to work to secure this National Emergency Grant with the goal of hiring unemployed people to work on cleaning up their communities after Hurricane Sandy. To date, we have been able to employ more than 500 people to help communities in 16 counties rebuild," said Commissioner Wirths.
Hillsborough is among several communities in Hunterdon and Somerset counties that hired a total of 22 people through funds from the $15.6 million federal grant obtained by LWD. Today, Commissioner Wirths joined Hillsborough Mayor Frank DelCore, and other local officials on a tour of Hillsborough locations where nine NEG participants are working with the township's departments of Public Works and Parks and Recreation on clearing brush, repairing damaged fencing and cleaning public property.
"In the aftermath of Hurricane Sandy, we were fortunate to have the support of Governor Christie and Somerset County in securing the National Emergency Grant, which provided for some necessary resources to aide in our road to recovery," Mayor DelCore said.
In addition to the NEG, Governor Christie has launched a $26 million recovery package through the LWD to help in the recovery of Sandy-impacted businesses and workers, as well as to invest in the state's future economic growth.
That package contains three programs:
Recovery4Jersey
Skills4Jersey
Opportunity4Jersey.
Skills4Jersey is providing $11 million in training grants to help New Jersey employers upgrade the occupational, literacy and safety skills of their current employees and train new workers for purposes of retaining highly skilled and high wage jobs in the state. Recovery4Jersey is a two part program involving the initial release of $4 million to encourage businesses to train existing employees and hire new workers in the recovery effort. Phase II, to be launched next month, will release another $7 million.
Under Opportunity4Jersey, $4 million is being awarded to consortiums of training organizations and community colleges with direct ties to New Jersey employers to address a "skills gap" employers identified in New Jersey even before Sandy hit.
Governor Christie announced last week that more than 200 businesses already have applied for grants under the package, as he toured Bradley Beach, where workers hired under the NEG are cleaning up the beachfront and rebuilding sand dunes. The Governor also announced that $500,000 is being available to create two new Talent Networks: a Sandy Recovery Talent Network and a Retail, Hospitality and Tourism Talent Network.
The plan capitalizes on the success of the state's six existing Talent Networks, previously established around industry clusters that employ more than half of New Jersey's workers and pay more than two-thirds of wages paid in the state.
For additional information on the LWD recovery programs, go to:
http://lwd.dol.state.nj.us/labor/forms_pdfs/NGO/SKILLS4JERSEY.pdf
http://lwd.dol.state.nj.us/labor/forms_pdfs/NGO/RECOVERY4JERSEY.pdf
http://lwd.dol.state.nj.us/labor/forms_pdfs/NGO/Opportunity4Jersey.pdf
http://lwd.dol.state.nj.us/labor/lwdhome/press/2012/20121102_NEG.html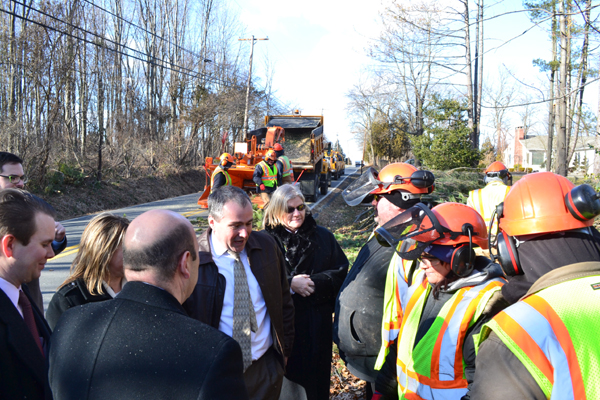 Commissioner Harold J. Wirths, center, visited workers on a Sandy clean-up team in Hillsborough with several local officials, including Christine Henderson Rose of the Greater Raritan Workforce Investment Board (next to the Commissioner) and Mayor Frank DelCore (his back turned to camera).