Feb-06-13 Christie Administration Announces 1,000 Available Jobs at Newark Liberty Airport, Priority Given to Sandy Victims
Labor Department Joins Swissport USA at Hiring Fair Today
Contact:
Brian T. Murray: 
TEL: 609.984.2841
FAX: 609.777.3634
Email: MediaCalls 

 

 
| | | |
| --- | --- | --- |
|   | -News Release- |   |
NEWARK, N.J., FEBRUARY 6, 2013 _ The  Christie Administration launched a joint effort with Swissport USA today to hire 1,000 New Jersey residents for available positions with the aviation ground services company at Newark Liberty International Airport as it opens a new cargo and baggage handling operation this spring.

Swissport USA has asked the New Jersey Department of Labor and Workforce Development (LWD) to help fill the positions, giving priority consideration to people displaced by Superstorm Sandy and New Jersey's long-term unemployed, particularly those already involved in storm cleanup efforts through a National Emergency Grant secured by Governor Christie. The LWD began work last week with Swissport USA to direct unemployed residents to a job fair held today at the Wyndham Garden Hotel in Newark, the first of many to be hosted in the coming weeks.

"Swissport USA is eager to get its cargo operation up and running, so our department has moved quickly by lining up potential hires from people with resumes in our Jobs4Jersey.com search engine, people who joined our Jersey Job Clubs, our Talent Networks and our veteran outreach services," LWD Commissioner Harold J. Wirths said as he monitored today's hiring effort.

Swissport USA contacted the Christie Administration a week ago seeking help in filling the posts in time for an April grand opening. LWD began pre-screening applicants for the job, and will continue that effort as a pool of thousands of potential new hires are directed for final interviews with the company.

The available positions range from warehouse agents and cargo office agents to supervisors. Candidates are required to have a valid driver's license, a high school diploma, a clean record and a steady work history.

"We are happy to partner with the New Jersey Department of Labor to help us find qualified individuals to staff our operations at Newark Airport," said Gregory Reeves, Swissport USA Senior Vice President Human Resources.

Swissport USA has 60 days to staff its new Newark Liberty International Airport operations, and candidates accepted into the company training programs will receive pay while awaiting Federal Aviation Administration certification and to pass background checks. Swissport USA also will offer those hired the flexibility of working at its facilities at LaGuardia and JFK airports. 

The training will be conducted at the Newark Liberty International Airport.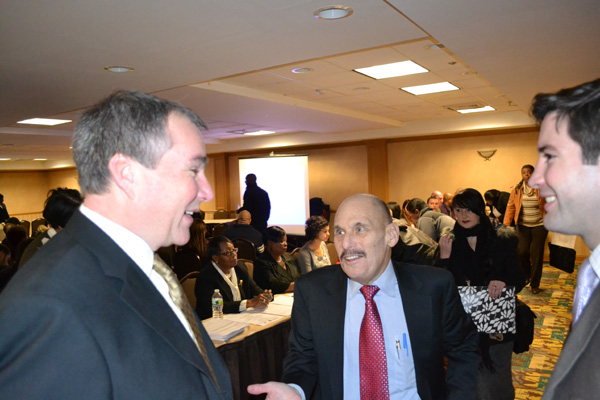 Commissioner Harold J. Wirths talked with (right) LWD Business Representiative Chris Murphy and (center) Rich Fierson, a consultant for Swissport USA, as the LWD joined the aviation ground service company in launching a hiring fair to recruit 1,000 potential employees for Swssiport's new cargo operations at Newark Liberty Airport.
For more information on how to apply for the Swissport positions, click here