Feb-13-13 Christie Administration's Sandy Recovery Response Highlights Importance of Technical Schools
Labor Commissioner Applauds Skills Training at Sussex County Technical School
Contact:
Brian T. Murray: 
TEL: 609.984.2841
FAX: 609.777.3634
Email: MediaCalls 

 

 
| | | |
| --- | --- | --- |
|   | -News Release- |   |
SPARTA, N.J., FEBRUARY 13, 2013 _The recovery work required in the aftermath of Hurricane Sandy has underscored the need for a labor force with ample technical and trade skills, said Commissioner Harold J. Wirths of the Department of Labor and Workforce Development as he joined Sussex County Technical School today in recognizing National Career and Technical Education Month and celebrating the SkillsUSA program.

"Governor Chris Christie's plan for rebuilding and redesigning key segments of our state in the wake of Hurricane Sandy's destruction is relying on people with the type of skills being taught today to the students of this school. These skills are in high demand and important to this nation," Commissioner Wirths said as he spoke at the school today.

"Beyond the technical skills involved, students are learning techniques that businesses cherish at all levels of employment such as problem solving, how to assess challenging situations, how to identify solutions and plan a strategy to fix a problem. Students here are learning how to act on a plan of their own design and how team work will see it to fruition," he added.

The National Career and Technical Education Month celebration coincided with a leadership conference meeting of the New Jersey SkillsUSA Association, of which the Sussex County Technical School SkillsUSA Chapter is an affiliate. SkillsUSA is a national, non-profit partnership of students, teachers and industry working together to assist teachers and high school and college students who are preparing for careers in trade, technical and skilled service occupations, including health occupations.

"Across the nation, we have people retiring from certain professional trades with few young people ready to take their places. Here, we are preparing these students for those jobs, but more importantly we are preparing them to be our future leaders," said Ralph Starace, the advisor to the SkillsUSA Chapter at Sussex County Technical School.

All Sussex County Technical School students are registered as active members of SkillsUSA. Student Daria Ferdine, who spoke at today's SkillsUSA leadership conference, is currently serving as the president of the New Jersey SkillsUSA Association and student Stephen Devito is president of the New Jersey Northern Region chapter.

State Sen. Steve Orho, Commissioner Wirths and Lori Howard of the state Department of Education also spoke before the leadership conference, which was followed by a tour of the school headed by students Bradford Van Orden and Matthew Corsello. Members of the technical school board and the state board of education also attended the event and tour.

More than 300,000 students and advisors join SkillsUSA annually. They are organized into more than 17,000 sections and 54 state and territorial associations. There are about 11,000 student members from 68 local chapters in the New Jersey SkillsUSA Association.

As members of SkillsUSA, students have the opportunity to participate in leadership development workshops and conferences, serve as a leader, participate in community service projects, attend educational field trips, compete in career based competitions, travel, apply for awards and scholarships and fundraise for worthy causes.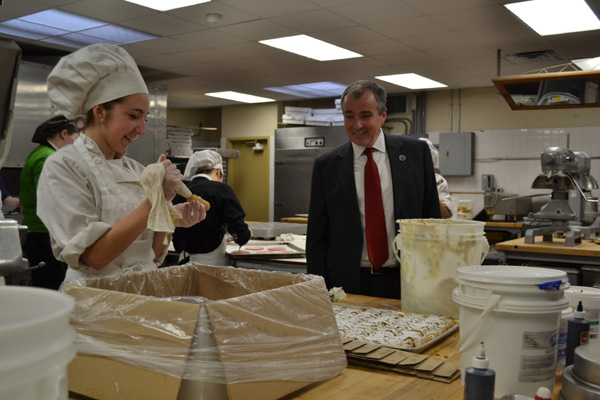 Commissioner Harold J. Wirths toured the Sussex County Technical School in Sparta, including the
culinary class where students were making and baking everything from Valentine's Day cookies
to bagels.