Mar-13-13 Christie Administration Highlights Investment in New Jersey Businesses
Skills4Jersey Grant Goes to Cumberland County Manufacturer Impacted by Sandy
Contact:
Brian T. Murray:
TEL: 609.984.2841
FAX: 609.777.3634
Email: MediaCalls
| | | |
| --- | --- | --- |
| | -News Release- | |
VINELAND, N.J., MARCH 13, 2013 – Today the Christie Administration issued a $48,000 Skills4Jersey grant to South Jersey manufacturer Richland Glass under a program designed to help Garden State businesses overcome the impacts of Hurricane Sandy and bolster the state's economic recovery.
Commissioner Harold J. Wirths of the state Department of Labor and Workforce Development (LWD) announced the training grant as he toured the Cumberland County company, noting how the Christie Administration re-branded its training program to focus on New Jersey's recovery efforts by helping improve the workforce skills of businesses in key industry clusters.
"These grants are part of the $26 million Hire New Jersey package we put together right after Sandy hit. Our focus is to train our workforce with the skills needed to move forward in the Garden State industries that hold the most promise for our economic future. In turn, the industries become more competitive and prosperous," Wirths said.
LWD has been focusing on seven key industry clusters in the state, connecting the employers with job-seekers, the state's One-Stop Career Centers and educational institutions to achieve the common goal of helping people develop relevant skills that lead to job opportunities. That, in turn, helps employers find qualified employees.
"We also have been focusing on employers who were negatively impacted by Sandy like Richland Glass, who lost power for several days," said Wirths.
The seven industry clusters are: Transportation, Logistics and Distribution; Life Sciences (Pharmaceuticals, Biotechnology, Medical Devices); Advanced Manufacturing; Financial Services; Health Care; Technology/Entrepreneurship; and Retail, Hospitality and Tourism.
Commissioner Wirths presented Richland Glass President Jack Carson with a framed letter announcing that the company had been selected to receive a training grant, and praised the company for partnering with the Department of Labor and Workforce Development, as well as with ManageAssist, a professional services training provider.
"As a manufacturer who sells all over the world to the Electronics and Biotech industries, continuous improvement of our employees is key to keeping and adding jobs" said Jack Carson, president of Richland Glass. The Skills4Jersey training grant is an integral part of our employee development plan that will help us to upgrade the skills of our employees and improve international competitiveness, while expanding our business into new markets."
Richland Glass will train 48 of its company employees using the $48,000 training grant in courses that include lean manufacturing, operations management, Six Sigma methodologies and marketing operations. The manufacturer will match the state training grant with $76,496 in company funds.

This Skills4Jersey grant marks the third LWD training grant awarded to Richland Glass, a manufacturer of standard and customized glass products for electronic, industrial, and scientific applications. The company previously received customized training grants in FY2006 and FY2011. Richland Glass also provides specialized glass-related services like precision bore-tubing in special shapes, cutting, glass-to-metal sealing, re-pressing, polishing, and special melting.
Skills4Jersey is one of three Hire New Jersey initiatives the Christie Administration announced in December to assist private sector New Jersey employers and to increase employment opportunities for qualified unemployed workers. The other two programs are Recovery4Jersey and Opportunity4Jersey. For information about:
Skills4Jersey go to:
http://lwd.dol.state.nj.us/labor/forms_pdfs/NGO/SKILLS4JERSEY.pdf
Recovery4Jersey go to:
http://lwd.dol.state.nj.us/labor/forms_pdfs/NGO/RECOVERY4JERSEY.pdf
Opportunity4Jersey go to:
http://lwd.dol.state.nj.us/labor/forms_pdfs/NGO/Opportunity4Jersey.pdf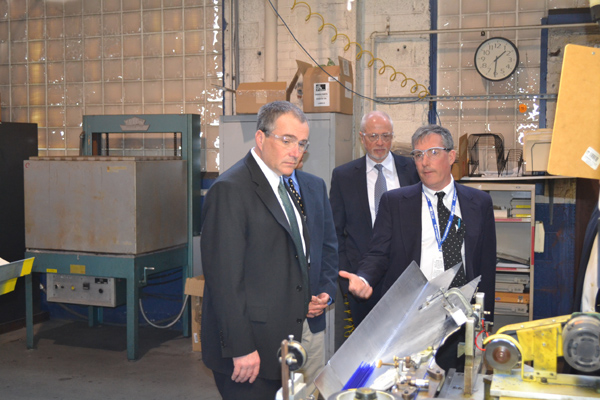 Labor Commissioner Harold J. Wirths visited the Richland Glass company today to present the
Cumberland County manufacturer with a $48,000 Skills4Jersey training grant award. In the
picture above Jack Carson (right), president of the Richland Glass Company explains to
Commissioner Harold J. Wirths (left) and Val Rappaport (center), president of Manage Assist,
how a machine processes glass from a liquid to a solid.