Apr-08-13 CHRISTIE ADMINISTRATION KICKS OFF HEALTH CARE INDUSTRY WEEK
Contact:
Brian T. Murray:
TEL: 609.984.2841
FAX: 609.777.3634
Email: MediaCalls
| | | |
| --- | --- | --- |
| | -News Release- | |
NEW BRUNSWICK, N.J., APRIL 8, 2013 – The Christie Administration today kicked off New Jersey's inaugural Health Care Industry Week on the New Brunswick campus of Rutgers University, where more than 350 people attended discussions on health care trends and toured a "medical village."
The event, organized by the New Jersey Health Care Talent Network, marked the first in a series of activities this week to highlight career opportunities within New Jersey's growing health care field, display resources available for job-seekers searching for new careers, and to showcase the latest health care technology.
"The health care industry, which has continued to grow through the recession and beyond, is crucial to our economic growth and future prosperity in New Jersey," said Commissioner Harold J. Wirths of the Department of Labor and Workforce Development (LWD). "Health care has been recognized by the Christie Administration as a priority industry sector because of its continued growth and the promise it offers to keep generating lucrative careers in the Garden State, which benefits our economy and quality of life."
The kick-off, held in the Rutgers Student Center, began with remarks from representatives of the LWD, the state Department of Health, Saint Peter's University Hospital and the University of Medicine and Dentistry of New Jersey.
"The health care industry is a leading economic engine in our state and Health Care Industry Week gives employers an opportunity to showcase the diverse career opportunities that are available for students and other job-seekers," said Health Commissioner Mary E. O'Dowd. "Training the health care workforce of tomorrow is vital and that's why Governor Chris Christie has increased funding to Graduate Medical Education in this year's budget by $10 million, to a total of $100 million. This increase in funding will help teaching hospitals with costs associated with the education and training of doctors."
Attendees later toured a "medical village" organized by Saint Peter's University Hospital, which featured diverse health care career stations from nursing to laboratory services and nutrition to sports physical therapy. Each station was staffed by professionals who spoke first-hand about the industry, career possibilities and advances in technology. The medical village also offered free health and fitness screenings, and attendees interacted with 30 health care industry vendors who were on hand. Many of the visitors networked with industry professionals, and converses with Health Care Talent Network partners.
The New Jersey Health Care Talent Network, created by the state Department of Labor and Workforce Development, and operated by the Rutgers University School of Management and Labor Relations, serves as a comprehensive resource for employers, job-seekers, the education community, and the workforce development system. The Health Care Talent Network is one of six Talent Networks launched by LWD in 2011 to center around industry clusters that are driving the state's economy.
More than half of New Jersey workers are employed in the six industry clusters, which account for more than two-thirds of wages paid in New Jersey. The other five industries in the Talent Networks are: Transportation, Logistics and Distribution; Life Sciences; Advanced Manufacturing; Financial Services; and Technology and Entrepreneurship.
"Our Talent Networks create an avenue for employers to identify the skills, education, and training they need from prospective employees so that our educational and training institutions can train and prepare our workforce for those emerging jobs in our growing economy," said Dr. Aaron Fichtner, LWD's Deputy Commissioner, who also spoke during the kick-off.
The health care sector offers opportunities for employment for all levels of education and experience. Additionally, New Jersey has more than 200 hospital establishments and nearly 20,000 ambulatory care facilities (information from New Jersey Department of Labor, Office of Research & Information).
Health Care Industry Week continues through Friday, April 12, 2013, with activities held throughout the state, including:
April 9 – Workplace Stress and Awareness Day at Hudson County Community College and Middlesex County Academy for Allied Health and Biomedical Sciences
April 10 – Health Care Career Pathways Day at Brookdale Community College
April 11 – Public Health Day at Salem Community College
April 12 – Allied Health Care Awareness Day at Essex County College
Go to www.hctn-nj.org for a full schedule of Health Care Industry Week activities.
For more information about New Jersey's Talent Networks, please visit: http://careerconnections.nj.gov/ or contact Judy Formalarie, Talent Network Project Manager at: judith.formalarie@dol.state.nj.us or (609) 984-4178.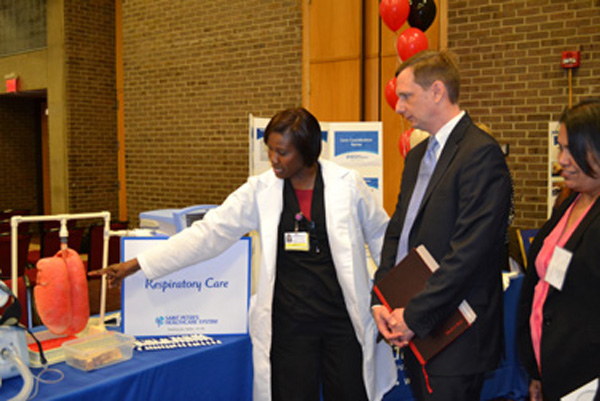 Dr. Aaron Fichtner (center), LWD Deputy Commissioner, helps to kick off Health Care Industry Week on the New Brunswick campus of Rutgers University. Dr. Fichtner stands with Padma Arvind (right), Ph.D., M.B.A, director of the Health Care Talent Network, as they tour a "medical village" set up in the Rutgers Student Center. Above, Lorraine Nelson (left), registered respiratory therapist with Saint Peter's University Hospital, demonstrates how the lungs function. Various health care stations staffed by St. Peter's professionals demonstrated advances in technology and conversed about careers in the industry.