Apr-12-13 Christie Administration Congratulates the Fourth Graduating Class of Model New Jersey Training Program
Graduates of Manufacturing Training Class Successful Landing Jobs
Contact:
Brian T. Murray: 
TEL: 609.984.2841
FAX: 609.777.3634
Email: MediaCalls 

 

 
| | | |
| --- | --- | --- |
|   | -News Release- |   |
PARAMUS, N.J., APRIL 12, 2013 – The Christie Administration today applauded the fourth graduating class of a manufacturing training program that has successfully placed graduates into employment since it was launched a year ago by the Department of Labor and Workforce Development (LWD) with the New Jersey Business and Industry Association and the New Jersey Community College Consortium for Workforce and Economic Development.

The 13 trainees who graduated today at the Bergen Community College began their intensive training 12 weeks ago in what is known as "Fabricated Metal Product Manufacturing." Five of them already have job offers, and the rest have scheduled interviews. They follow 30 other manufacturing trainees who graduated over the past year, all but two of whom have landed employment.

"This program is really a model for the country and clearly demonstrates that successful training initiatives must focus on providing job-seekers with the skills our employers identify as essential to their businesses," said LWD Commissioner Harold J. Wirths. "Job-seekers can participate in this program and leave with skills that are in demand here in New Jersey and will increase their opportunities for a sustainable career."

The manufacturing training program solicits the involvement of industry employers, operating on the premise that employers in New Jersey's key industries are the best suited to identify the skills people need to find employment in those industries.

"The New Jersey Community College Workforce Consortium (NJCCC) is pleased to partner with the Department of Labor and the New Jersey Business and Industry Association and its Manufacturing Network to help source and train workers for the state's manufacturing companies," said Sivaraman Anbarasan, NJCCC Executive Director. "This is an employer driven program and partners work together to identify, train, and place candidates in meaningful manufacturing jobs. Today's graduates will add to the successes of the program."

LWD launched the training programs in partnership with the NJCCC and the New Jersey Business and Industry Association (NJBIA) Manufacturers Network. The programs also fall under LWD's Advanced Manufacturing Talent Network, ManufactureNJ. The Advanced manufacturing industry is one of the sectors slated to lead the Garden State to economic recovery and job growth.

"This industry-led Metal Products Manufacturing program is one of a series of workforce initiatives developed by the College Consortium," said Sandra M. Sroka, Interim Dean, Bergen Community College, School of Continuing Education, Corporate and Public Sector Training. "Students are chosen from the local One-Stop Career Center, prescreened by prospective employers, trained by Bergen Community College, and ultimately employed by the companies involved in the initial orientation. This is a win-win model of a community working together to help unemployed citizens become productive employees. I congratulate our graduates."

The 13 graduates honored today are now equipped for careers in the Fabricated Metal industry, which involves cutting, bending and transforming metal into finished products or parts for assembly. The graduates received a College Certificate of Competency and will sit for the National Institute for Metalworking Skills (NIMS) Certification Exam for Measurement, Materials, and Safety Level I.

One of the previous manufacturing training programs also involved Fabricated Metal Product Manufacturing and the training was conducted at Middlesex County College. The other two training classes focused on what is known as CNC or Computer Numerical Control machinist training. Those classes were held at the Passaic County Technical Institute and the New Jersey Institute of Technology.

For more information about the Fabricated Metal Product / CNC Machining Manufacturing Training Program and admission requirements please go to www.njworkforce.org.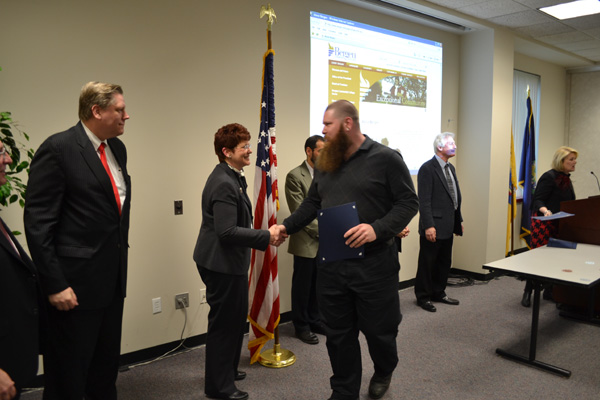 One of the 13 graduates from a model New Jersey manufacturing training program at Bergen
Community College shakes Mary Ellen Clark's hand. Clark, an  Assistant Commissioner
with the New Jersey Department of Labor and Workforce Development (LWD) gave the
keynote address at the graduation. LWD launched the Fabricated Metal Product/CNC
Machining Manufacturing Training Program a year ago in partnership with the New Jersey
Business and Industry Association and the New Jersey Community College Consortium
for Workforce and Economic Development.