Apr-18-13 CHRISTIE ADMINISTRATION JOINS SUSSEX COUNTY COMMUNITYCOLLEGE TO CONNECT EMPLOYERS WITH JOB-SEEKERS
Job Fair Followed Labor Commissioner Address to Students at Career Symposium
Contact:
Brian T. Murray: 
TEL: 609.984.2841
FAX: 609.777.3634
Email: MediaCalls 

 

 
| | | |
| --- | --- | --- |
|   | -News Release- |   |
NEWTON, N.J., APRIL 18, 2013 – More than 70 employers connected with hundreds of students and job-seekers today, as the Christie administration joined Sussex County Community College in hosting a Career Symposium and Spring Job Fair on the college campus.

Commissioner Harold J. Wirths of the New Jersey Department of Labor and Workforce Development (LWD) kicked off the event by addressing more than 300 students, faculty, and business community leaders at a symposium in the student center theatre. The symposium gave students an opportunity to hear about the personal career journeys of several business, education and civil leaders, including Commissioner Wirths, who additionally discussed the state's growing website, Jobs4Jersey.com.

"My department offers job-seekers numerous resources to jump-start their careers, upgrade skills or to look for open positions," the Commissioner said. "I recommend that everyone who is seeking a job today go to our Jobs4Jersey.com website to upload a resume through the OnRamp service.. The service will suggest resume improvements, create a resume and showcase your skills to employers who are searching for new talent."

OnRamp uses a state-of-the-art technology to profile individual talents, not mere job titles, as it matches people to employment opportunities provided by employers seeking new workers. Job-seekers and employers alike can use the free service and learn of matches via e-mail. Job-seekers may float different resumes, highlighting different talents, while employers are able to conduct multiple searches to fill multiple positions, adjusting the OnRamp to deliver the best matches to different departments in a business if needed.

"One of the best features of the system for job-seekers is that job matches are based on the skills you have, so you may get matched to a job you otherwise would not have considered," said Commissioner Wirths. "For employers, OnRamp offers a service we call cloning. If someone left the business and the position needs to be filled by someone with the same talents, the employer can identify those specific talents in their OnRamp search to find an exact match."

The Commissioner also talked to the students about LWD's Talent Networks, which focus on the specific needs of key industry clusters in the state that promise to drive the future of New Jersey's economy. The six industries in the Talent Networks include Advanced Manufacturing, Financial Services, Health Care, Life Sciences, Technology & Entrepreneurship, and Transportation, Logistics & Distribution.

The Talent Networks connect employers, job seekers, the state's One Stop Career Centers, and educational institutions to help job-seekers develop relevant skills that lead to job opportunities, which in turn helps employers find qualified employees.

"Governor Christie understands that in order to attract businesses and to have a thriving economy in the Garden State that we must have a pipeline of workers armed with the skills employers need and are looking for," said Commissioner Wirths.

The employers participating in the event included a mixture of health care, technology, retail, finance, and nonprofit businesses.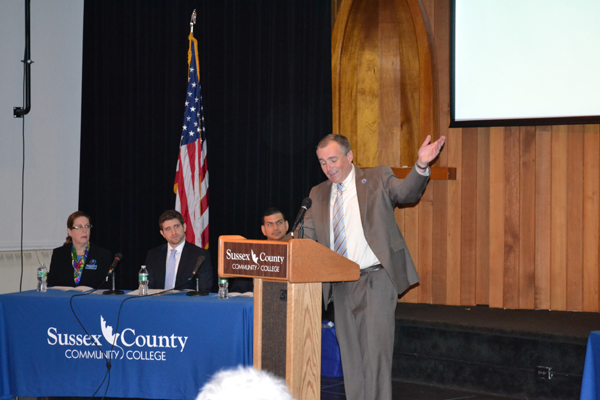 Commissioner Harold J. Wirths spoke about New Jersey's growing employment opportunities during a Sussex County Community College employment symposium, which kicked off a day-long job fair on the campus."