Apr-22-13 Christie Administration Launches Technology and Entrepreneurship Week at Rowan University
Department of Labor & Workforce Development and Partners Spotlight a Key New Jersey Industry During a Week of Activities
Contact:
Brian T. Murray:
TEL: 609.984.2841
FAX: 609.777.3634
Email: MediaCalls
| | | |
| --- | --- | --- |
| | -News Release- | |
GLASSBORO, N.J., APRIL 22, 2013 – Governor Chris Christie's administration launched Technology and Entrepreneurship Week today, bringing together entrepreneurs, businesses, education officials and government leaders to highlight opportunities for employment and growth in this growing New Jersey industry cluster.
The Department of Labor and Workforce Development, with the New Jersey Technology & Entrepreneurship Talent Network, gathered with industry partners at Rowan University to kick off a week of activities that will take place from Monday, April 22, 2012 through Friday, April 26, 2013.
"Small business owners make up about 90 percent of all the businesses in the Garden State, and they help to create jobs and drive our economy," said Labor Commissioner Harold J. Wirths, a former small business owner. "Governor Christie recognizes that New Jersey's technology companies and the entrepreneurs behind our start-up companies play an important role in developing high paying employment opportunities, and we want to give them the support needed to succeed."
The week of events, organized by the New Jersey Technology and Entrepreneurship Talent Network, will be held in the northern, central and southern regions of the state and include an Entrepreneur Boot Camp at Rutgers University (Busch Campus); a Technology and Science Showcase at Lincoln Technology Institute in Paramus; workshops for job-seekers interested in obtaining a position in technology at the Burlington County One Stop Career Center, and a Women in Technology Symposium at Hudson County Community College.
Technology and Entrepreneurship Week opened with an exchange of ideas about the technology and infrastructure needed for New Jersey to compete globally, and the kick-off included remarks from representatives of LWD, the New Jersey Technology Council (NJTC) and Rowan University. The crowded auditorium of attendees at the event also had an opportunity to participate in a panel discussion with business leaders from Verizon, AT&T, and Atlantic City Electric, and others.
The New Jersey Department of Labor and Workforce Development created Talent Networks to focus on the specific needs of key industries in the state in order to achieve the common goal of helping current job-seekers develop relevant skills that lead to job opportunities, helping employers find qualified employees, and to ensure that New Jerseyans have access to training and educational opportunities that lead to the jobs of the future. The New Jersey Technology and Entrepreneurship Talent Network, one of six Talent Networks launched by LWD in 2011, is operated by the New Jersey Technology Council. The other five industries are Health Care; Transportation, Logistics, and Distribution; Life Sciences; Advanced Manufacturing; and Financial Services.
"Our Talent Networks create an avenue for employers to identify the skills, education, and training they need from prospective employees so that our educational and training institutions can train and prepare our workforce for those emerging jobs in our growing economy," said Dr. Aaron Fichtner, LWD's Deputy Commissioner, who also spoke during the kick-off.
New Jersey's technology cluster accounted for 312,000 jobs or 10 percent of private sector employment statewide in 2011, and many of the state's start-up companies are tied to that industry. As technology based industries and occupations continue to evolve, New Jersey will remain in a strong, competitive position on the global market. The growth of that entire industry clusters is supported by the state's highly educated workforce, which includes nearly 240,000 New Jersey residents in science, technology, engineering and mathematics occupations (U.S. Census Bureau, 2010 American Community Survey).
For more information about events during Technology and Entrepreneurship Week, please visit www.njtetn.org.
For more information about New Jersey's Talent Networks, go to: http://http://careerconnections.nj.gov/careerconnections/for_businesses.shtml or contact Judy Formalarie, Talent Network Project Manager at: judith.formalarie@dol.state.nj.us or (609) 984-4178.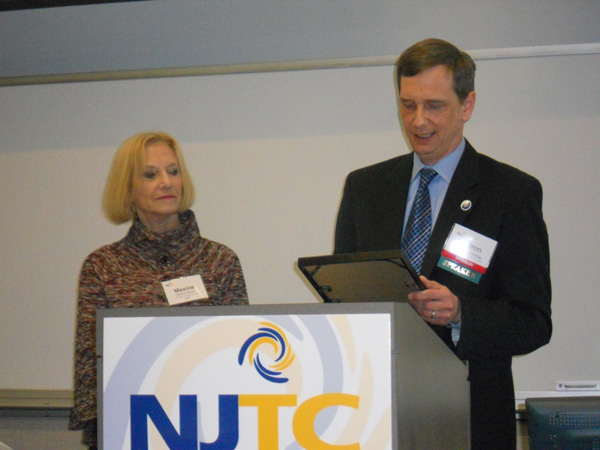 Dr. Aaron Fichtner, Deputy Commissioner of the New Jersey Department of Labor and
Workforce Development reads a proclamation from Governor Chris Christie to Maxine Ballen,
President/CEO of the New Jersey Technology Council, proclaiming the week of April 22, 2013,
as Technology and Entrepreneurship Week. Dr. Fichtner helped to kick off the inaugural
observance that was held on the campus of Rowan University.