Apr-23-13 Budget Testimony
Contact:
Brian T. Murray: 
TEL: 609.984.2841
FAX: 609.777.3634
Email: MediaCalls 

 

 
| | | |
| --- | --- | --- |
|   | -News Release- |   |
Commissioner Harold J. Wirths' written statement prepared for delivery for the New Jersey Assembly Budget Committee

Fiscal Year 2014
New Jersey Assembly Budget Committee Testimony
Harold J. Wirths, Commissioner
New Jersey Department of Labor and Workforce Development
April 23, 2013
Hello Chairman Prieto, Vice-Chairman Schaer, Budget Officer O'Scanlon, and honored members of the Committee.
Thank you for this opportunity to discuss Governor Christie's 2014 budget request for the Department of Labor and Workforce Development.
Allow me to introduce my executive staff members seated with me at this table:
My Deputy Commissioner, Aaron Fichtner;
Chief Financial Officer Joe Latoof
Assistant Commissioner of Workforce Development Mary Ellen Clark
And Assistant Commissioner of Income Security, Ronald Marino.
Sitting behind me, only because we didn't want to crowd the table, are:
Assistant Commissioner of Labor Standards and Safety Enforcement John Monahan
Assistant Commissioner of Research and Information Jeff Stoller
And my Chief of Staff, Fred Zavaglia
In my past appearances before this committee, I discussed the progress we have made in improving services to our fellow residents, the innovations we have developed to address unemployment and the reforms undertaken to protect the New Jersey Unemployment Insurance Trust Fund.
Allow me to update you today on the tireless efforts of my staff at the Department of Labor and Workforce Development to continue and even improve on those initiatives at the same time we grappled with the devastation of Super-storm Sandy.
In fact, many of the new programs and refinements undertaken by my department actually put us in a better position to deal with the storm's unexpected destruction and the turmoil that followed in its wake.
The morning after Sandy, well before the flood waters receded, dedicated members of my staff came into work to begin the process of obtaining a $15.6 million National Emergency Grant. To date, we have used those funds to place more than 750 unemployed New Jersey residents into temporary jobs in 16 counties helping towns, counties and state agencies in sorely needed clean-up and repair efforts.
The Department of Environmental Protection also is using the grant to hire people, up to 80, as it continues repairing damage done to some of the Garden State's most precious assets__the state park system. The Department of Military and Veteran Affairs has signed on as well, and already has hired 21 unemployed people under the grant, most of them veterans, to clean-up and repair military properties.
When we obtained the NEG, my staff also secured federal Disaster Unemployment Assistance. It is a unique benefit that is available only in times of disaster.
The funds largely went toward aiding the self-employed in New Jersey __ the men and women who lost their businesses and livelihoods in the storm or who were temporarily unable to conduct their normal course of business. About 3,500 people have taken advantage of that assistance, and we worked with the federal government to extend the application deadline through Feb. 4, 2013.
That gave people ample time to address the immediate risks to life and property posed by Sandy before having to go through the process of applying for DUA to recoup some of their lost income.
While my department is not usually thought of as an agency people reach for during times of disaster, you may be surprised to learn today just how essential people found our services. For example, our 34 One-Stop Career Centers, aside from those left without power or cut-off by flooding became operation hubs for both workers and business owners displaced by the storm. The One-Stops provided access to phones, faxes and computers to those in need.
I also dispatched more than 30 of our business representatives, prepared with laptops, to FEMA Disaster Recovery Sites and shelters to process Unemployment Insurance claims and help residents resolve other problems related to employment or impacted businesses. Additionally, we created a Super-storm Sandy information center on the Department of Labor website to link to our services and all emergency services in the state. We immediately created Sandy Help Lines __ both a phone hotline and an e-mail address by which 12 staffers answered over 1,600 queries, in English and in Spanish, within the first two weeks after the storm.
Our cooperation with FEMA also involved our Office of Research and Information sharing valuable economic and demographic data regarding the storm damaged regions of the state to assess the storm's financial impacts. Our joint efforts with FEMA were so well coordinated that the FEMA administrator, in his testimony to a Senate subcommittee early last month (March), singled out our development of an economic Data Sharing Task Force
as an example of a federal and state partnership.

I'm also proud to report that, because my department stopped issuing paper checks to pay Unemployment Insurance claims within the first year I arrived here, we were able to pay benefits to people while they were overcoming the wreckage of the storm. Because we switched to using debit cards and direct deposit, benefit payments were not interrupted for Unemployment Insurance, Temporary Disability Insurance or Family Leave Insurance, despite the fact that mailboxes were swept away along with thousands of homes and even entire neighborhoods.

We moved to a debit card program in 2010 because it offered a shield against fraudsters, more convenience to the customers and it saved New Jersey taxpayers approximately $8 million annually in mailing, paper and processing costs. Now, we know the debit cards as well as direct deposit spared New Jersey residents the absolute chaos that would have unfolded if we were still using paper checks at a time when Sandy was wiping out houses, streets and mailboxes.

And if there remains any question on how user friendly our debit cards have been, the National Consumer Law Center has again rated New Jersey "Number One" in the nation.

The center has conducted only two national reviews of the 40 states using prepaid debit cards to pay Unemployment Insurance benefits. Both times the center concluded that New Jersey's program is the best, with only California sharing that ranking twice.

Certainly, the ease and efficiency of dealing with debit cards also was realized as the unemployment claims resulting from Sandy started to pour in to my department. In the month of November 2012, we received approximately 154,500 new claims for Unemployment Insurance. This was the highest number of monthly Unemployment Insurance claims ever received in the history of this state.

Let me put it into context for you.

Just before Sandy hit, the department was averaging between 41,000 and 47,000 claims per month. At the height of the recession, in November 2009, the department received 82,586 initial claims, which was the most ever in the history of New Jersey at that point.

Again, in November 2012, the department received 154,500 new claims. That represents between three to four times our monthly average.

Let's make no mistake. Sandy hit us hard as our recovering economy was gaining momentum. We had just received federal reports in October 2012 showing New Jersey had employment growth in 10 of the preceding 13 months, particularly in the private sector.

Sandy set back a recovery in motion. But we were determined not to let the storm drive us backward.

On top of the National Emergency Grant and Disaster Unemployment Assistance, my department launched a plan to address the needs of displaced workers and damaged businesses.

We launched our Hire New Jersey Recovery Plan, announced by the Governor on December 11, 2012, making $26 million available in employer-focused grants designed to help businesses and job-seekers overcome the setbacks brought on by Sandy. We essentially rebranded our training grants program to immediately address the challenges Sandy posed for workers, businesses and our economy.

We are providing those funds through three, unfolding grant programs:

Recovery4Jersey, Skills4Jersey & Opportunity4Jersey.

About $15 million of those funds are already on the streets, and the rest is being made available just in time to assist businesses that have had to rebuild since Sandy.

Each program essentially involves grants designed to help employers train and hire people who can help the employers expand their companies, with a focus on companies that were impacted by Sandy, but not restricted to them. The grants are geared, in a number of cases, toward helping businesses develop the type of skilled workers they need through training.

We designed the grants, for example, to allow Mom and Pop shops to train new people on new machinery they had to bring in after Sandy hit their operation. Engineering companies, now in demand as we rebuild our infrastructure in some areas, were eligible to apply for grants to bring on new engineers.

As I sit here today, my department also is preparing to launch two new Talent Networks, which will add to the six already helping employers in New Jersey's key industry sectors identify what the state needs to do to help them prosper.

The Recovery Talent Network will assist businesses impacted by Sandy and its economic turmoil. The second Talent Network will evolve around the industry cluster that may have been hardest hit by Sandy: Retail, Hospitality and Tourism.

The Talent Network concept, which allows employers to tell us and our educational institutions the skills people need to find employment in New Jersey's major industries, works closely with our premiere employment and talent search tool: Jobs4Jersey.com.

It began as a website that offered job-seekers and employers a single portal through the maze of previously scattered state and federal programs established to assist them both. Since it was launched, Jobs4Jersey.com has offered an easier and more active way for New Jersey residents to link to our employment services, including Veterans, persons with disabilities, ex-offenders, out-of-school youth and people on General Assistance and the state's Temporary Assistance for Needy Families program.

Today, Jobs4Jersey.com is an integral part of our re-employment programs at the Department and our initiatives to assist key employers. Jobs4Jersey.com is the link to OnRamp, our robust, state-of-the-art, job-search engine that uploads and creates resumes for job-seekers to present their profiles to thousands of employers.

I'm proud to announce that more than 200,000 people have loaded resumes through OnRamp, which carries about 100,000 job openings in New Jersey at any given time and approximately 300,000 job offers within a 50-mile radius.

Even FEMA was impressed by the service. When it responded to Sandy, the federal agency had 76 job openings it needed to fill, and FEMA placed them on Jobs4Jersey.com.

Since I appeared here last, the employer module at OnRamp also has been activated, with more than 5,700 businesses now using the service to find the specific talent they need to become prosperous. For employers, particularly the small businesses that make up 90 percent of New Jersey companies, OnRamp is a free Human Resources department.

Employers with neither the time nor the money to handle extensive searches for the right employee can rely on OnRamp. We sometimes call the process "cloning" because the system allows an employer to identify the exact skills of the employee they need __ even the exact skills of a worker who just quit __ and let OnRamp find a match.

OnRamp is unique because it has an artificial intelligence that matches talents and skills, not job titles. Job-seekers may create multiple resumes, highlighting different skills, and learn of job opportunities via e-mail. Again, this service is FREE to job-seekers and employers, alike, which is different from other on-line employment sites.

Additionally, employers can try to fill multiple positions, allowing OnRamp to direct the matches, via e-mail, to different HR managers or department heads.

It is a novel tool for addressing New Jersey's economic recovery and unemployment, as are other programs we have launched under this administration. At this time last year, we had just begun to launch our Jersey Job Clubs, which took a new approach toward re-employment.

Less than 12 months ago we re-organized the professional service clubs that existed in only a dozen counties because they did not allow all unemployed residents to join and only served 3,000 people annually_in most cases the same people year after year.

Today, I'm delighted to tell you we have opened Jersey Job Clubs in 23 locations around the state. I'm also delighted to tell you that more than 21,000 job-seekers have enlisted in the program. That is seven (7) times the number of people we had in the old program, and the Jersey Job Clubs aren't even a year old yet.

And the clubs are going strong. People there learn about interviewing techniques, how to use social media to find employment, the value of networking to connect with jobs and much more. The Jersey Job Clubs approach is so cutting edge that my staff was invited to join U.S. Labor Secretary Hilda Solis last September at the White House Forum on Job Clubs and Career Ministries.

Held in the White House, the forum focused on the important role of job support groups in getting Americans back to work.

That is the primary focus of my Department, and we accommodate all job-seekers, whether they are recently unemployed, long-term unemployed or people with special needs. For example, in just six months between October and last month, we provided services to more than 10,000 individuals with disabilities.

In fact, our One-Stop Career Centers provided services to an average of 300,000 people annually. We served well over 200,000 people between July 2012 and last month, which included nearly 17,000 veterans. That also included nearly 30,000 people receiving TANF, another 22,000 undergoing general assistance determination and about 27,000 people on food stamps.

ANTI-FRAUD

Before I close today, I want to update you on one more program I am particularly proud to talk about __ our anti-fraud efforts.

Since March 2011, New Jersey has saved at least $232 million from going into the hands of people who would defraud our Unemployment Insurance Trust Fund and all of the working people in our state and businesses who contribute to it.

That is more than $115 million annually, and it is a very, very conservative estimate.

Remember, the Trust Fund became insolvent by 2009 after two decades of diversions that totaled $4.6 billion, along with multiple tax table adjustments, a severe economic recession and high unemployment levels that required continuing benefit payments.

In April 2011, the deficit to the fund had reached a peak of $2.1 billion.

After our April 2013 receipts come in, we expect the loan balance to drop to below $300 million in the next couple of weeks. Of course, the balance will continue to fluctuate up and down, but we remain hopeful we will finish paying our debt to the federal government by May 2014.

This is a fund into which both employers and workers contribute to provide a crucial safety net for our neighbors and families when people lose their jobs. It is unconscionable for us to allow anyone, for any reason, to draw money from that fund if they do not deserve it and once the money is gone, it is difficult to get it back.

We have stopped what the U.S. Department of Labor (USDOL) identified as the most common cause of improper payments from State UI accounts nationwide: people continuing to file UI claims after they have returned to work.

Our first-of-its-kind anti-fraud program uses the New Jersey New Hire Directory and the National Directory of New Hires to find if people collecting UI benefits have returned to work. It remains a model for the rest of the nation as we continue to stop about 1,800 fraudulent claims each week by continuing that simple practice.

As you may know, the program earned us two national innovation awards from the USDOL. It has since prompted the USDOL to place my staff on a steering committee for the federal government's recently formed "Center of Excellence for UI Integrity." The Center is establishing a series of fraud prevention measures for all states to emulate.

Again, my Department is leading a national effort with our federal partners in fraud prevention.

When I appeared before you last year, we had just begun to employ a new system to identify claims filed through foreign IP addresses, otherwise known as Internet Protocol addresses. People should not be filing for unemployment benefits from outside the country, yet organized criminals and others commonly try to file phony claims.

We have stopped them cold, catching organized criminal efforts as well as simple hucksters. For example, we stopped a scam in which claims were being filed every two hours from five foreign countries. It was an organized effort we reported to Homeland Security.

We also discovered a case in which claims were being filed regularly from locations between Florida and the Mediterranean. We did some checking and realized that a retired couple, in their 70s, was filing false claims from a cruise ship.

We suspect they had defrauded the system of about $70,000 before the IP software was in place and we caught them. We are now diligently trying to recoup those funds. But we were at least able to stop the fraud and prevent payments on thousands of other phony foreign claims for a savings to the Trust Fund of at least $34.5 million to date.

Let me also remind you that the software enabling us to do this cost only $1,600.

More complex, but equally as effective, has been our newest program: the Identify Verification Requirement designed to catch the criminal imposters who would file phony claims by using stolen identities. As someone tries to process a new claim by phone or the Internet, we are able to quickly ward off would-be scammers with a series of multiple choice questions based upon the real individual's public records.

These anti-fraud measures are crucial. It is difficult to retrieve money once it's out the door. We are now preventing fraud before it happens.

I should also mention that the Unemployment Insurance Fund continues to benefit from a reform put into place by Governor Christie in June 2010, when he made the state's misconduct standards fairer to workers. The measure further restricted benefits from being paid to people who lost their jobs because of severe misconduct in the workplace.

It was not fair that people fired for misconduct were collecting almost as much in benefits as people who lost their jobs through no fault of their own. The reform measure established three levels of misconduct and increased the UI benefit penalties in all categories, whereas the statute previously only recognized two levels of misconduct.

The changes additionally saved the Trust Fund about $165 million to date.

Let's not forget that the Unemployment Insurance Fund was established for people who fall on hard times and need the safety net it provides. We are obligated to protect it.

For the past three years, my Department has re-invented itself as we have worked to protect the Trust Fund and examine the best practices for re-employing people who have been left out of work. We have taken a business-focused approach because we realized the best way to get people employed is to help employers expand and hire, and to make sure the labor force has the skills sought by New Jersey industries.

Since the recessionary low-point for private sector employment, February 2010, which also was Governor Christie's first full month in office, New Jersey has gained more than 127,800 private sector jobs. The federal Bureau of Labor Statistics data shows 2012 marked a third consecutive year of private sector employment gains for the state.

New Jersey's total non-farm employment gains for 2012 were the highest in more than a decade, as were the private sector employment gains for 2012.

At this time, I'd like to again thank the Committee for this opportunity to talk about the Department.

I would be happy to answer any questions the Committee has for me.

Thank you.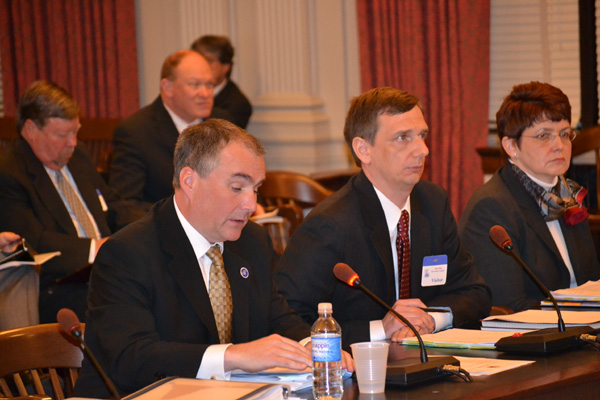 New Jersey Labor Commissioner Harold J. Wirths (left) testifies before the New Jersey Assembly
Budget Committee. Commissioner Wirths is seated with Deputy Labor Commissioner
Aaron Fichtner (center) and Assistant Commissioner Mary Ellen Clark.