May-08-13 Christie Administration Releases New Round of "Recovery4Jersey" Grants
$7 Million in Hiring Incentives Are Available to New Jersey Businesses
Contact:
Brian T. Murray:
TEL: 609.984.2841
FAX: 609.777.3634
Email: MediaCalls
| | | |
| --- | --- | --- |
| | -News Release- | |
MONROE TOWNSHIP, N.J., MAY 8, 2013 - Department of Labor and Workforce Development (LWD) Commissioner Harold J. Wirths today announced the availability of $7 million in hiring incentives under "Recovery4Jersey," a program offering wage reimbursements to New Jersey employers who take on and train unemployed workers.
Companies may build up their businesses and offset their hiring costs through Recovery4Jersey, which will directly reimburse employers for 50 percent of a new hire's wages, up to $10,000, for three to six months. The new employee obtains on-the-job training to learn new talents or improve existing skills, while the employer defrays the cost of training new people brought into the company.
"This program is part of the $26 million "Hire New Jersey" package Governor Christie announced in the weeks after the devastation of Superstorm Sandy, when the Department refocused our training funds on the industries that offer the most promise to assist New Jersey's economic recovery," said Commissioner Wirths. "Recovery4Jersey offers our key industry employers grant opportunities to expand their businesses, hire new workers and create more employment opportunities for our highly skilled workforce."
Details of the Recovery4Jersey grants were unveiled earlier today by LWD Assistant Commissioner Mary Ellen Clark during a morning meeting of the New Jersey Business &Industry Association's (NJBIA) Employment and Labor Policy Committee.The NJBIA has been a strong partner of the Christie administration in creating worker training programs and successfully addressing the workforce needs of the state's major industry clusters.
"As New Jersey gears up for its first post-Sandy tourism season, Recovery4Jersey will provide much welcomed relief to employers who otherwise may not have been able to increase their workforces. Without a doubt, a lot of progress has been made over the last six months to return New Jersey back to normal, and we're confident that with tools like Recovery4Jersey even more will be seen in the days ahead," said Stefanie Riehl, the NJBIA's Assistant Vice President of Employment & Labor Policy.
"We applaud the Christie Administration for continuing to be responsive to the business community in providing innovative training programs and responding to the need for recovery-related grants and other assistance," she added.
The Hire New Jersey initiative announced by the Governor in December set aside $26 million to support three economic recovery initiatives designed by the LWD to assist businesses and workers in the wake of Superstorm Sandy and to additionally invest in New Jersey's future growth. The initiatives, dubbed Recovery4Jersey, Skills4Jersey and Opportunity4Jersey, involve the investment of training dollars by LWD into New Jersey businesses and the state's workforce with the immediate goal of connecting the unemployed to job opportunities in the Sandy recovery and the long-term goal of building the skills of existing workers for jobs in the state's most promising industry clusters.
The initiative restructured long-standing LWD training programs to insure that future training is driven by the needs of the Garden State's businesses.
"We anticipate that the Recovery4Jersey hiring incentive will especially help small businesses get back on their feet after Sandy by enabling them to hire additional staff, which is a win for New Jersey's small business owners. It also is a win for New Jersey's unemployed talent because they have an opportunity for employment, and it is a win overall for New Jersey's economy," said Assistant Commissioner Clark.
To learn more about Recovery4Jersey go to http://careerconnections.nj.gov/careerconnections/. Employers and workers interested in participating in the grant opportunity may send an e-mail to Recovery4Jersey@dol.state.nj.us or dial the Recovery4Jersey hotline at 1-877-682-6238.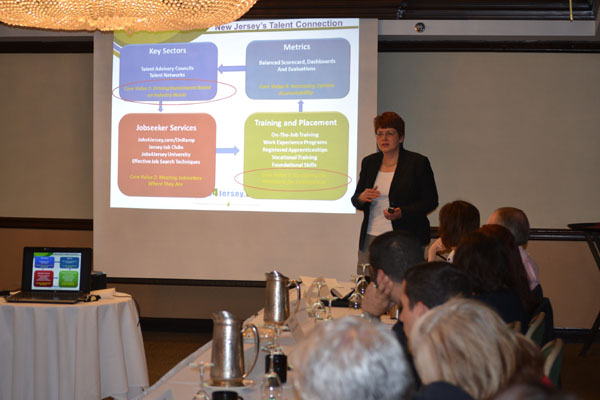 LWD Assistant Commissioner Mary Ellen Clark speaks to business leaders about the
Department's Recovery4Jersey training program during a New Jersey Business & Industry
Association meeting.