May-16-13 Christie Administration Employs Veterans and Job Seekers Through Sandy National Emergency Grant
Department of Labor and Workforce Development Partners with Department of Military and Veterans Affairs hiring workers for post-storm repairs in Sea Girt
Contact:
Brian T. Murray:
TEL: 609.984.2841
FAX: 609.777.3634
Email: MediaCalls
| | | |
| --- | --- | --- |
| | -News Release- | |
SEA GIRT, N.J. MAY 16, 2013 – The Christie Administration today announced that part of a $15.6 million National Emergency Grant (NEG) used to create temporary clean-up and recovery jobs in the aftermath of Superstorm Sandy is helping to employ veterans and other unemployed residents for restoration projects at the National Guard Militia Museum of New Jersey.

Commissioner Harold J. Wirths of the Department of Labor and Workforce Development (LWD) joined Brigadier General Michael Cunniff, the Adjutant General of the New Jersey Department of Military and Veterans Affairs (DMAVA), at the museum to announce that the NEG funds already are being used to employ workers to repair the museum, as well as restore and reorganize historical memorabilia. To date, twenty-five workers, including eleven veterans, already have been employed.

"There's no question that this National Emergency Grant has been instrumental in helping to get New Jersey's communities back in order while additionally offering temporary employment and some added work experience to our unemployed neighbors," said Commissioner Wirths. "I am particularly pleased that this agreement with the Department of Military and Veterans Affairs is giving our veterans the opportunity to earn an income and gain job skills that they can parlay into a permanent full-time position in the future."

The workers have begun to repair and replace damaged drywall, plumbing, and electrical fixtures, as well as remove damaged furniture and repair fencing.
"Through our involvement during Superstorm Sandy, we witnessed firsthand the devastation to communities and their residents caused by the storm," said Brigadier General Cunniff. "This grant is certain to ease victims' hardships by creating temporary jobs, providing necessary commodities, and assisting with humanitarian efforts."
Commissioner Wirths also announced that the United States Department of Labor has extended through January 2014 the ability of New Jersey communities to apply for the funds, enabling more municipalities, counties, and state agencies to make arrangements to bring on workers related to Sandy-related repairs, restoration, and clean-ups. The federal extension on the NEG also includes a waiver permitting the funds to be put toward skilled repair work rather than just labor.
To date, 775 people have been put to work in sixteen New Jersey counties through the funding.
Job seekers interested in a temporary job under this NEG should visit their local One-Stop Career Center or send an e-mail to sandyhelp@dol.state.nj.us. Job seekers may also log onto http://careerconnections.nj.gov/ or call (609) 777-1836 between 9 a.m. and 4 p.m. Monday through Friday.
National Emergency Grants are part of the United States Secretary of Labor's discretionary fund and are awarded based on a state's ability to meet specific guidelines. For more information on such grants, visit http://www.doleta.gov/NEG.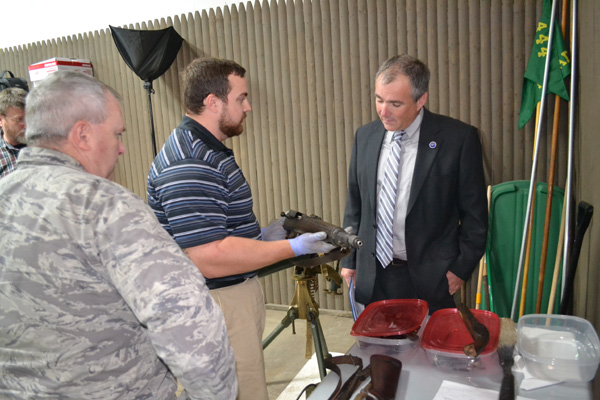 Labor Commissioner Hal Wirths (right) and Brig. Gen. Michael Cunniff (right), the Adjutant General of the state Department of Military and Veterans Affairs examine a British World War II Sten Gun (a submachine gun) at the National Guard Militia Museum of New Jersey that was damaged by Superstorm Sandy. William Bartleson (center), hired under the National Emergency Grant to help clean up, rebuild, and restore the Sea Girt Armory, worked on the gun to restore it. Another worker hired under the NEG, Robert Rudinski (background), also works at the museum restoring memorabilia damaged by the storm.