May-30-13 Christie Administration and Essex County Link Job-Seekers with Employers
Annual Employment Expo Highlights a Partnership of Programs
Contact:
Brian T. Murray: 
TEL: 609.984.2841
FAX: 609.777.3634
Email: MediaCalls 

 

 
| | | |
| --- | --- | --- |
|   | -News Release- |   |
NEWARK, N.J., MAY 30, 2013 – The Christie Administration joined Essex County officials today in linking job-seekers with employers at the annual Essex County Services Employment Expo, held at the Robeson Campus Center at Rutgers University.

Commissioner Harold J. Wirths of the state Department of Labor and Workforce Development, along with members of his department and staff, joined Essex County Executive Joseph N. DiVincenzo, Jr. and the county's Department Of Economic Development, Training and Employment in hosting a five-hour event that also introduced job-seekers and business owners to the many state and county services available to both.

"This annual cooperative effort underscores the importance of establishing partnerships in New Jersey to get people employed and to insure the industries that are leading the state's economic growth have the wealth of talent and support necessary for that growth," said Commissioner Wirths, who greeted participants as they entered the expo. "Everyone benefits from these joint efforts. We have worked well with Essex County on many similar endeavors, and we look forward to continuing that cooperation."

More than 1,000 people pre-registered to attend the expo, which was free to job-seekers and vendors alike, and many others were able to register on-site to take advantage of the fair.

"Essex County is committed to providing our residents with employment opportunities and access to services, while assisting businesses with recruiting skilled and qualified applicants. Whether you are looking for work or are a business with a need, we invite you to participate in our free Services Employment Expo," said Essex County Executive Joseph N. DiVincenzo, Jr., who also greeted visitors at the entrance of the expo.



The Christie Administration has launched an assortment of initiatives to link job-seekers and employers, particularly through Jobs4Jersey.com, which is a portal to all of the Department of Labor and Workforce Development's services and employment tools. In Essex County, the administration has co-hosted multiple job fairs and, in the wake of Superstorm Sandy, insured Essex County shared in a $15.6 million National Emergency Grant obtained by the administration to hire the unemployed to engage in clean-up and recovery efforts.

To date, Essex County has been able to put 119 people to work with the funding.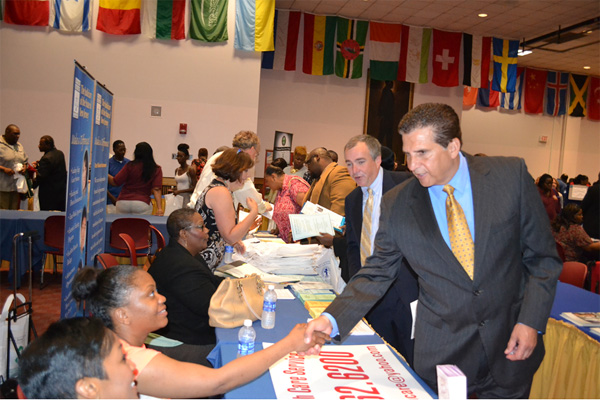 Essex County Executive Joseph N. DiVincenzo Jr. (right) joined Labor Commissioner
Harold J. Wirths in greeting vendors, staff and job-seekers at the Employment Expo