May-31-13 Christie Administration Invests in Recovery for New Jersey Businesses
Recovery4Jersey Grant Helps Middlesex County Manufacturer to Train Workers
Contact:
Brian T. Murray:
TEL: 609.984.2841
FAX: 609.777.3634
Email: MediaCalls
| | | |
| --- | --- | --- |
| | -News Release- | |
AVENEL, N.J., MAY 31, 2013 – Governor Chris Christie's $26 million Hire New Jersey package was highlighted today as Commissioner Harold J. Wirths of the New Jersey Department of Labor and Workforce Development (LWD) toured Vantage Apparel, a Middlesex County manufacturer that received a $24,000 state grant.
Under Hire New Jersey, three grant programs were launched in the wake of Superstorm Sandy to insure the state is well-positioned for future growth and economic expansion. Vantage Apparel was awarded its grant through the Recovery4Jersey program, which is making funds available to assist New Jersey employers in providing classroom and/or on-the-job training for workers to specifically address the extra demands created by the recovery and rebuilding efforts forced by Sandy.
"This Recovery4Jersey grant is just part of the three-prong Hire New Jersey package launched by Governor Christie shortly after Sandy hit. Each program under Hire New Jersey focuses on helping New Jersey businesses to overcome the economic challenges posed by the storm and to maintain the momentum of the state's overall recovery," said Commissioner Wirths.
Vantage Apparel employs 370 people at its corporate headquarters in the Avenel section of Woodbridge Township, and has additional locations in California and Missouri. Specializing in logo apparel design and manufacturing, embroidery, screen printing, laser etching and applique embellishment, Vantage's New Jersey operation was shut down for three days due to Sandy.
Vantage Apparel will match the state training grant with $52,721 in company funds and train employees in courses such as crisis management and emergency response, disaster recovery, contingency planning and data recovery. The manufacturer also will try to bring on as many as 22 new hires within the next 12 months.
"Nothing is more paramount than the welfare of our employees and, to that end, we recognize the importance of preparing ourselves for natural disasters, workplace challenges, supply-chain disruptions and more," said Ira Neaman, president of Vantage Apparel. "By partnering with the state and receiving crisis management training through the Recovery4Jersey grant program, we can structure a course of action that ensures the protection of our employees as well as preservation of business operations no matter what event or circumstance we are forced to confront. The value of this program and the results that will follow cannot be understated."
The Hire New Jersey package was developed by the Christie Administration in direct response to Sandy through a re-branding of the LWD's traditional training grant programs. Not only are the funds being directed to employers impacted by the storm and companies that have assisted New Jersey in recovering from the storm, but they also are being focused on improving the workforce skills of businesses in key industry clusters identified by LWD as driving the future economy of the state.
"Our focus is to train our workforce with the skills needed to move forward in Garden State industries that hold the most promise for our economic future. In turn, the industries become more competitive and prosperous, and will expand their payrolls," Commissioner Wirths explained.
Through its Talent Networks, LWD is focusing on seven of the state's key industry clusters to connect employers, job-seekers, the state's One-Stop Career Centers, and educational institutions to achieve the common goal of helping people develop relevant skills that lead to job opportunities.
The seven industry clusters included: Transportation, Logistics and Distribution; Life Sciences (Pharmaceuticals, Biotechnology, Medical Devices); Advanced Manufacturing; Financial Services; Health Care; Technology/Entrepreneurship; and Retail, Hospitality and Tourism.
Commissioner Wirths was joined in touring Vantage by John Kennedy, the chief operating officer of New Jersey Manufacturers Extension Program, a not-for-profit company that works with small to mid-sized manufacturers to help them become more efficient, profitable, and globally competitive. NJMEP will conduct the training authorized under the grant.
"When our state Department of Labor announced the Recovery4Jersey grant program, NJMEP knew it was a great fit for us," said Kennedy. "We believe that this is a perfect blend of NJMEP's mission of supporting New Jersey manufacturers of all sizes, and the LWD's objective to champion the development of our workforce throughout the state."
Along with the Recovery4Jersey program, Hire New Jersey includes two other grant programs known as Skills4Jersey and Opportunity4Jersey.
For information about:
Recovery4Jersey go to:
http://lwd.dol.state.nj.us/labor/forms_pdfs/NGO/RECOVERY4JERSEY.pdf
Skills4Jersey go to:
http://lwd.dol.state.nj.us/labor/forms_pdfs/NGO/SKILLS4JERSEY.pdf
Opportunity4Jersey go to:
http://lwd.dol.state.nj.us/labor/forms_pdfs/NGO/Opportunity4Jersey.pdf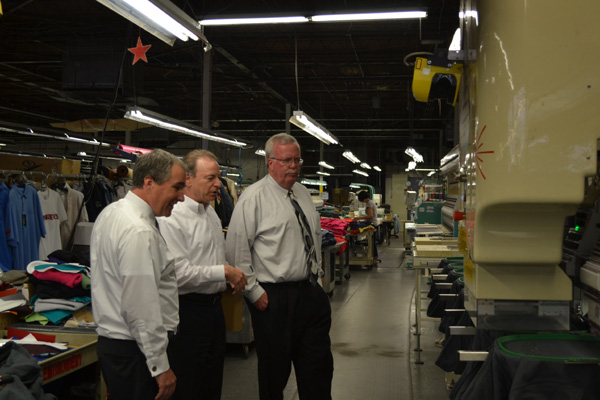 Commissioner Harold J. Wirths toured Vantage Apparel of Avenel with (center) company President Ira Neaman and (right) Woodbridge Mayor John E. McCormac. The company, which was shut down for three days by Superstorm Sandy, received a Recovery4Jersey training grant from the Department of Labor and Workforce Development.