Jun-06-13 Christie Administration Highlights Job Placement Services for Ex-Offenders
Contact:
Brian T. Murray: 
TEL: 609.984.2841
FAX: 609.777.3634
Email: MediaCalls 

 

 
| | | |
| --- | --- | --- |
|   | -News Release- |   |

DEPTFORD TWP., N.J., JUNE 6, 2013 – Recognizing employment as an essential part of every ex-offender's successful re-entry into society, the Administration of Governor Chris Christie recently praised the collaborate efforts of state and private agencies to expand avenues for parolees to obtain and retain employment under the state's Parolee Employment Placement Program (PEPP).

The program was highlighted by the Department of Labor and Workforce Development (LWD) as Deputy Commissioner Aaron Fichtner spoke at an event hosted by the Mid-Atlantic States Career & Education Center, a Pennsville-based outfit that assisted 120 parolees with job training and employment under the PEPP. The group, which provides job skill training to an assortment of youth and adults seeking to enter or re-enter the workforce, had invited the LWD to join in celebrating its success in placing 2,000 people into jobs.

"Getting a job is a crucial step for people leaving incarceration. This program gives ex-offenders an opportunity to stay out of the criminal justice system and to turn their lives around," said Deputy Commissioner Fichtner.

The PEPP was established in November 2011 by the LWD and the New Jersey Parole Board as a pilot program focused on reducing recidivism in the Garden State by providing employment pathways for previously incarcerated people. Through a competitive grant process, funding was provided to three organizations in the northern (Blessed Ministries, Inc.), central (Shiloh Community Development), and southern (Mid-Atlantic States Career & Education Center) regions of the state. 

Deputy Commissioner Fichtner shared congratulatory remarks at the Deptford celebration, noting the PEPP has equipped parolees with the tools to move forward and gain stable employment. The LWD has traditionally supported re-entry programs for ex-offenders through its One-Stop Career Centers including Career Beacon Workshops, which offer resume writing, interviewing skills, and job search assistance.

While funding job placement services through community and faith-based organizations, LWD also has supported a program called Workforce Learning Links, which offers adult basic skills services including reading comprehension, GED preparation and English as a Second Language.

Additionally, the department has supported various initiatives in collaboration with the State Parole Board, the Department of Corrections, and the Office of the Attorney General including:
Another Chance: a demonstration project targeting 1,350 returning adults from selected correctional facilities in Camden, Trenton, and Newark. The initiative focused on education and employment opportunities to minimize recidivism.
Fatherhood Initiative: Sought to reestablish the essential role a man has a caregiver to his children. LWD provided vocational and job readiness training, and employment assistance.
Opportunity Reconnect (Camden): Modeled on the reentry center in Newark that has been operating at Essex County College, the goal is to co-locate resources at one site that will support a more effective system to deliver services for returning ex-offenders.
"The Parolee Employment Placement Program grant is an important investment to help us help those who are re-entering our communities," said LWD Commissioner Harold J. Wirths. "Reentry programs like this will help parolees return to their communities with the hopes of gaining stability, which will reduce recidivism, and in turn make our communities safer."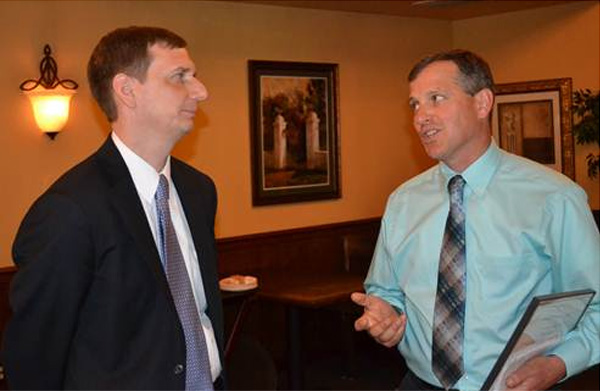 Deputy Commissioner Aaron Fichtner of the New Jersey Department of Labor and Workforce
Development highlighted the state's Parolee Employment Placement Program at a Mid-Atlantic
States Career & Education Center event celebrating the organization's placement of 2,000
people into jobs, including assisting more than 100 parolees with job training and employment.
Above, Deputy Commissioner Fichtner (left) speaks with Dave Zeck (right), Salem County
program manager for the Mid-Atlantic States Career & Education Center who was
recognized during the event for the highest job placements in one month.