Jun-18-13 DEPUTY LABOR COMMISSIONER AARON FICHTNER HONORED WITH COMMUNITY COLLEGE SPIRIT AWARD
Contact:
Brian T. Murray: 
TEL: 609.984.2841
FAX: 609.777.3634
Email: MediaCalls 

 

 
| | | |
| --- | --- | --- |
|   | -News Release- |   |
TRENTON, N.J. JUNE 18, 2013 _ Deputy Commissioner Aaron Fichtner of the Department of Labor and Workforce Development was presented with the 2013 Community College Spirit Award by the New Jersey Council of County Colleges during the Annual New Jersey Community College Awards Ceremony held at the Marriott Trenton Hotel on June 17.

"I'm very honored to receive the New Jersey Council of County Colleges Spirit Award. Community colleges have become an important partner for our department as we have changed the dynamics of workforce development in New Jersey by focusing on skills that meet the needs of our state's most promising industries. It is a partnership that must continue if we are to be successful in our mission to employ everyone looking for work while simultaneously bolstering our economic future," said Deputy Commissioner Fichtner.

Fichtner was recognized for his leadership is supporting the New Jersey Community College Consortium (NJCCC) for Workforce and Economic Development for various statewide workforce training projects, including: the New Jersey Business and Industry Association Basic Skills Training Program, the BioNJ Biotechnology Training Program and the New Jersey Utilities Association Training Program.

"Since its inauguration in 1993, the Community College Spirit Award has been an honor bestowed to those who embody the community college spirit – perseverance, dedication and excellence," said NJCCC Chairman Bakari G. Lee, Esq.

The NJCCC presented Labor Commissioner Harold J. Wirths with the Spirit Award in 2011 for his work with the workforce consortium and support of community colleges while he was a Sussex County freeholder for 10 years.

The workforce consortium, established in 2004, is a central one-stop contact that develops and delivers education and training programs to New Jersey businesses, agencies and organizations.

"The workforce consortium is one of our greatest successes," Lee said. "It is because of Deputy Commissioner Fichtner's support that our consortium has trained over 86,000 employees at over 4,200 New Jersey businesses."

The NJCCC is the state association representing New Jersey's 19 community colleges. As an independent, trustee-headed organization that joins the leadership of trustees and presidents, the council is the voice of the community college sector before the state legislature and other branches of government. The council is also the state coordinating organization for all community colleges in New Jersey.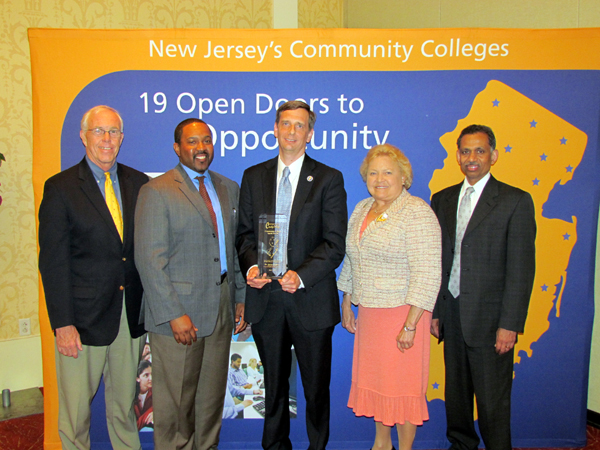 From left, Robert Rosa of the NJ Workforce Consortium, Chairman Bakari Lee of the NJ of the Council of County Colleges, Deputy Commissioner Fichtner; Mercer County Community College President Patricia Donohue and NJ Workforce Consortium Executive Director Sivaraman Anbarasan.