Jun-20-13 Christie Administration Awards Skills4Jersey Grant to Historic Candy Company
Sandy Recovery Initiative Helps Atlantic City Manufacturer Train Workers
Contact:
Brian T. Murray:
TEL: 609.984.2841
FAX: 609.777.3634
Email: MediaCalls
| | | |
| --- | --- | --- |
| | -News Release- | |
ATLANTIC CITY, JUNE 20, 2013 – Highlighting Governor Chris Christie's $26 million Hire New Jersey initiative, Commissioner Harold J. Wirths of the New Jersey Department of Labor and Workforce Development (LWD) today announced a $33,600 Skills4Jersey training grant awarded to the historic James Candy Company in Atlantic City.

Skills4Jersey is part of a package of grants developed by the LWD in the weeks after Superstorm Sandy to refocus training funds on the recovery effort by offering employers in New Jersey's key industries opportunities for grants designed to expand their businesses, enable them to hire new workers, train existing workers and create more employment opportunities in the Garden State.

"Under this Administration, our grant programs have been designed to assist New Jersey businesses in giving their employees up-to-date skills that not only help the workers to advance in their careers, but also allow companies to remain competitive in an ever changing market. The result of such investments in our major industry clusters is a strong, viable and productive economy," said Commissioner Wirths during a tour of the boardwalk-based candy manufacturer

Through the state's Talent Networks, LWD is focusing on seven of the state's most productive industry clusters to connect employers, job-seekers, the state's One-Stop Career Centers and educational institutions to achieve the common goal of helping people develop relevant skills that lead to improved efficiencies in New Jersey companies and improved future employment opportunities for the workers.

The first six Talent Networks that LWD launched in 2011 center around Life Sciences; Transportation, Logistics and Distribution; Health Care; Advanced Manufacturing; Financial Services; and Technology and Entrepreneurship. These industries drive the state's economy and account for more than half of the workers employed in New Jersey as well as more than two-thirds of wages paid in the Garden State. Earlier this month, LWD launched the Retail, Hospitality and Tourism Talent Network to represent a seventh major industry cluster, and it created the Recovery New Jersey Talent Network to focus on addressing the needs of businesses impacted by Superstorm Sandy.

The James Candy Company, which was founded in 1880 and continues to operate on the boardwalk of Atlantic City, is known for its signature salt-water taffy and chocolate. The company will train 26 of its 51 employees at its boardwalk location using the $33,600 training grant in courses that include lean manufacturing, business management, industrial manufacturing technology, and quality control technology.

The manufacturer will match the state training grant with $35,450 in company funds.

"The James Candy Company is pleased to partner with the New Jersey Department of Labor again and we are excited about this training opportunity for our employees to gain skills that will help them develop, as well as help our company to advance," said James Candy Company President Frank Glaser. James Candy has manufactured candy for more than 130 years in Atlantic City.

Commissioner Wirths presented James Candy President, Frank Glaser with a framed letter announcing the company's training grant award and praised the company for partnering with the LWD, as well as with the New Jersey Manufacturers Extension Program (NJMEP), a not-for-profit company that works with New Jersey's small to mid-sized manufacturers to help them become more efficient, profitable, and globally competitive.

Chris Reese, a senior account manager at NJMEP, said, "The Lean Manufacturing work done at James Candy is a perfect example of how the NJ Manufacturing Extension Program (NJMEP) assists small to mid-sized manufacturing companies in New Jersey. This training enabled James Candy to 'smooth' its production and eliminate seasonal layoffs while adding ten new jobs over the past two years. NJMEP salutes the management staff at James Candy for being forward-thinking, investing in their company, and contributing to a strong industrial future for New Jersey. We expect the company to continue to thrive and employ people in New Jersey for many years to come."

Go to the links below for more information about the Department of Labor and Workforce Development grant programs:
Skills4Jersey go to:

http://lwd.dol.state.nj.us/labor/forms_pdfs/NGO/SKILLS4JERSEY.pdf

Recovery4Jersey go to:

http://lwd.dol.state.nj.us/labor/forms_pdfs/NGO/RECOVERY4JERSEY.pdf

Opportunity4Jersey go to:

http://lwd.dol.state.nj.us/labor/forms_pdfs/NGO/Opportunity4Jersey.pdf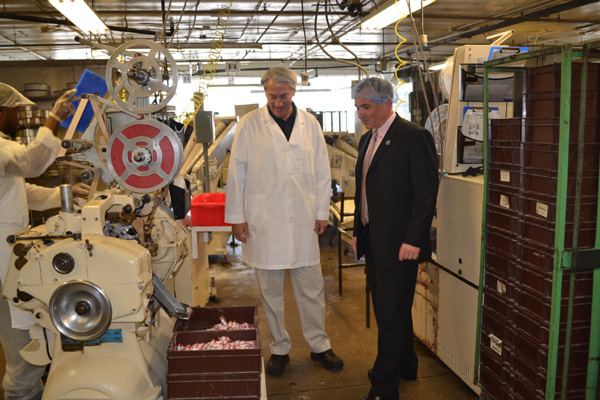 New Jersey Labor Commissioner Harold J Wirths (right) visited the James Candy Company in Atlantic City to highlight the Skills4Jersey training grant awarded to the 130-year old manufacturing company. Above, James Candy Company President Frank Glaser (left) and Commissioner Wirths observe freshly cut saltwater taffy coming off the line.