Jun-22-13 Christie Administration Joins U.S. Chamber of Commerce at MetLife Stadium In "Giant" Veterans Job Fair
Contact:
Brian T. Murray: 
TEL: 609.984.2841
FAX: 609.777.3634
Email: MediaCalls 

 

 
| | | |
| --- | --- | --- |
|   | -News Release- |   |
EAST RUTHERFORD,  JUNE 22, 2013  –
Governor Chris Christie is continuing his commitment to New Jersey veterans and their families today, as veteran service representatives from the Department of Labor and Workforce Development (LWD) converge on the MetLife Stadium to assist former military members connect with employers, jobs and training programs during at a massive "Hiring our Heroes" event hosted by the U.S. Chamber of Commerce, the American Legion and others.
Several hundred veterans have already pre-registered to connect with more than 117 employers at MetLife Stadium, where the LWD is joining the U.S. Chamber of Commerce Foundation, NBC News 4, the New York Giants, Verizon and the American Legion for a hiring fair targeting veterans and military spouses. The event was organized in connection with a NBC 4 and New York Giants Health & Fitness Expo also being kicked off at the stadium tomorrow.
"This Administration is strongly committed to our veterans and their families, and we help those who need assistance in transitioning back to civilian life on a daily basis through the state's 34 One-Stop Career Centers," said LWD Commissioner Harold J. Wirths. "My department has 40 staff members dedicated to helping veterans find employment, and we have gone out into the community to organize and join more than 35 career fairs in three years just to help veterans and their families connect with employers. It is the very least we can do for those who risked their lives for our nation."
The LWD is currently working with more than 18,000 veterans at the One-Stops, where veteran services representatives, many of whom are also veterans, offer counseling and employment assistance to former military personnel. Many of those representatives are staffing tables at the MetLife Stadium today to offer those same services to veterans attending the fair.
Employers who pre-registered to greet veterans at the career fair range from small businesses to some of the nation's largest companies.
The Christie Administration has partnered with the U.S. Chamber of Commerce for the past two years in a series of veteran job fairs held throughout the Garden State. The LWD and Department of Military and Veteran Affairs have joined with the U.S. Chamber of Commerce, the American Legion and other sponsors to support "Hiring Our Heroes" events from Toms River, Flemington and Somerville to Bordentown and Trenton.
In April 2012, LWD organized a number of events under Governor Christie's Operation: Hire a Jersey Hero initiative, including a symposium at Prudential's headquarters in Newark that outlined for New Jersey employers who are interested in hiring veterans how to link with those former service people through state and federal agencies. The LWD also organized a veteran job fair last May on board the USS New Jersey (Battleship NJ) in Camden where 350 veterans and military spouses had an opportunity to meet with 50 employers who had a combined 2,800 available positions to fill.
The Christie administration also has been a strong supporter of the New Jersey Building & Construction Trades Council's "Helmets to Hardhats" program, providing a $190,000 grant last year to help military personnel, National Guard, reserve, and transitioning active-duty military members to connect to quality career and training opportunities in the building and construction trades. It was the second consecutive grant the Administration awarded the program; in 2011, the program benefited from a $195,000 grant.
The U.S. Chamber of Commerce and the National Chamber Foundation launched "Hiring Our Heroes" in March 2011 as a sustained grassroots campaign to help veterans and military spouses find meaningful employment in hundreds of communities across America. To date, the campaign has resulted in more than 18,400 people being placed into jobs as a direct result of an estimated 540 hiring fairs hosted in 50 states, Puerto Rico, and the District of Columbia.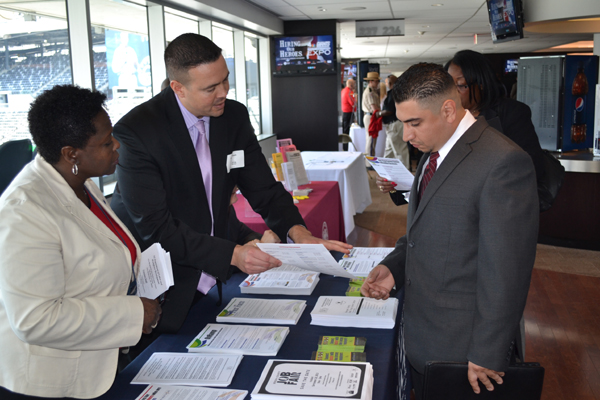 Veteran service representatives from the New Jersey Department of Labor and Workforce Development (LWD) met with hundreds of veterans during the Hiring Our Heroes job fair held at the MetLife Stadium in East Rutherford. Pictured above (L-R) is Veronica Jones, Veterans Representative in the New Brunswick One-Stop Career Center; and Michael Laun, State Veterans Program Coordinator. LWD has 40 staff members dedicated to helping veterans find employment.