Jul-03-13 Governor Chris Christie Secures $2.5 Million Federal Grant
National Emergency Funds Will Support Successful Manufacturing Training Program

Contact:
Brian T. Murray: 
TEL: 609.984.2841
FAX: 609.777.3634
Email: MediaCalls 

 

 
| | | |
| --- | --- | --- |
|   | -News Release- |   |
TRENTON, N.J., JULY 3, 2013 _ The Christie Administration announced today that it has successfully secured a $2.5 million federal Dislocated Worker National Emergency Grant (NEG) to expand a successful training program that has placed most of its graduates into jobs in New Jersey's advanced manufacturing industry since the first pilot program was launched nearly two years ago.

The federal funding, released by the U.S. Department of Labor, will allow the New Jersey Department of Labor and Workforce Development (LWD) to open doors to advanced manufacturing occupations for many more long term unemployed people.

"Our department applied for this federal grant to continue an innovative training model we jointly developed with New Jersey's metal fabrication employers, the New Jersey Consortium of Community Colleges and the New Jersey Business and Industry Association (NJBIA)," LWD Commissioner Harold J. Wirths explained. "By building effective partnerships, bringing employers into the training process and helping people obtain nationally recognized credentials, we have been successfully employing people and we want to expand that model."

The partnership has also included LWD's Advanced Manufacturing Talent Network, the state's 34 One-Stop Career Centers and the LWD's business services and veteran representatives.

The metal fabrication program involves 12 weeks of training and certifying trainees through the National Institute for Metalworking Skills. Community colleges throughout the state have provided the curriculum and classroom space, while employers in New Jersey's advanced manufacturing industry have identified the skills they need to find in prospective employees and have committed to hire the graduates.

"The New Jersey Business and Industry Association applauds the Department of Labor and Workforce Development for its efforts in securing the new funding. The funding will allow the Department to link job seekers and employers where they live, and builds upon the success of past programs which have brought employers and job seekers together from the ground up," said Stefanie Riehl of the NJBIA.

Under the federal NEG, the program will focus on long-term unemployed, which refers to people left out of work for more than 27 weeks.

About half of the grant will go toward direct training at $6,000 per participant, and it will be delivered primarily by the New Jersey Community College Consortium for Workforce and Economic Development. The other half will be put toward workplace training, which includes On-the-Job training and tuition for registered apprentices. Because it offers employers a reimbursement rate up to $7,500 per participant, the approach creates flexible options for workplace training.

"The NEG funding will allow us to train more than 120 unemployed individuals in advanced manufacturing competencies leading to industry recognized National Institute for Metalworking Skills credentials and other in-demand technologies," said Sivaraman (Anbar) Anbarasan, Executive Director of the NJCCC.

"Eighty-eight percent of prior trainees have been hired by our employer partners so far, and through our partnership with LWD and One-Stop Career Centers we will continue to help the New Jersey's unemployed attain new skills for gainful employment while meeting the hiring needs of New Jersey's manufacturing companies," Anbarasan added. 

The NEG was part of $58 million in funds released to 30 states by the U.S. Department of Labor to provide training to dislocated workers who are long-term unemployed and Unemployment Insurance (UI) recipients who have been profiled as likely to exhaust their benefits.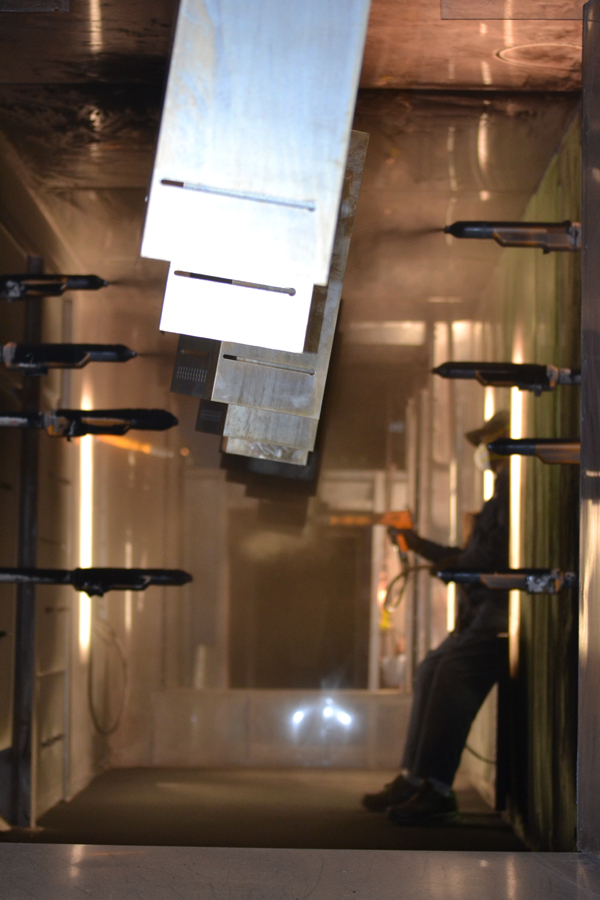 The National Emergency Grant will help to fund an Advanced Manufacturing training program that has been successful in landing trainees into jobs. Pictured above is an assembly operation at DureX Inc., a small manufacturing business in Union County that hired two graduates of the program last year.