Jul-17-13 Christie Administration Teams with WXTV Univision 41 To Assist Spanish-Speaking Consumers With Employment Issues
Contact:
Brian T. Murray:
TEL: 609.984.2841
FAX: 609.777.3634
Email: MediaCalls
| | | |
| --- | --- | --- |
| | -News Release- | |
SPANISH VERISON

TEANECK, NEW JERSEY, JULY 17, 2013 – The Christie Administration partnered with WXTV Univision 41 today to field calls from the television station's large Spanish-speaking audience regarding questions about training programs, job offerings, unemployment insurance and other services provided by the state Department of Labor and Workforce Development (LWD).
Spanish–speaking staff at the LWD assisted viewers during a phone bank hosted by "Noticias Univision 41 A Tu Lado," (Univision 41 News On Your Side), the station's consumer advocacy segment. WXTV's consumer reporter Berenice Gartner broadcasted live during the segment.
"We are always searching for new opportunities to reach out to New Jersey's diverse community of workers and employers about our services and programs, whether it's by launching kiosks to help people connect to our job-search engine at Jobs4Jersey.com or by visiting business associations to outline our training programs and hiring incentives," said LWD Commissioner Harold J. Wirths.
WXTV Univision 41 is the New Jersey/New York area's leading television station serving Hispanic audiences, and it ranked as the number one local 6 PM newscast among adults ages 18 to 49 in the tri-state area in the February and May rating sweeps. Recently, the New York chapter of the National Academy of Television Arts and Sciences honored WXTV with six Emmy awards.
For more information about the programs and services offered by the New Jersey Department of Labor and Workforce Development, please go to: www.nj.gov/labor. If you are a job-seeker or if you are an employer looking for talented workers, go to http://careerconnections.nj.gov/careerconnections/partners/talent/talent_networks.shtml.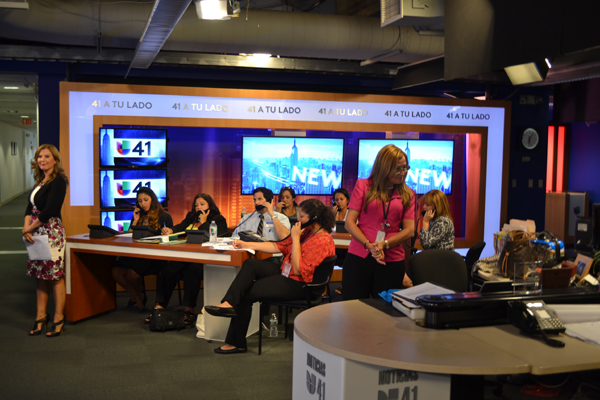 LWD staff answered viewer calls about labor issues at Univision 41 News with Consumer Reporter Berenice Gartner (left, standing). Representing LWD was (first table, left to right) Cynthia Toro, Lilian Mazer and Luis Rivera. Also assisting were Natividad Tarco (seated far right), Eva Fernandez (standing in the foreground) and Gilda Escobar (at the back table, behind Luis Rivera).