Aug-20-13 Christie Administration Helps Veterans Link to Careers
Labor Department Vet-Representatives Join Career Expo at The Barclays at Liberty National
Contact:
Brian T. Murray: 
TEL: 609.984.2841
FAX: 609.777.3634
Email: MediaCalls 

 

 
| | | |
| --- | --- | --- |
|   | -News Release- |   |
LIBERTY STATE PARK, N.J., Aug. 19, 2013 _ The Christie Administration today kicked-off the "Be A Hero, Hire A Hero" Veterans' Career Expo at Liberty National Golf Course as Commissioner Harold J. Wirths of the Department of Labor and Workforce Development (LWD) cut a ribbon at the start of the event inside the United Fairway Club.
More than 40 employers, colleges, organizations and state and federal agencies set up recruiting booths to link visiting veterans and their families to employment opportunities at the expo organized by the "Be A Hero, Hire A Hero" veteran organization and the PGA TOUR, with state veteran representatives connecting the former military personnel to state employment programs. The event was hosted in conjunction with the opening of The Barclays, the PGA TOUR playoff in which the top 125 golfers in the world will compete for the FedEx Cup from August 20 and 25.
"The Christie Administration has participated in more than 40 veteran career fairs and employment events in the past two years, offering every form of assistance possible to find jobs for the men and women who put their lives, families and careers on hold to serve our great nation. The least we can do to honor their service is to help them connect with solid civilian careers," said Labor Commissioner Wirths.
The PGA TOUR's "Birdies for the Brave" charity also was part of the expo headed by "Be a Hero, Hire a Hero," a non-profit organization that previously joined with the Department of Labor to launch a hiring fair in Newark last year, when Governor Christie issued a proclamation declaring April 2012 "Hire a Hero Month."
"As thousands of our nation's heroes come home from war, Be A Hero-Hire A Hero is proud to partner with Birdies for the Brave, The Barclays and the New Jersey Department of Labor in welcoming them home and giving back by facilitating employment opportunities through this event," said Stephen Kupcha, a former Navy SEAL and the PGA TOUR's senior manager of public relations and community/military outreach.
The PGA TOUR will honor men and women of the U.S. Armed forces throughout the week by offering free and discounted admission to The Barclays, as well as several special initiatives and events planned for Military Appreciation Day on Wednesday, August 21.
Governor Christie has launched several initiatives during his first term in office to assist veterans, military personnel and their families, from supporting scholarships to expanding facilities for homeless veterans. The Christie Administration has participated in more than 40 veteran-focused events, from "Stand Downs" for homeless veterans to employment fairs and conferences designed to help employers connect with veteran services.
The Administration also has joined with the U.S. Chamber of Commerce, The American Legion and other sponsors to support "Hiring Our Heroes" events from Toms River, Flemington and Somerville to Trenton, Lawrenceville, and Camden, and has funded the New Jersey Building and Construction Trades Council's (NJBCTC) Helmets to Hardhats program.
Last year, the Department of Labor organized a number of major events under Governor Christie's Operation: Hire a Jersey Hero initiative, including a symposium held at Prudential's headquarters in Newark that focused on connecting employers with state and federal resources to help them hire veterans. LWD also organized a veteran-specific job fair on board the USS New Jersey (Battleship NJ) in Camden, where 350 veterans and military spouses had an opportunity to meet with 50 employers who had a combined 2,800 available positions.
The Department of Labor has a staff of nearly 50 veteran representatives, many of them veterans, who assist former military personnel at the state's 34 One-Stop Career Centers on a daily basis.
In May, the Christie Administration announced that part of a $15.6 million National Emergency Grant (NEG) used to create temporary clean-up and recovery jobs in the aftermath of Superstorm Sandy would employ veterans and other unemployed residents for restoration projects at the National Guard Militia Museum of New Jersey in Sea Girt.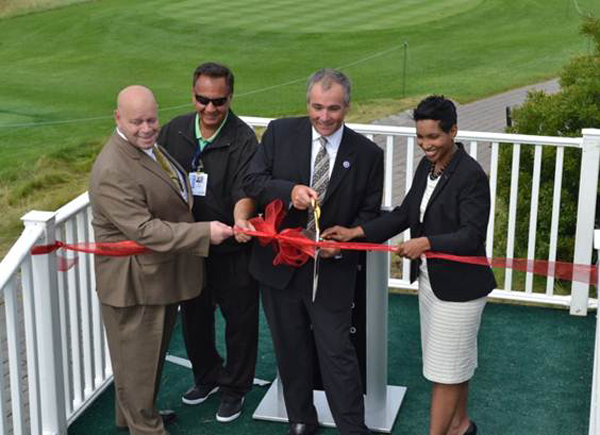 Commissioner Harold J. Wirths cuts the ribbon to kick off the "Be A Hero, Hire A Hero"
Career Expo for veterans and their families hosted at Liberty State Park before the start of
The Barclays PGA TOUR outside the United Fairway Club at Liberty National Golf Course.
He was joined (left to right) by Jeff Klare of the "Be A Hero, Hire A Hero" campaign;Peter Mele, Executive Director of The Barclays tournament, and Yvette Smith of Avis Rent-A-Car,a sponsor of the PGA Tour.