Aug-16-13 Christie Administration Aids Sandy Clean Up at Palisades Interstate Park
Workers Hired Through National Emergency Grant
Contact:
Brian T. Murray: 
TEL: 609.984.2841
FAX: 609.777.3634
Email: MediaCalls 

 

 
| | | |
| --- | --- | --- |
|   | -News Release- |   |
PALISADES INTERSTATE PARK, N.J., AUG. 15, 2013 – New Jersey Labor Commissioner Harold J. Wirths today toured the Palisades Interstate Park, where workers hired under a National Emergency Grant obtained by the Administration of Governor Chris Christie picked up remnants of Superstorm Sandy's destruction still littering a shore trail along the Hudson River. 
Temporary workers at the site, recently hired through the NEG, will continue to help the Palisades Interstate Park Commission (PIPC) remove the debris, clear branches, pick up litter and make minor repairs to public access areas of the National Historic Landmark. To date, nearly 800 unemployed New Jersey residents have been given temporary employment under the $15.6 million federal grant obtained through the state Department of Labor and Workforce Development to assist in the Sandy recovery effort throughout the state. 
"We have come a long way in our recovery in the nine months since Superstorm Sandy devastated communities throughout New Jersey, but many are still repairing and cleaning up after the storm," said Labor Commissioner Harold Wirths. "The National Emergency Grant secured by the Christie Administration the morning after Sandy hit not only has helped the local, county and state agencies throughout the state to conduct cleanups, it also has served to put hundreds of unemployed people to work." 
The NEG funding has been spent on projects spanning 13 counties, and also has been used to bring on temporary workers in the state departments of Environmental Protection and Military and Veterans Affairs.
During the Palisades visit, Commissioner Wirths noted that New Jersey communities may continue to apply for NEG funds for Sandy clean-up projects through January 2014, allowing other municipalities, counties, and state agencies to hire more workers for recovery, restoration and clean-up activities.
"The Palisades Interstate Park Commission is pleased to have been able to take advantage of this program, which has provided valuable manpower to assist in the removal of massive amounts of debris and repair damage to our trails that occurred during Superstorm Sandy," said PIPC Executive Director Jim Hall.

Flanked to the east by scenic, rock cliffs overlooking the Hudson River, the Palisades Interstate Park encompasses more than 100,000 acres of parklands and historic sites spanning New York and New Jersey. The lands have been managed and protected by the PIPC since 1900. 
The New Jersey portion of the parkland is about 12 miles long and a half-mile wide, covering 2,500 acres of natural lands in Bergen County. The area includes hiking and ski trails, a boat launching ramp, a scenic riverside drive, a cliff-top parkway and overlooks, riverfront picnic areas and playgrounds, a nature sanctuary, two boat basins and many historic sites. 
Job seekers interested in a temporary job under the NEG should visit their local One-Stop Career Center or send an e-mail to sandyhelp@dol.state.nj.us. Job seekers may also log onto www.Jobs4Jersey.com or call (609) 777-1836 between 9 a.m. and 4 p.m. Monday through Friday. 
National Emergency Grants are part of the United States Secretary of Labor's discretionary fund and are awarded based on a state's ability to meet specific guidelines. For more information on such grants, visit http://www.doleta.gov/NEG.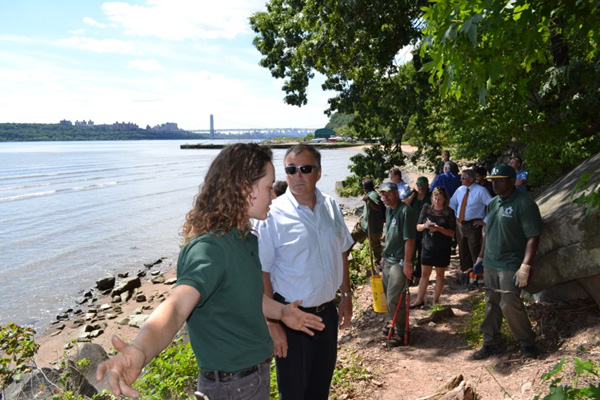 Labor Commissioner Harold Wirths (center foreground) and other officials walked the shoreline trail of the Palisades Interstate Park, where Christina Fehre (foreground), Trail Supervisor for the Palisades Interstate Park Commission, showed them the damage done by Superstorm Sandy and the repairs completed so far by 11 workers (background) who were hired through a National Emergency Grant obtained by the Administration of Governor Chris Christie.